EAGAN, Minn. — When Vikings Head Coach Mike Zimmer gathered his team for a quick word to end Wednesday's practice, he included a special announcement.
Linebacker Cam Smith, who underwent open-heart surgery in August, was announced as the team's recipient of the Ed Block Courage Award.
The annual award, which is voted on by teammates, honors one player from every NFL team who exemplifies commitment to the principles of sportsmanship and courage.
Smith said he was floored by the surprise announcement.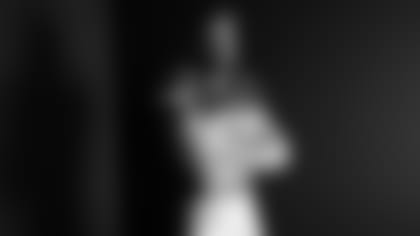 "I was caught off-guard a little bit," Smith said. "I talked to [Eric Sugarman, the Vikings Vice President, Sports Medicine/Head Athletic Trainer] before practice about not going to practice, and he's like, 'No, you should go today.'
"So, I didn't ask any questions. I wasn't sure what was coming, but I knew there was potentially something," Smith added. "This blew me away. I was not expecting it. It still hasn't really sunken in yet, but it's an honor."
Added Zimmer: "It was great. Cam, when he wasn't in the hospital, he's been here every single day. For him to go through the surgery [with his] heart and all of the things … he's really deserving of it. I think the team appreciated him getting that award."
Vikings players and coaches who have seen Smith's journey up close said they couldn't imagine anyone else as the 2020 honoree.
"It brings a little bit of emotion," safety Anthony Harris said of Smith's attitude since August. "It's unbelievable what that guy's able to do. Every time I see him, it's just a feeling of amazement to see him … having to battle back with the surgery, to how he's moving, seeing him in the weight room, lifting, seeing him on the side of the field running sprints.
"The fight that that guy has and the love for the game … when he's not able to physically be on the field, it's amazing," Harris added. "I'm super excited for him to receive that award."
Adam Zimmer, the Vikings Co-Defensive Coordinator and linebackers coach, added: "I don't know how much more courageous you can be than having open-heart surgery. I'm glad everything worked out for him. He's been awesome in the room. He's attended most of the meetings virtually and has been with us on the practice field. He's just a great person, and we're happy to have him here."
Sugarman said: "[There is] no more deserving person."
Smith's story is well-known at this point. A fifth-round pick of out Southern California in 2019, Smith played in five games — primarily on special teams — as a rookie.
He was set to take on perhaps a larger role in 2020, but tested positive for COVID-19 upon arriving at training camp in the summer.
Further examination revealed a previously undiagnosed and potentially life-threatening congenital heart problem that not only required season-ending surgery, but may have saved Smith's life, too.
The 23-year-old said he's been able to learn so much about the game, even if he's not in uniform each Sunday.
"Everything, I would feel, slows down from year one to year two. That happened as a freshman in college … and I think as the years go on, and the more football you learn, the game starts to slow down," Smith said. "Being able to watch it and really kind of dive into what everyone else is doing within the rest of the defense, and even being able to watch — we have so many great linebackers in our room right now, that it's nice to be able to watch them, watch how they move.
"Eric Kendricks is obviously the best in the game. Eric Wilson is showing up beyond belief, and we knew he was capable of that. It's been nice to be able to watch them and how they do things. [Not] taking any reps is weird, but I just feel like it's almost going to alter my game because I haven't taken a rep," Smith added. "When I come back, I feel like it can be a new me kind of thing, where I'm watching somebody else move and I just have to apply that to my game. I've learned a ton this year. It's been great to be able to come around here and go to meetings. I just look forward to diving into next year and continuing to progress."
Although he won't play this season, Smith said his main focus these days is getting on the field in 2021.
Sugarman believes that is a real possibility for the linebacker.
"He already has done great, he's already defied the odds, and the future's bright," Sugarman said. "I have no hesitation to say that he'll be back out there if able."
And for Smith, he said he'll continue to take the same positive mindset each day as he continues his remarkable journey.
"I am very optimistic about [returning to play]," Smith said. "All I've heard so far is that there's a great chance of me being able to play football again, and that's really what I'm sticking with. I haven't thought negatively about it whatsoever.
"I'm kind of just trying to put it into existence and only think about coming back, and work out only as if I'm coming back. If something else happens, then that's how it is, but as of right now in my eyes, there's a hundred-percent chance that I'll be on the field next year," Smith said. "So I'm just going to act it that way and when the time comes, we'll see how it goes. But I feel ready and am just working out to get to that point again."
The Ed Block Courage Award originated in the Baltimore Colts organization and was first presented in honor of the former athletic trainer to defensive lineman Joe Ehrmann. It is now presented annually with a winner from each team in recognition of the principles of sportsmanship and courage.
Recipients are selected by their teammates who evaluate extra efforts on and off the field and the ability to overcome significant personal and/or professional adversity.
The Vikings began presenting the award in 1984.
Vikings Ed Block Courage Award Honorees