When the Vikings take the field of U.S. Bank Stadium for warmups, Caitlin Thielen watches for her husband.
It's become a pregame ritual for the Thielen family: Adam jogging over near her section and searching the purple seats for Caitlin and their infant son, Asher.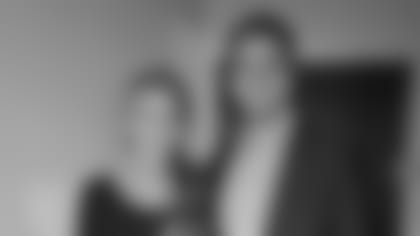 "[It's sweet] how much he wants us to see everything," Caitlin said. "Every game, he has to know where we're sitting. He'll look up, and I'll be the only one standing and waving. So that's just kind of one of his things."
It's difficult for Caitlin to put into words the various emotions that she experiences during a game.
From pride and excitement to anxiety, she often runs the gamut.
"It's not all glitz and glam like people might expect," Caitlin said. "Going to games and seeing him take hits – that's someone you love. Now I know how my mom felt, when she would be [worried] watching my brothers play."
Caitlin largely credits her two older brothers for her athletic background. While she couldn't have predicted that she'd one day be married to an NFL receiver, Caitlin said that sports have always been a major part of her life.
Caitlin immersed herself in athletics early on and flourished when after her family moved to Woodbury, Minnesota, during her elementary school years.
"I kind of tried everything," she said. "I usually followed what my brothers did … I was kind of a tomboy growing up because of them, I think, because I got picked on and stuff.
"But I'm really close with my brothers," Caitlin added with a smile. "I'd be their bat girl – I'd go chase the balls when they played baseball."
At the age of 4, Caitlin followed in her brothers' footsteps – or cleat steps – to the soccer field.
Caitlin immediately fell in love with soccer, and her talent for the sport was recognized almost as quickly.
Although she added dancing, gymnastics and basketball to her repertoire throughout the years, Caitlin felt the most at-home on the soccer field and eventually focused solely on the single sport. She participated in a highly competitive club league, where traveling tournaments included Florida and Las Vegas, and also played for Woodbury High School.
Caitlin made the varsity team as a freshman, one of only three ninth graders to do so.
Seven years before Adam stepped foot on the Metrodome turf in the 2013 preseason, Caitlin scored a goal in the stadium to help her team defeat Mahtomedi and take home the state title.
She received enough attention from college scouts in that season alone, and as a sophomore, Caitlin committed to Iowa State on a full-ride athletic scholarship.
"It's hard to know where you want to go [at that age]," Caitlin admitted. "But it seemed like a great fit for me … I was really excited to try to help the program."
After playing two seasons for the Cyclones, however, Caitlin decided that it wasn't the ideal program for her and began searching for another school. The University of Wisconsin, the University of Minnesota and Minnesota State University, Mankato all caught Caitlin's eye.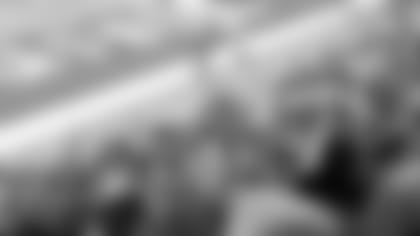 "I had a couple friends from my club team that went to Mankato, and they said how much they loved it and loved the coach," Caitlin said.
Although difficult to leave behind the scholarship at Iowa State, Caitlin said it was "ultimately the best decision" that allowed her to retain her passion for soccer.
When Caitlin arrived at Mankato during the spring semester of her sophomore, she crossed paths with Adam, whom she had been introduced to by a mutual friend while attending Iowa State. She still laughs when thinking back to that first introduction – over social media – and initially being uninterested in the football player from Detroit Lakes, Minnesota.
Adam sent Caitlin a Facebook message, which soon became an exchange of numbers and eventually daily text message exchanges. Even after transferring to Mankato, however, Caitlin considered Adam no more than a friend whom she often passed by in the training room.
"He told his friends that he was going to marry me after [the first time] we met," Caitlin said.
"He would ask me to go to church and different things just to hang out, which is sweet, now that I think about it," she said. "But I never did."
Things changed during the fall of Caitlin's junior season, when she and Adam started spending time together around their respective training camp schedules.
"I actually gave him a shot," Caitlin quipped. "So after all of his hard work to try to be with me, I really saw qualities that I liked and realized how much we were really alike and shared the same values."
Added Caitlin: "It's really because of persistence that we're together."
Caitlin has observed that tenacity in Adam on more than one occasion.
She remembers when Adam told her in 2013 that he was going to register for a regional combine in Chicago. Having only seen a couple of his games at MSU (they often overlapped with her soccer schedule) and knowing that he hadn't received an invite to the NFL Scouting Combine in Indianapolis, Caitlin was skeptical.
"The way he told me about it, it [sounded] like a long shot – you pay money to go and try out," Caitlin recalled. "I was like, 'Are you sure you want to do that? Or do you want to get a job?' "
Caitlin couldn't deny Adam's passion, however, and didn't want to hold him back.
"I was kind of like, 'You have one last shot – go take it.' And now, here we are."
She still thinks about getting a phone call from Adam, who attended the Vikings rookie minicamp as a hopeful tryout that June.
"I remember that so clearly," Caitlin said. "Him calling me and saying, 'They want me to stay. They want me to come back; they have to cut someone to keep me on the roster.'
Added Caitlin with emotion in her voice: "I'm just so proud of him."
Adam was initially waived during the preseason but was signed to Minnesota's practice squad.
It wasn't until he traveled with the Vikings to London that year that reality fully hit Caitlin.
"It was my senior year at Mankato, and he would call me from London," Caitlin said. "It was so weird that he was there with an NFL team.
"Even still, it doesn't seem [real sometimes] – to me, he's just Adam. But then when I stop to think about it, he is an NFL player. How cool is that? That's so awesome. People dream about that."
Adam has steadily increased his role on the Vikings since his rookie season.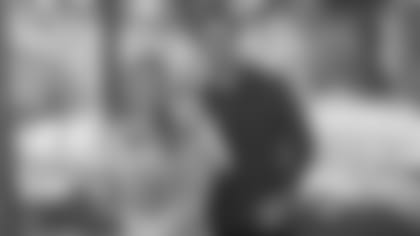 From being a key contributor on specials teams in 2014 to becoming a significant part of Minnesota's offense and recording 967 receiving yards in 2017, he's defied the odds again and again.
If you ask Adam about his journey, he'll tell you that Caitlin's support has been "unbelievable" and unwavering.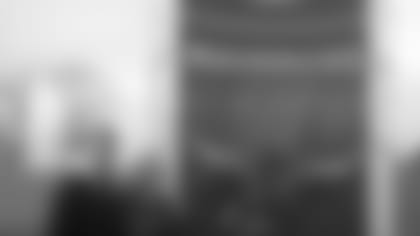 "I tell her all the time that I definitely wouldn't be here without her support," Adam said. "She lets me do the things that I need to do to be the best football player, the best husband [I can be]."
Adam added that Caitlin's competitive spirit not only matches his but often exceeds it, and that it's a quality he's grateful for.
"She's definitely more competitive than me, which is hard to do," Adam said. "It's a little tough to play board games in our house, but no, it's great.
"She's probably one of my toughest critics … she knows the game just as well as I do," Adam continued. "I'll get home and she's like, 'Man, what were you doing there? How come you didn't catch that one?' It's great. She's so great. She really does want me to be the best player I can be, and she's not going to fabricate things and make me feel good just because she's my wife. She's going to make sure that I'm still sticking to the things that have gotten me here."
When Caitlin was born in Wisconsin and grew up an avid fan of another NFC North team (that shall not be mentioned), she never would have believed that she'd now be decked out in Purple every Sunday during the football season.
She never would have dreamt that she and Adam would co-own two ETS gyms in Lakeville and Woodbury, and she had no way of knowing that her love of kids would manifest in being a mother herself.
"It's been hard, but it's been the best thing that's ever happened to me," Caitlin said of parenting. "It's the most rewarding job ever."
Added Caitlin: "We love Asher so much – he's just so fun. I could play with him every day … I miss him even when he takes a nap."
Looking over the past several years, even through the uncertainties, Caitlin feels nothing but grateful.
"It honestly makes me emotional because of how crazy it's been. We've been so blessed," Caitlin said. "Our faith is super important to us; I think that's what keeps Adam – and us as a couple – grounded."