EAGAN, Minn. –*There isn't much that Bud Grant hasn't seen in his 50-plus years with the Vikings. *
*The Hall of Fame Coach has seen games – from the sidelines, the stands or a suite – at each of the team's different venues over the years. He's held an office at the original Vikings headquarters on France Avenue, a longtime space at Winter Park and now, most recently, a spacious office at Twin Cities Orthopedics Performance Center. *
*A few days after the Vikings officially transitioned to their new digs, Grant was given a tour of the 277,000-square-foot facility and made the first stop at his office. *
Grant steps off the elevator on the third floor. The glass east wall provides the first glimpse of his office, a room awash with natural light. He shuffles toward the room, asks, "Can I go in?"
Grant's office may be brand new, but it's been designed with a vintage feel.
Wood-paneled walls are reminiscent of his first office, and if the large, wooden desk serving as the room's centerpiece could talk, it would surely share decades of Vikings history.
When he's told that the desk once belonged to Vikings Founder Max Winter, Grant sits back in the chair, ponders for a moment and then slaps his open-faced palm on the surface.
"Hey, Max!" He says, chuckling.
Grant, wearing a camouflage-print baseball cap in the colors of the Eden Prairie High School football team, slides open the drawer beneath the desk and smiles, holding up candy in a red package.
"I've got my Skittles!" He exclaims of his regular treat left by Dan, a Vikings security guard.
Grant takes some more time to look around at beloved items that have safely made the 15-mile trip from Eden Prairie: a prized turkey tail, hanging perfectly centered between two wall panels; a mounted pheasant from one of Grant's many hunting trips in South Dakota; a hand-carved bird clock that is ticking again for the first time in more than a year.
The former coach rubs his thumb against the white scruff that covers his chin. He gestures toward the wall that features a large photo of his black Lab, Cork, who has since passed away.
"When I first moved down here, he came with us," Grant recalls fondly of his transition from Winnipeg to Minnesota. "That was in our back yard."
He doesn't settle too much on the emotion, however, instead continuing his visual tour of the office.
"This is pretty nice. You did a great job of setting everything up," Grant tells Director of Brand & Creative Erin Swartz. "I like the accent of the purple in the carpet."
After sitting for a few moments, Grant is ready to move on and explore the rest of the building.
Swartz leads the way, but she often detours to follow Coach's directions. He would like to see Vikings Head Coach Mike Zimmer's office; on the way, a stop to chat with friend and former assistant coach Paul Wiggin, who now works in the personnel department. A visit to the Wilfs' Ownership suite has Grant in awe over the expansive windows that overlook new practice fields.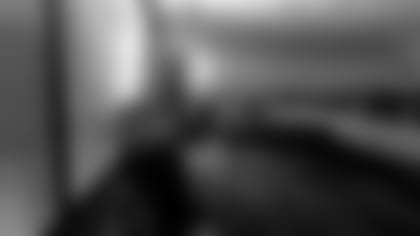 Grant surveys the 40 55-inch TVs making up one massive touch screen and the 30-plus chairs set up at tables, an immense upgrade from the Winter Park setup.
"How many people do they need to fit in here, anyway?"
Grant shakes his head, then takes a seat and stretches out his legs, prepping to tell a story. He recalls his first NFL Draft with the Vikings, 51 years ago in 1967. General Manager Jim Finks had recently undergone surgery and was unable to leave the hospital, so Grant and Jerry Reichow, a scout, went to him.
"We drafted from his hospital room," Grant remembers. "We drafted Clinton Jones and Gene Washington and Alan Page. We got three first-round picks."
Grant's significant other, Pat, interjects with a chuckle: "Didn't need a touch screen there."
"A touch screen? I just wanted a place to sit down," Grant responds. "It was a little different then."
The tour continues with a walk down the Super Highway, a main corridor that connects the main sections of the facility. Its walls are lined with photo displays capturing each decade in Vikings history, and Grant pauses at the 1970s – just for a brief moment – to take in a photo of his much younger self alongside Hall of Fame quarterback Fran Tarkenton.
Without saying much, he continues on.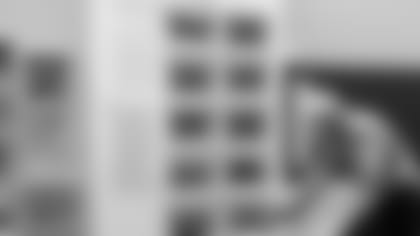 Grant is shown the auditorium, which features capacious leather seats that will allow the entire team to meet at one time.
"The comfort of the players [is such a priority]. We used to sit on benches and folding chairs, and we'd have to fold them up and fold them down," Grant says, reminiscing again. "I remember at Midway Stadium, we had [both]. The guys who got down there first would get the folding chairs."
The last stop of the tour brings Grant into the sprawling, Vikings-branded locker room.
He takes in the lounge area, two fireplaces and high-tech locker spaces. It's there that Grant crosses paths for the second time of the day with longtime equipment manager Dennis Ryan, who originally was hired part-time by Grant as a 17-year-old high school student to help out at Midway.
The two fall easily back into a time more than 40 years ago, when the Vikings transitioned from stainless steel lockers to wooden ones at Winter Park, which opened in 1981.
"We sure have come a long way," Grant says to Ryan. "Things sure are different."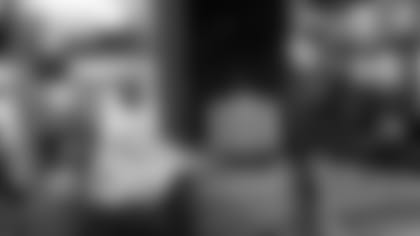 Grant looks around at the 95 lockers, many of them already bearing players' names and filled with Purple shorts, T-shirts and personal items.
"If you get a tryout and you get a Vikings T-shirt, you're a Viking forever," Grant says with a smile. "You maybe tried out for three days, but you can always wear that T-shirt. You're always a Viking, then."
While Pat explores the locker room and leaves for a visit of the weight room – "I've seen one before. I'm not a weight guy," says Grant – the former coach sighs and says he enjoys the silence of the room. He points out, though, that it will soon return to its active state – Friday afternoons filled with players' energy, anticipation and their favorite tunes.
"It was contentious, to some extent, as to what music you play – 'Do you want country western? Do you want rock?' Everybody has different tastes," Grant tells of his years overseeing players in previous locker rooms.
He adds with a laugh: "I know one thing – I stayed out of it."
When asked about his musical genre of choice, Grant ponders for a moment before answering.
"Quiet," he says. "Birds singing."
Grant leans back, folds his hands behind his head. He's glad to have seen the Vikings new facility and will be back soon to spend time in his office. But for now, he looks forward to a weekend trip at the cabin with family.
As Pat re-enters the room, he looks at her and offers a grin so slight it could easily be missed. His aged, often-stoic blue eyes glint with a hint of mischief.