SUPERIOR, Wis. — Hall of Fame Head Coach Bud Grant and Doug Sutherland, two of the 50 Greatest Vikings, proudly presented gold footballs to Superior High School recently as part of the NFL's High School Honor Roll program.
The program was launched in conjunction with Super Bowl 50 to honor nearly 3,000 players or head coaches at more than 2,000 high schools. The recognition stretches coast-to-coast, includes 48 states, seven countries and one U.S. territory.
Grant, who was born in Superior in 1927, led the Vikings to four Super Bowls, an NFL Championship and 11 division titles. He graduated from now-closed Superior Central before starring at the University of Minnesota. Grant's storied life also includes service in the United States Navy, playing for the NBA's Minneapolis Lakers and NFL's Philadelphia Eagles and guiding the Winnipeg Blue Bombers to four Grey Cup titles.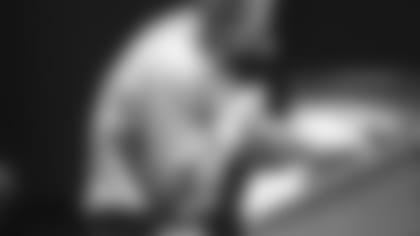 Sutherland, who was born in 1948 and part of the first graduating class at Superior High School, played in Super Bowls VIII, IX and XI for the Vikings. He played collegiately for the University of Wisconsin-Superior before being drafted by New Orleans in 1970. Sutherland was traded to the Vikings a year later and played He returned 10 years in Minnesota before finishing his pro career
in Seattle in 1981. He returned to Superior and coached five years at his alma mater.
Grant and Sutherland participated in Polaris-Vikings Winterfest in Duluth Feb 19-21, greeting fans at multiple events.
The Super Bowl Honor Roll ceremony provided an opportunity for both men to stroll down memory lane.
Grant and his son, Mike, drove by the handful of addresses the elder called homes during his youth, as well as a fire museum, a nod to Bud's father, who worked as a firefighter and non-traveling player for the Duluth Eskimos. Grant, who has 19 grandchildren and 10 great-grandchildren, donned a helmet that belonged to his father in 1926 that will be donated to a museum.
"Coming here brings back memories, and they're good ones," Grant said. "It's good to be here and reminisce and pass on a little bit of nostalgia."
The men, whose relationship has evolved from coach-player, to friendship enjoyed spending the day with other coaches for a clinic and the opportunity to present the footballs, meet with and reunite with former classmates and others in Superior.
"I want to thank the NFL for providing these footballs honoring us and the high schools," Sutherland said. "The first guy I want to thank is Coach Bud Grant. I learned a lot from him, how I live my life and how to coach and lead people.
"The funny thing about Bud is he never yelled at you," Sutherland explained. "If you did something wrong, most of the time, he would just give you that look and you'd go beat yourself up over it. He was a great coach, and we had a lot of fun."
Sutherland added: "Coaches have a lot of influence on people, so you have to guard the way that you treat people."