EAGAN, Minn. — For the fifth time all-time, the Vikings and Buccaneers will open an NFL season against each other.
Minnesota will host Tampa Bay at noon (CT) Sunday in the eighth season opener held at U.S. Bank Stadium. CBS will broadcast the game as the Vikings attempt to build on a 6-1 mark in home openers at the venue that debuted in 2016.
We are introducing this new format to preview Vikings games this season. Readers from previous years will notice a couple of familiar elements like uniform combination and storylines, but we'll also add to that with notes on the opponent, connections between the teams, players and coaches, and series history.
Vikings Uniform
The Vikings will wear The Classic, a uniform designed to pay homage to the earlier voyages of the team. The Classic features a deeper purple hue than the modern jersey, traditional numbering (with gold trim), name font and sleeve stripes. The helmets will feature a vintage Vikings horn and gray facemask, and the pants will feature a traditional stripe pattern. 
Additionally, the Vikings will wear "Bud" patches on their jerseys in Week 1 to honor Hall of Fame Head Coach Bud Grant, who passed away in March at age 95.
4 Storylines
1. Second year under O'Connell: The Vikings will try to build on a 13-4 mark as Head Coach Kevin O'Connell takes his second season at the helm. There's tremendous continuity on offense from last season, despite a couple of key departures. The defense has six starters from the 2022 Week 1 game who are listed on the first team, but the group underwent multiple changes.
2. Offense vs. defense: O'Connell's background as a former NFL quarterback and offensive coordinator will be put to the test by Tampa Bay Head Coach Todd Bowles, the former NFL defensive back who is in his second season in the role after three as defensive coordinator.
3. Continuity for Cousins and Company: Cousins will be able to start a season with the same play caller (O'Connell) as the previous season's Week 1 game for the first time since joining Minnesota in 2018. He appeared to gain comfort with the system as 2022 progressed and wants to build on that with returning teammates like Justin Jefferson and K.J. Osborn, as well as tight end T.J. Hockenson.
4. Which newcomer will make the strongest first impression? The Vikings emphasized adding experience on defense during the early stages of free agency, signing Byron Murphy, Jr., Marcus Davenport and Dean Lowry. Minnesota also signed tight end Josh Oliver and drafted receiver Jordan Addison in the first round to help the offense. New Defensive Coordinator Brian Flores also could be included in the candidates who might have the biggest mark on the game.
3 Things 'Bout the Bucs
1. TB (Tampa Bay) is moving on from TB (Tom Brady), who retired (for good, this time) after three seasons of leading the Buccaneers to the playoffs, a run that began with a win in Super Bowl LV. Baker Mayfield, who is on his fourth NFL team since 2021, won the starting gig over Kyle Trask. Mayfield has one career start at U.S. Bank Stadium (with the Browns on Oct. 3, 2021). He completed 15 of 33 passes for 155 yards and a passer rating of 59.5, but Cleveland prevailed 14-7.
2. Mike Evans has recorded at least 1,000 receiving yards in nine consecutive seasons and can become just the second player to reach that milestone in 10, joining Jerry Rice (11 from 1986-96). The Vikings have faced Evans three times since his rookie season of 2014. Evans has totaled 14 receptions for 201 yards on 24 targets in those contests.
3. Even with Brady at quarterback, much of Tampa Bay's success in 2022 hinged on its defense. The Bucs limited opponents to fewer than 20 points in eight games, going 7-1. They were 1-8 when opponents scored 20 or more points. Vita Vea led Tampa Bay with 6.5 sacks, Devin White added 5.5 and Shaquil Barrett recorded 3.0, despite missing the final nine games of the season.
2 Trends
It's a little weird to have trends in the first game preview of the season since so many things change from year to year, but we expect this section could be quite relevant as the season progresses.
Vikings passing down stretch: Cousins closed the 2022 season on fire. From Weeks 12-18, he led NFL qualifiers (minimum of five starts) with 298.0 passing yards per game. His 102.1 passer rating was nearly 17 points higher than the 85.6 he totaled from Weeks 1-11 and ranked fourth during Weeks 12-18.
Bucs under Bowles: Since 2019 when Bowles became Tampa Bay's defensive coordinator, the Buccaneers rank fifth in the NFL with 187 sacks and are tied for fifth with 102 takeaways. The group has added high picks to its defensive front the past three drafts (Joe Tryon-Shoyinka at 32 in 2021, Logan Hall at 33 in 2022 and Calijah Kancey at 19 in 2023).
1 Talking Point
"I'm gonna try to see what the team's about. We've got a lot of young guys who [are playing in] their first NFL game. I'm excited to see them go out there and ball out. And I'm excited to see this new team we have this year, put it all together and see what we do at 12 o'clock on Sunday."
— Vikings safety Josh Metellus, a special teams captain who is expected to have an increased role on defense in 2023
Reconnecting
Buccaneers safety Antoine Winfield, Jr., is the son of the former Vikings defensive back who make three consecutive Pro Bowls during his time with Minnesota (2004-12).
Beyond the Winfield connection, there are multiple links between players and coaches of the Vikings and Buccaneers.
Vikings long snapper Andrew DePaola (2014-16), kicker Greg Joseph (2020 practice squad) and receivers coach Keenan McCardell (2002-03) played for the Bucs. Tight ends coach Brian Angelichio held the same role with Tampa Bay (2012-13).
Bucs OLB coach George Edwards was Vikings defensive coordinator (2014-19); assistant coach Tom Moore was Minnesota's assistant head coach (1990-93); cornerbacks coach Kevin Ross coached Vikings defensive backs (2004-06).
College and Pro Connections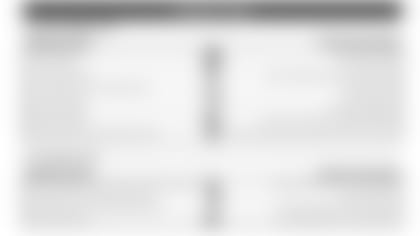 Series History
The Vikings are 33-23 all-time against the Buccaneers, who joined Minnesota in the NFC Central from 1977 (Tampa Bay's second season as an expansion team) through 2001. The NFC shifted to its current divisional alignment (North, South, East and West in the AFC and NFC) in 2002.
Results In Past Week 1 Matchups
Tampa Bay logged victories against Minnesota in 1981 and 2005. The Vikings prevailed in 1982 in the first regular-season game at the Metrodome and in 1998, the first game for Hall of Fame receiver Randy Moss.