Week 6 of each NFL season will always be a memorable one for Brian O'Neill.
During his rookie season in 2018, the former second-round draft pick made his first NFL start that week against the Cardinals (two years ago today).
He hasn't looked back since, entrenching himself as the Vikings starting right tackle.
As his 32nd career start approaches — two full seasons' worth — O'Neill recently reflected on what he has learned over the past 24 months.
"I've learned a ton. If you look around our locker room and see the guys that are there, we have a lot of successful guys who have been around and done it at a high level for a long time," O'Neill said. "Guys like Riley Reiff and Adam Thielen and Kyle Rudolph and Kirk Cousins and Harrison Smith … they've taught me that you have to bring it every day.
"You have to bring it in meetings, in walk-throughs and just be ready to go every single day," O'Neill added. "Players are good in this league, and you can never stop improving and you have never arrived. Riley does a really good job of reminding us that we need to put our head down and go to work, and that there are no weeks off in this league."
O'Neill has since played more than 2,000 snaps while protecting quarterback Kirk Cousins and paving lanes for running back Dalvin Cook, who recorded 65 rushing yards and a TD last week before leaving the game with a groin injury
And perhaps nobody has more fun on the field than the 6-foot-7, 297-pound Delaware native who often hoists Cook after touchdowns and even made his way into a limbo touchdown celebration for the ages.
"I feel like it's flown by, just because of the fact that I feel like it was yesterday when I first got here," O'Neill said. "At the same time, I've been able to see a lot in terms of different defenses and coaches and different situations that have come up.
"But I think it's flown by because I've been having a ton of fun, I love being here and I love all the guys we have here," O'Neill added. "Everybody in our locker room is great, so I guess time flies when you're having fun."
The 25-year-old is looked at as one of the key building blocks to the future of the offensive line in Minnesota.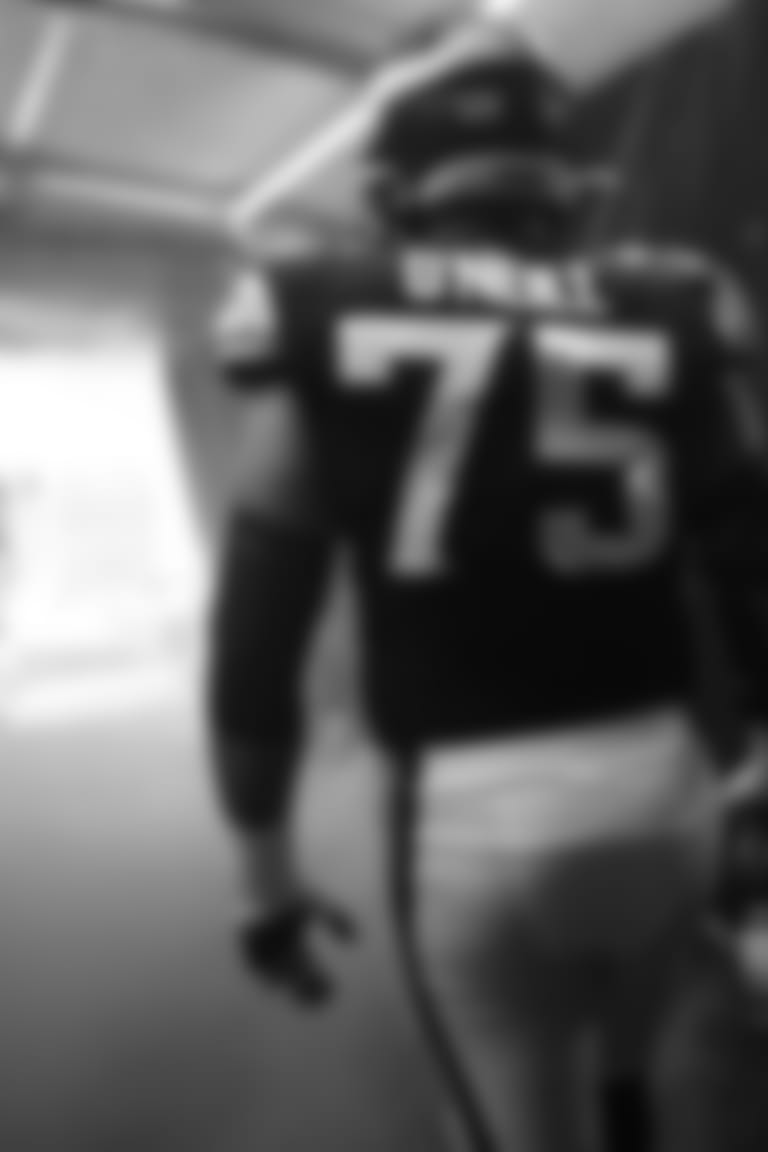 We caught up with Brian this week for a Water Break, presented by Crown Royal.
Q: Has your preparation watching film changed at all in recent years, and how does that aspect help you for weekly opponents?
A: "That comes with experience. I think anytime you do something over and over again, but the time you have a couple of them under your belt, you're going to know what to look for. I don't think my approach to watching film has changed that much, but in terms of being able to recognize looks or fronts or defensive blitzes we may have seen in the past, I'm able to clearly recognize those more now. It's easier to fix and correct when you've been there before."
Q: Watching practice during training camp, one can't help but notice the yin and yang duo of Vikings offensive line coach Rick Dennison, who is more reserved, and assistant offensive line coach Phil Rauscher, who is incredibly vocal on the field. How does that relationship work?
A: "They do a really good job together. Rico does an unbelievable job; he's a great teacher of our offense and the offensive line. He has his certain style, and that's not to say he won't get fired up every now and then, because he does. But Phil brings the juice. He likes to get us going at the start of practice, and then keep us going halfway through practice. You're never going to have a lack of energy from Phil, and he's done a great job in that role this year."
Q: Do you prefer pancaking a defender on a run play, or tying up a great edge rusher on a pass play?
A: "Oh, that's a great question. I'd probably say pancaking a guy on a run block. But I like looking back at the end of a game knowing I did my job in both areas, and that I got the better of that guy. The totality of the game is what makes me excited the most."
Q: Did you pick up any new hobbies during the distant offseason?
A: "I wouldn't say anything new, but I was definitely reading a lot more than I had in a while, just because I had more down time. I picked up a few more books."
Q: Chiefs left tackle Eric Fisher recently caught a big-man touchdown pass. You're a former college tight end … are you angling with Vikings Offensive Coordinator Gary Kubiak to get that in the playbook for you?
A: "No way [laughs]. I've got enough issues to worry about with what they're already asking me to do. That stuff is fun and cool … but I'm worried about getting down in some holes and keeping Kirk healthy back there."
Q: You had two touchdown catches at the University of Pittsburgh. If they were to put in such a play, what's your confidence level you'd catch the pass?
A: "Oh, very high. Very, very high."