Brandon Fusco was ecstatic when he found out in February that his alma mater was going to retire his No. 74 football jersey.
The Vikings guard was a little more emotional when he returned to Slippery Rock University this past weekend for the celebration.
Fusco became just the third player in program history to have his number retired during a ceremony on Friday in Slippery Rock, Pennsylvania.
"They told me about it, and I thought it was pretty cool," Fusco said. "But it really didn't sink in until I did the ceremony this past weekend.
"When they first showed the jersey being pulled from the drape and the number was officially retired, I was pretty emotional," he added. "Then I gave my speech and kind of choked up throughout the whole thing. I kind of had to stop and breathe a couple times just to gather myself."
Fusco started 44 consecutive games for "The Rock," the school's moniker. A sixth-round draft pick by the Vikings, Fusco was a three-time All-Conference selection and earned All-American honors during his senior season in 2010.
He was named the Gene Upshaw Division II Lineman of the Year in 2010 and also won the Rimington Trophy as the best center in the country.
Fusco was presented by a handful of school officials and former Slippery Rock head coach George Mihalik. 
"Brandon worked tirelessly to become the best player in the country while he was at Slippery Rock," Mihalik told the school's website. "He has continued to display that work ethic in the NFL and has become one of the best offensive guards in the world.
"What makes us the most proud is that when he gets on national TV and says he played at Slippery Rock, he does it full of pride," Mihalik added. "We couldn't be more proud to call Brandon our own."
Fusco, the highest-drafted player in program history, said Slippery Rock helped transform him into a better person and football player. 
"I had some great coaches," Fusco said. "I entered Slippery Rock soaking wet at 220 pounds and came out at 310 pounds.
"I was a boy going in and left a man," Fusco added. "They grew me into the person that I am today and pushed me to my limits."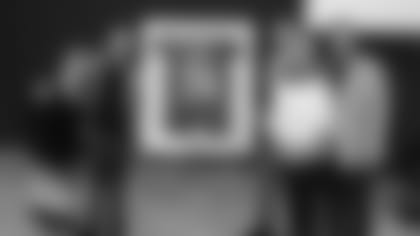 Fusco also credited his family for helping him achieve the honor. His parents, Stephen and Deborah, were in attendance, as were Josh and Brittany, Fusco's brother and sister.
The 27-year-old called his family his "supporting cast." 
"My family was there through all of the ups and downs," Fusco said. "They took me to every practice growing up … they went to every game in college and still go to almost every game now here in the NFL.
"There's not too many guys I know who have parents like that," Fusco said. "And my brother and sister and all of my family. I have family in Ohio, and they are the biggest Vikings fans in Ohio."
Fusco has taken the road less traveled as a small-school standout to the bright lights of the NFL. But even though he's entering his sixth professional season and has 50 career starts, the former Division II player is nowhere near satisfied.
"Hard work pays off," said Fusco, who spent the offseason training in Pittsburgh. "I've always had a chip on my shoulder.
"The odds of me making it to this league and starting, I think I've surpassed all the odds for a Division II player making it into this league," Fusco added. "But I still try to prove every day that it doesn't matter if you go to Alabama or Ohio State, I can play with anyone."
Besides, not many players can measure up with the accomplishment Fusco achieved last Friday.
"There aren't too many guys who can say they have their number retired from their college," he said.