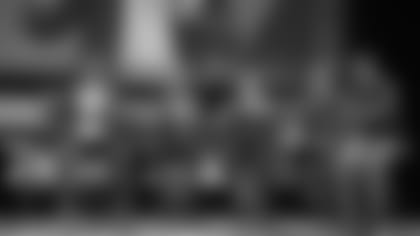 Photo Courtesy of Grace Church
EDEN PRAIRIE, Minn. –A number of recognizable football names teamed up over the weekend for a faith-based event catered to Twin Cities men and male students.
Hall of Fame Coach Tony Dungy hosted his annual "Arise with the Guys" program, held at Grace Church in Eden Prairie. The theme of the Saturday morning program was "Uncommon Greatness," a term that Dungy said was coined by former Gophers football coach Cal Stoll while Dungy was at the University of Minnesota.
"[Stoll] said, 'Success is really not common. Average is common,' " Dungy recalled. " 'But if you want to be more than average, if you want to be different, it takes that special pride, that special attitude.' "
Dungy also emphasized throughout the morning the difference between success and significance.
"There are a lot of people in the world who are successful – doing successful things and making tremendous achievements – but when you really think about what matters, what will last, what's important in life, that narrows it down quite a bit," Dungy said. "And you're going to meet some people who have done some significant things as well as being successful."
Dungy, who served as the Vikings defensive coordinator under Dennis Green from 1992-95, moderated a panel of current and former players that included 14-time Pro Bowler and five-time NFL MVP Peyton Manning, the recipient of the 2017 Uncommon Award. Manning was joined by Vikings quarterback Sam Bradford, former Gophers and Colts tight end Ben Utecht and former quarterback Rich Gannon, who was with the Vikings from 1987-92.
The players weighed in on a number of various topics posed by Dungy, including the keys to success, the influence their respective fathers have had on their lives, and their approach to handling adversity.
Bradford said it's crucial to have a drive for success.
"Holding yourself accountable and setting the standard for yourself higher than anyone else outside of yourself would set it for you," Bradford said. "And believing in yourself, that you can reach that standard.
"I think belief is a big part," Bradford continued. "I think if you look at people who are successful, they believe in their abilities, they're confident, and they believe that they can achieve anything they set their mind to."
Bradford later spoke about suffering back-to-back ACL tears during his fourth and fifth NFL seasons.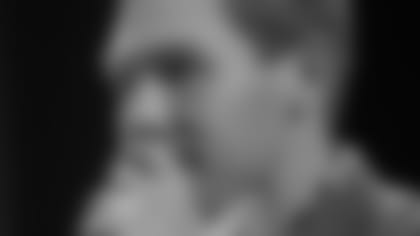 Photo Courtesy of Grace Church
When the second ACL injury occurred in 2014, Bradford said that the recovery proved much harder mentally than physically.
"I just kind of broke down," Bradford said. "I couldn't see the light. Or I didn't allow myself to see the light at the end of the tunnel. That was really tough for me.
"At that point in my life I just felt like I had lost control," Bradford added. "That was really just one of the moments where I turned it over to God. I said, 'God, I can't do this. You're in control. Take me where you want me; take me where you need me. And that's what's led me here to Minnesota. If I hadn't gone through those times, I don't think I would have the appreciation that I do now, just for being able to go out on the practice field every day. Just for being able to wake up and enjoy life itself."
One of the things that Manning credited for his successful career is a close relationship with his father, Archie, who played a short stint with the Vikings prior to his retirement in 1985. When Archie walked away from the gridiron, Peyton was 8 years old.
 "I think he had a tough decision to make – what was going to be his job and kind of this second chapter going forward," Manning said. "He shared with me years later that it was important to him to be around his children, be around his boys."
Manning explained that it wasn't a foreign concept to him or his brothers, because Archie had all three of his sons around him often, even during his playing career.
"We went to [New Orleants] Saints games and got to go down to the locker room after games. We went to Saturday morning practices," Manning said. "As long as we were allowed to come to NFL events, he brought us. That had a big impact on me.
"He never really coached us in individual team sports. But his rule was, if we wanted his help, we had to go ask him," Manning added. "It was a healthy approach. And because of that, we wanted his help. I wanted my dad to help me and teach me to take a five-step drop or how to throw on the run. But it was a healthy approach. I think a lot of times you hear that [dads] push their child and push their child until their child says, 'Hey – this isn't fun anymore. I don't want to play.' A child's experience in sports, especially in football, needs to be a healthy one, needs to be a fun one."
In addition to the main panel speakers, a number of Minnesota names also contributed to the morning's events, including former Vikings punter Greg Coleman, who served as emcee.
Minnesota Twins Manager Paul Molitor, second baseman Brian Dozier and pitcher Kyle Gibson conferenced in via Skype before the panel discussion to share about their experiences with faith, adversity and success.
Current Vikings Adam Thielen, Everson Griffen and C.J. Ham spoke briefly at a coaches breakfast prior to the main event, and they also participated in a "postgame" Q & A session moderated by Vikings GameDay Live co-host Ron Johnson.
The three teammates fielded questions about their beliefs, journeys to the NFL and both personal successes and adversity they've encountered, among other topics.
Ham, a native of Duluth, Minnesota, said he's always looked up to Dungy and jumped at the chance to be involved with "Arise With the Guys."
"Being able to meet [Coach Dungy] and hear him share his love for Christ felt like a once-in-a-lifetime opportunity," Ham said. "Having a strong faith myself, I'm always interested in learning and hearing from others who share that faith."  
Ham said that hearing from Manning, Bradford, Utecht and Gannon helped him look at football and life in general from a different perspective.
"Outside observers would think men that successful in their careers would be self-centered, but that's not the case," Ham said. "Everything they did was to help the people around them become better. It was very humbling to know that their decisions in life came from their faith."