EAGAN, Minn. — Both sides of the Vikings line of scrimmage received reinforcement Friday when the team announced Blake Brandel and Khyiris Tonga have re-signed with Minnesota via exclusive rights contracts.
Brandel, a sixth-round pick by Minnesota in 2020, has appeared in 22 games since 2021.
Although most of his work has been on special teams or as a "bonus tight end" in heavy personnel packages, Brandel showed he was ready to contribute in a larger role when he filled in for Christian Darrisaw in multiple games last season.
Brandel relieved Darrisaw for 39 snaps at Buffalo and 39 more against Dallas before starting the next three games in place of the 2021 first-round pick. Brandel helped Minnesota claim home wins against New England and the New York Jets before leaving Minnesota's game at Detroit with an injury that sidelined him for the rest of the regular season. Brandel returned for the Wild Card game against the Giants and played sparingly.
In addition to both tackle spots, Brandel has taken practice reps at center and offers quite a bit of position versatility. Right tackle Brian O'Neill described Brandel, 26, as one of the best teammates in the locker room.
Head Coach Kevin O'Connell and Offensive Coordinator Wes Phillips were both asked about Brandel the week after he jumped in and helped the Vikings upend the Bills in Buffalo.
"What I love the most about Blake – there was just zero flinch to him. I mean, it was the next-man-up mentality," O'Connell said. "A real challenge with Von [Miller] and the way the Bills can rush the passer, and we were kind of in the mode where we had to throw it quite a bit, getting back into that football game and ultimately winning it. So I think Blake deserves a ton of credit for what he went in there and did, and I think it can give him a lot of confidence moving forward that he can step in, really, at multiple spots, I do believe, and help us win a game."
Phillips said Brandel offers "a lot of value."
"Sometimes these guys who haven't played a lot — this was his first real playing time on the offensive line. He's played some kind of extra tight end stuff last year, but sometimes they don't even realize what they did," Phillips said. "They just go in there, and after the game, I said, 'Great job, man. Von Miller, man, you know?' And he's like, 'Yeah, it was awesome.' He had a great time — didn't even realize, you know, this guy has had 100-plus sacks over here and came in and did a great job. It should definitely help his confidence going forward."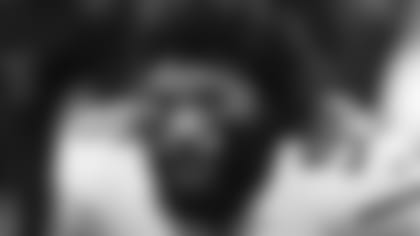 Tonga, a seventh-round pick by Chicago in 2021, signed with the Vikings in October.
He brought strength to the interior of Minnesota's defensive line and showed an ability to break up passes at the line of scrimmage.
He appeared in 11 games and made two starts in the regular season and also played in the Wild Card game.
O'Connell was asked about Tonga in December between the Vikings wins against the Colts and Giants.
"I just think, and you guys probably feel it, too, but I just think he plays with a level of physicality in the run game — that knockback that you look for. It shows up on tape," O'Connell said. "You consistently see him splitting double teams, you consistently see him get push into people's run games that allows E.K. (Eric Kendricks) and Jordan [Hicks] and Brian [Asamoah II] to go run and try to make tackles.
"The hardest jobs sometimes for those defensive linemen are transitioning from playing a gap mentality in the run game and trying to do their job to, 'OK, it's a play pass, or a dropback pass. Can I transition now to go try to get the quarterback?' He's showing some real flashes of that as well, so … you just see a little bit of growth every time he goes out, and he's been a real plus for us and our defense," O'Connell added.
Tonga totaled a career high of 28 tackles, and he recorded the first pass breakups (four), quarterback hits (two) and sacks (0.5) of his career. The BYU product will turn 27 in July.