The Buffalo Bills made a change at quarterback heading into Week 5 of the 2014 season. They benched last year's first-round draft pick, EJ Manuel, in favor of veteran Kyle Orton. On the surface, the change may not seem notable given that Orton's .500 record in two games matches the .500 record Manuel produced in four games.
But, as illustrated below, the Bills have become more efficient and more explosive in their passing game with Orton under center.
---
A deeper look reveals something else that's changed since Orton was inserted into the starting lineup: TE Scott Chandler has become a focal point in the offensive game plan. Chandler's emergence in the passing game and the Bills subsequent uptick in passing game production is this week's opponent X-factor.
Chandler has been targeted more in the past two games with Orton (15) than in the first four games with Manuel (13). In Orton's first start two weeks ago in Detroit, Chandler hauled in four receptions on six targets and last week against the New England Patriots Chandler was particularly effective, catching six passes for 105 yards in nine targets.
Part of the reason the Bills are able to involve Chandler so much, despite defenses trying to neutralize him, is that they are diverse in how they deploy their talented pass-catching tight end. They line him up in-line and offset, they use him in stacked or bunched formations, they line him up in the slot and short slot, and they even motion him from time-to-time. They show a minor tendency in which side he lines up, as he's been on the right side of the formation on nine of those 15 targets, but it's also notable that he's averaged 15.0 yards per target while lining up on the left side of the formation and just 3.9 yards per target while lining up on the right side.
A final aspect of the Bills X-factor worth mentioning is what the opposition can do to help neutralize Chandler. Last week, the Patriots frequently used a defensive lineman to chip or even jam Chandler at the line of scrimmage before releasing him and resuming a pass rush.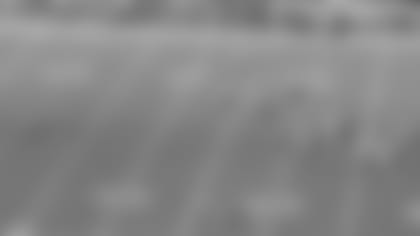 DE Chandler Jones prevents a clean release (circle) by jamming and sticking with Chandler three yards upfield. DE Jones then released Chandler and both S Patrick Chung and S Devin McCourty (arrow) picked him up as he ran down the right seam.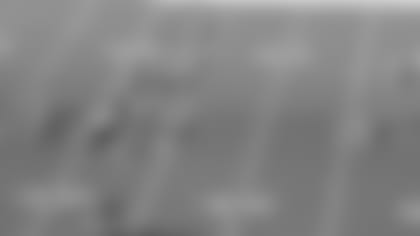 New England set up in a man-to-man look with CB Tavon Wilson (looped arrow) lined up over Chandler. In addition, the Patriots walked DE Jones (dashed arrow) out to be head up with Chandler; Jones jammed Chandler to prevent a clean release and stays with him until well outside the hash before releasing him to rush the passer. Wilson then immediately jammed Chandler, as well.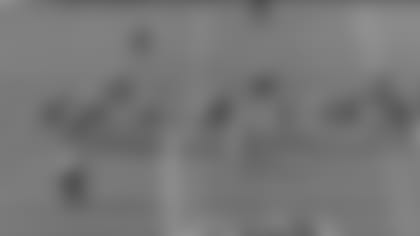 Both DT Vince Wilfork and DE Rob Ninkovich (square) chipped Chandler at the snap. The two DL rushed the passer after releasing Chandler, and then S Chung (arrow) picked up man-to-man coverage.
Granted, this is not a novel idea but it is notable to what extent and how frequently the Patriots used this technique. This tactic may illustrate how important New England felt it was to disrupt Chandler's route timing – they sacrificed pass rush to help pass coverage.