EDEN PRAIRIE, Minn. —Vikings Head Coach Mike Zimmer has mentioned multiple times that he keeps in contact with Hall of Fame coach Bill Parcells, for whom Zimmer worked as a defensive coordinator.
Parcells spoke with Dan Barreiro on KFAN 100.3-FM on Wednesday afternoon. The two-time Super Bowl-winning coach said he offers a unique kind of advice to Zimmer.
With the Vikings set to host Seattle at noon (CT) Sunday in a Wild Card game, Parcells said he conferred with Zimmer about how to get a team ready to play in what is expected to be brutally cold weather.
Parcells said the frigid temperature will be a "great equalizer."
"I'm not looking with a critical eye," Parcells said. "We've had discussions about lots of things … usually things that aren't obvious to the layman.
"This week would be how to prepare your team to play in the elements."
Parcells, who coached in numerous cold weather games as the head coach of the Giants, Patriots and Jets, said Sunday's frosty conditions could limit any explosive plays. 
Sunday's weather forecast is expected to be around 0 degrees at kickoff.
"It reduces the high-end fire power," Parcells said of the cold. "It injects too many variables into the high-powered offenses.
"The wind, the ball being cold, the players not being able to keep their bodies fully warm all the time, which cuts the speed down. Sometimes the footing may not be perfect because of the frost or wetness that exists on the field – ice or whatever it is.
"The elements are a great equalizer. The wind is a tremendous factor in games. "
As Zimmer's former boss, Parcells praised the Vikings for hiring him last season.
Now that Zimmer has almost two full seasons under his belt — and has molded the Vikings into NFC North champions — Parcells said he isn't the least bit surprised.
"When someone first gets to be in charge, you never really quite know for sure because they've never had that experience," Parcells said. "Some respond favorably and other respond unfavorably.
"In Mike's case, being the son of a coach and having basically lived it all his life, I thought he had a real good chance to respond favorably.
"They have a lot to do there. This is no finished product, but I think he has them going in the right direction."
But Parcells also knows Minnesota will have their hands full Sunday with Seattle, a team that has already won at TCF Bank Stadium this year. The Seahawks won 38-7 in Week 13.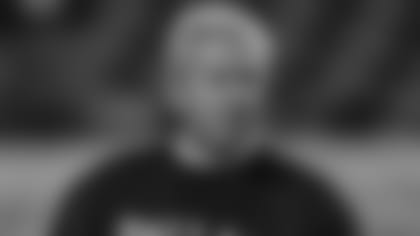 Parcells said all eyes will be on the Vikings to see if they can rebound from the Dec. 6 loss.
"Seattle knows they're capable of beating Minnesota because they've already done it," he said. "Minnesota doesn't know that … that's the psychological barrier that they have to overcome.
"They have to go into this game believing they're a little different team that the one that was beat by Seattle. Based on their recent play, I would say that they are a little different."
The Vikings accounted for less than 150 yards of offense in the first meeting.
When asked about quarterback Stefon Diggs, Parcells said every player will need to improve against Seattle.
"I think everybody has to play better," Parcells said. "(Minnesota) is a true team. They can't be one-player reliant."
Parcells said he'll be watching Sunday's game and rooting for Zimmer and the Vikings. 
"When they tee it off on Saturday and Sunday, anything can happen," Parcells said. "This is the tournament; they're starting over.
"You can have your favorites and have your chalk horses, but that doesn't mean they're going to win. I'll be pulling for (Zimmer)."