For Aviante "AC" Collins, last week's call with Crescent Cove was a type of family reunion.
Crescent Cove, a home that serves children battling life-threatening conditions and their families, partnered with the Vikings for a virtual Q&A with AC and Vikings Legends Carl Lee and Henry Thomas.
Three Crescent Cove families "attended" the event; AC's smile said it all when he logged on and saw among the group Madelisse Ortiz and her two sons, Christian, Jr. and Mauricio, whom he first met almost exactly a year ago.
When AC walked into Crescent Cove last September, he couldn't anticipate how the visit would impact his life. He joined Vikings teammates Garrett Bradbury and Pat Elflein on the day he met 3-year-old Raphael Andres Sánchez.
"It was just one of the team's Community Tuesdays, and little did I know, I was going to be a part of something bigger," AC said on the video conference.
Raphael was born with complications and suffered brain damage that affected his vision, breathing capacity and communication skills. He later developed bouts of seizures and eventually acute kidney failure.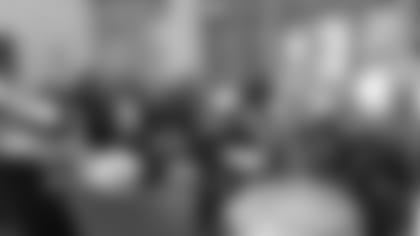 But AC saw far past Raphael's physical disabilities.
Noticing that the young boy shared a name with his favorite character from Teenage Mutant Ninja Turtles, AC was immediately drawn to Raphael. And as it turns out, he wasn't alone in his affinity for the pizza-loving heroes in a half shell.
AC and Raphael bonded over the childhood TV show as well as Raphael's love for the Vikings and the team's mascot, Viktor.
"I thought, 'There's something special about this kid,' " AC said.
Sadly, just a few days after the Vikings visit, Raphael's condition rapidly declined. As he entered the end-of-life stage surrounded by family and Crescent Cove caretakers, Raphael's parents inquired about a possible return visit from AC.
He didn't give it a second thought.
AC, his wife Jordan and Viktor the Viking made a personal trip back to Crescent Cove. AC and Jordan spent time getting to know Raphael's parents and brothers. AC read aloud a story, Where's Viktor's Mustache?, and helped bring comfort and light-hearted moments to the family during Raphael's final days. He passed away on Sept. 19, 2019.
"An end-of-life experience for a family losing a child is an extremely difficult circumstance. At Crescent Cove, we are able to provide a warm, compassionate and beautiful environment for a family to spend time together in a way that matters most," Anderson said. "It takes individuals with compassion and love to enter that space, and we are ever so grateful to AC, Jordan and Viktor for visiting.
"For most, professional sports athletes are 'off-limits.' They are figures on TV, not individuals who can connect and bring comfort during difficult times," Anderson continued. "But at Crescent Cove, those difficult times can be the best times to make cherished memories, and Raphael's family will always remember the visit with AC, Jordan and Viktor that September evening."
During the virtual Q&A event, Ortiz shared with AC, Lee, Thomas and the other Crescent Cove families how much of an impact the Vikings organization has made on her family.
"Before [last fall], we always thought football players are just famous people, and they aren't involved in the community, but it was really awesome to meet [the Vikings]," Ortiz said.
She grew emotional as she recalled that during the Vikings game on Sept. 22, 2019, the day of Raphael's funeral, Viktor wore a white jersey in his memory. During the My Cause My Cleats game in Week 14, the mascot donned custom-painted kicks for Crescent Cove. The shoe's side panels featured Raphael from the Teenage Mutant Ninja Turtles.
"It was just awesome that you guys are a loving community and awesome players that really care about us," Ortiz said. "AC and his wife have just been a great support and amazing friends that we've become close with."
"We love you guys so much," AC responded. "We're sad we couldn't have you out to a game this year because of COVID, but we'll get together soon."
Lee (1983-93) and Thomas (1987-94) were teammates for seven seasons and became lifelong friends who enjoy giving back. The Crescent Cove event allowed the former teammates to connect virtually from West Virginia (Lee) and Texas (Henry), and they also jelled well with Collins, who shares Thomas' hometown of Houston.
"Five minutes into going into the community and seeing the reactions and faces and what it brought to some of the kids … was amazing," Thomas said. It's kind of an addicting feeling to be able to give someone that kind of warmth and joy. We've always been eager to do it."
Thomas, Lee and AC fielded hard-hitting questions such as favorite food (Thanksgiving spread for Thomas), favorite movie (Blank Panther for AC) and favorite sports teams outside of the Vikings. Lee graciously handled grief from the group for his childhood allegiance to the Browns.
The trio of Vikings spent nearly an hour with the three families, engaging in casual conversation and exchanging fun questions back and forth. By the end of the afternoon, it was clear that the interaction had brightened the day of everyone involved.
"Hank (Thomas) and I do a lot of things together, and I'm just meeting AC, but it's clear that he wants to be part of that," Lee said. "I think the Vikings [have a lot of people who want to get] out into the community and just love it and be part of it."
Crescent Cove offers care and support to children and young adults with a shortened life-expectancy, and to their families who love them. Around the United States, there are over 4,700 hospice homes for adults; the Crescent Cove Respite & Hospice Home for Kids is Minnesota's first and only home designed just for children and their unique needs, and just the third of its kind in the United States. A vibrant and joyful home-away-from home, our goal is to help families feel Embraced, Assured, and Celebrated.