EDEN PRAIRIE, Minn. —Legends Jim Marshall, Carl Eller and Matt Blair contributed significantly to Vikings lore.
Now, they'll add elements of themselves to the new Vikings home as commissioned artists for U.S. Bank Stadium's collection.
Blair and Eller spoke to members of the media Tuesday about their works that will be featured inside the new venue that is scheduled for completion in July.
A partnership between the Vikings, Minnesota Sports Facilities Authority and Sports & The Arts has led to the commission of 44 artists, including 36 from Minnesota, who are working on a privately funded collection of more than 500 original artworks (including photography).
"We are incredibly proud to honor these three men who played a significant role on the field for the Vikings and have maintained a deep connection to the organization following their successful football careers," said Vikings Chief Operating Officer Kevin Warren. "Their inclusion in the U.S. Bank Stadium art collection recognizes their artistic skills and emphasizes our commitment to showcasing and celebrating the history of the Vikings and the State of Minnesota."
The collection's pieces will range from work inspired by football and other sports to regional landmarks and landforms.
Blair explained how he took his first camera on a trip to Europe (funded by his first football contract) in 1974 and brought back pictures that impressed friends.
"People said, 'Those are good.' I said, 'Really.' That gave me a chance to take a lot of photos through my lifetime," Blair said.
The 65-year-old then reported to training camp in Mankato in 1975 officially as a second-year linebacker, but also unofficially as a team photographer. Moments in time became timeless as Blair captured behind-the-scenes visuals over his 12-season career. After football, Blair shifted his focus to landscape and wildlife photography.
He was honored as the Uptown Art Fair's Commemorative Artist of the Year in 2011 and said he thinks about photography throughout the day.
"I see things. When I was coming out here today, I'm always looking at things, 'I wish I could take a picture of that,' " Blair said. "It's awesome to see and take a picture of it."
Eller, whose hands recorded more quarterback sacks than any Viking (130), now uses them at his potter's wheel, leaving impressions in clay. He is making a piece called "Lakes" that will feature 10-12 bowls in a display.
"Lakes are an important part of Minnesota," Eller said. "It's a place to meditate, think and enjoy."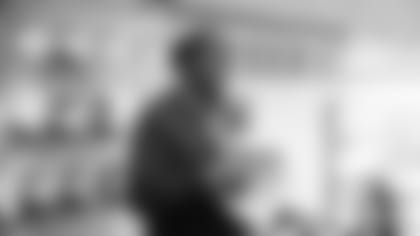 The 74-year-old devised an apparatus for the bottoms of the bowls so they can be placed in a wall-mounted display.
"It's a softer clay, and that's where the idea of water or fluid movement comes from," Eller said. "I don't know if Minnesota lakes are as aggressive as this, but typically you get some type of wave hitting the shore."
Eller said he began working with ceramics in the past 10 years but has always been appreciative of art. He visits museums when he travels, sees the artistic value in craftsmen architecture like masonry work and enjoys the creative process. He simply shrugged when asked to estimate the amount of time the piece will take.
"Any piece of art is a labor of love, the hours, the time, the thought, all that goes into it," Eller said. "It's not just appreciating the art, it's appreciating what [the artist] was trying to do and say. Sometimes in ceramics, it generally is a surprise for me. I have to be happy with it, but a lot of times, it surprises me."
Marshall, a member of the inaugural 1961 Vikings and the following 18 installments, was inspired to research non-football Vikings lore as he helped write chapters of the team's history. Marshall discovered Odin's ravens. From that inspiration, Marshall created the Silver Eagle, an emblem that he drew on training camp bibs, gloves and pants. Marshall has agreed to recreate the Silver Eagle for the U.S. Bank Stadium collection.