The importance of learning the past to better understand the present was conveyed Tuesday to Minnesota students interested in shaping a bright future.
Vikings Legend Steve Jordan joined Co-Defensive Coordinator Andre Patterson and linebacker Anthony Barr for a roundtable hosted by Vikings Entertainment Network content producer Gabe Henderson for approximately 300 students.
The virtual discussion in conjunction with Black History Month was for students who are participating in the 306 African American History course offered through a partnership between EVERFI and the Minnesota Vikings.
In 2016, the Vikings became the first NFL team to partner with EVERFI. Last year, the team helped expand the curriculum from 12 schools to 24 in Minnesota with a financial commitment from the Vikings Social Justice Committee.
Jordan, a Vikings Ring of Honor member, has followed his gridiron prowess with an impressive run with Ryan Companies. The 60-year-old is now director of development.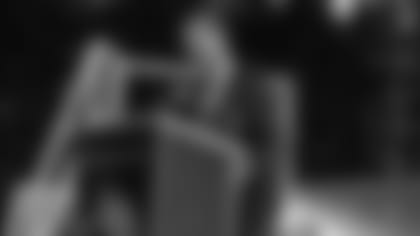 Patterson, also 60, and Barr, who will turn 29 next month, are members of the Vikings Social Justice Committee.
Henderson led the trio through a discussion of multiple topics, fielding students' questions. Here are their in-depth answers to three questions.
What is the value of knowing your history and heritage, and how has it impacted your journey?
Barr: "I think it's really just understanding your self-worth and having a good idea as to where you come from, your culture. It's a special thing. It's something that I think I kind of took for granted growing up, and I didn't care to learn too much of when I was younger. I would focus on other things, but as I've gotten older, I feel like it's become more important to me, especially given the way that society is going right now and all of the tension that is kind of in our country, that we've seen in the past year, in 2020 specifically, to having that understanding, maybe, of 'Why are things like this?'
" 'How did things get to this point, and where do we go from here, and how do we kind of move forward as a community, as a people, and more specifically as a person looking from within?' I think right now is a really good time to reflect. For me, 2020 was a tough year for everybody, but it was a year of reflection, and looking back and trying to understand how we got to this point. As I've gotten older, I've realized how important it is to have that educational piece to the African American culture."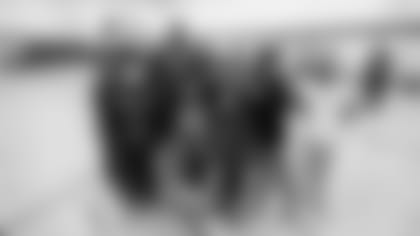 Jordan: "I look at it and say, 'Black History Month,' sometimes that gets to be a little cliché, and there have been people that have written that Black history can't be confined to just 28 days, right? We have to go beyond that and learn more, and I can appreciate that. I actually wrote an article recently in our corporate newsletter about what Black History Month means to me, and a part of it again was about learning, really going beyond what you learn in school. … We have to understand history because it has a tendency to repeat itself. So, for instance, as I've learned more about Black history, I've learned that it is a part of American history. It is not just Black history. It is integral to American history."
Jordan cited lessons he learned in school that omitted that historical figures, including presidents, were also slave owners. He noted intimidation efforts against Black elected officials in the years after the Civil War that helped lead to a prolonged absence of representation, plus reports of more than 100 legislative proposals across the country that are believed to be active efforts to suppress voting rights.
Patterson: "I think it's very important for us to have a great idea of our history for us to have self-pride in who we are as people because all of the messages that we [encounter] on a daily basis still seem to tell us that we're less and whatever we choose to do that we're less. If you understand the great things that people of color have done, that Black Americans have done to help society grow, it gives you pride of who we are as people.
"Like Steve said, it's easy for things to repeat themselves when you don't have an understanding of how hard people worked, how much sacrifice they made to make things better for all of us. Now, do things still have to get better? Yes, they do, but I'm a child of the '60s, so I remember having to ride on the back of the bus. I was bussed to all-white schools. I saw the water fountains in the South [segregated by race]. Here we are today, and we don't see those things, but if you don't have an appreciation that those things happened and have an appreciation of the sacrifices and hard work that people put in to get those things to change, it makes it a lot easier for those things to go backwards and they can happen again. That's where Black history has meant a lot to me, and it has been very important to me to share that with young Black people because I think it's very important that we have a great self-worth of who we are and take pride in who we are, and there's more to us than just being athletes. Society sells us as athletes and entertainers. There's way more to us than that, and I think it's important that we get that message out."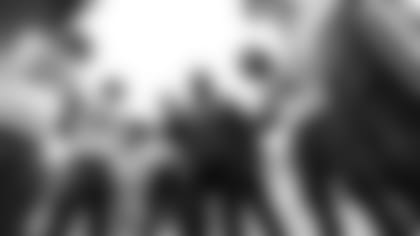 How should athletes use their voices?
Barr: "We definitely have a responsibility as athletes and role models. I think the first thing that's important is you have to be passionate about it and it be something you want to do because people can see right through the fake. If you're just doing it to show face or to make a headline, that's not going to last, and your words are going to fall by the wayside, but if it's something that you're truly passionate about and really care about, then get out there and educate yourself.
"My big thing is time over money. Obviously you've got to fund organizations and help support different organizations, but from my experience, it's really about being with the people in the community and being in the community … talking to people and trying to understand what their feelings are. I think that's where the majority of the impact is. A lot of it starts with the youth. I've been inspired by going to protests in the last year. The majority of the people out there are younger than me. From what I see, it's all different races and colors and religious beliefs and genders and what have you.
"I think the one great thing about this upcoming generation, they've been exposed to so much. Social media, for one, gives you a gateway to see so many different things to kind of understand and appreciate different cultures. For an athlete like myself, an almost 30-year-old biracial man, it was inspiring to see boots on the ground and the youth kind of come together like, 'This is enough. We've seen enough.' For me personally, it's important to be present and practice what I preach."
Jordan: As athletes and coaches as well, we're much more than just entertainers. I look and see some of the differences, the reality is players have been very integral in terms of being activists, going back into the day. Fritz Pollard, who was the first Black head coach in the NFL back in 1921 with the Akron Pros, he did some things and broke some barriers back then. He definitely had to be in a different space because of the climate and era at that time, but he did things.
"I looked at a picture the other day that had a number of athletes together. It had Jim Brown, Muhammad Ali, Kareem [Abdul-Jabbar] and Bill Russell. There were a number of other athletes, and they were all there because they were making a statement because they wanted to make a better place for what was happening in our society at the time: major oppression, major injustices, and they basically came together and said, 'We're not taking that anymore. We want to stand up for the people.' The difference, though, is that was a place and time that that could get suppressed in certain regards, but you look at today with social media, that's the difference maker in my opinion, so as a look at that and see where my son (Cameron) has gone and is going with his team, the New Orleans Saints, it's showing him the same thing. You definitely want to step out and be authentic, keep it real, but at the same time, you have to be respectful and try to educate people. It has to be sustainable, too. Those are things he's tried to do, and to use that platform to really amplify the message."
Patterson: "When I coached with the Cleveland Browns (2003-04), I had the opportunity to spend a great deal of time with Jim Brown because he was around a lot. The first conversation I had with him was just getting to meet the great Jim Brown, an idol, and those kinds of things. Then, we started to sit down at lunch or at dinner and have conversations, and he started to tell me what it was like for him at Syracuse, the best running back to ever play, the best lacrosse player to ever play lacrosse at Syracuse, which I had no idea. I'm from California. I never knew what lacrosse was, and he's the best to ever play the game and the best running back. And the way he was treated and had to sleep in different places than other guys on the team, where they've got thousands of people cheering for him, but he's got to stay in a different place. Then, he went to the Cleveland Browns, he's the best running back all-time in the history of the NFL, and the things he had to endure, you would think a guy like that would not have to go through that.
"The biggest thing that went through my mind is Black is Black. It doesn't matter how much money you make, how much fame you have, it doesn't matter, you're always going to be Black, so the thing that ends up happening is people forget that. They think fame and fortune alleviates that. It doesn't. … So, you better learn what it's like to be Black. You better learn to take pride in what it's like to be Black because you're never going to get rid of it.
"That was a huge eye-opener for me to have those conversations with Jim Brown. I was a grown man at that time. I wish I would have known those things when I was younger. I wish I would have heard those experiences when I was younger, so that's the value that athletes can bring, because they have a different perspective because people out there believe they have it all. They see on the bottom of the screen on ESPN how much money they have, they see the nice suits on game day, the beautiful cars, all of the bling, bling, 'OK, but they still have some of the same issues that every-day, ordinary Black people have.' Why? Because they're Black."
What habits can students develop now to make a positive impact on their communities?
Patterson: "I think first of all is to have a quest for knowledge, have a hunger for knowledge, get to know more about your people, which will in turn get you to know more about yourself, and I think to have the ability to share, to want to give back to help us all continue to grow and get better. Anthony talked about it earlier, one of the things that happened during the protests — I grew up in the protest era in the '60s — to see all of those young people out there of all different races and backgrounds, that just touched my heart. I think the more that our youth can get involved in things to be able to give back and go out there and gain as much knowledge about our people and the struggles we have and the things people have done to make things better, it will help energize them and help them say, 'Hey, we're never going to turn around and let things go back. We're going to strive to get things to continue to improve, and our voices need to be heard.' And not be afraid to speak. I think numbers help you have strength in your voices. The more people that are out there, that has strength and causes change to happen."
Jordan: "I've been really encouraged to hear about what students are doing. Gen Z — we always try to label the generations, but Gen Z tends to be very digitally savvy and have a lot of capability of going online. As for the habits that make them successful, I would say, as Coach said, you have to learn and have some knowledge about what's going on and really understand some of the details of it because there's a lot out there that's pretty easy to overlook and say, 'There's still discrimination. There's still inequities,' and that type of thing, but you really need to try to get into the detail of it to try to solve these problems.
"One of the things I encourage you to do is to get educated and also work together. You have really powerful voices. People are listening a lot more to youth. You think about some of the shootings that have happened in high schools and see some of those students that held rallies and called the [Congress members] to the carpet to say, 'What are you going to do?' Now, that's the type of thing that I think can get traction. I say learn, understand the details, try to collaborate because there is power in numbers for sure, and then utilize the digital resources that you can because that's what's out there. That's something that's more direct. People listen to it, companies listen. It's amazing how much youth is getting heard these days."
Barr: "Just piggybacking off what the gentlemen have said already, first of all, question everything, whether you know it to be true or not. If somebody tells you something, ask why and question everything. Don't just settle for the run-of-the-mill answer. Try to go into the details and get the depth and force a challenge from the people that are educating you to explain things to you on a complicated and intricate level.
"Second of all, try to make yourself uncomfortable. Go and try something different, expose yourself to something different, maybe something you haven't tried before. I think the more you expose yourself to, the more tolerant you become and the more you understand different cultures and backgrounds. You realize we all want the same thing: to be happy, healthy, provide for our family and be loved at the end of the day, no matter if you're black, white, yellow, purple, green, male, female, and that's what any human truly wants. Lastly, I would say volunteer. Go put your feet on the ground and go try something different. The more you can do that, the better you'll be for it."