After Further Review is a deeper look at plays or stats after Vikings games...
Adrian Peterson and Jerick McKinnon helped the Vikings seal the deal in a 49-17 win over the New York Giants with a pair of game-breaking runs.
Peterson powerfully drove through a gigantic opening for a gain of 39 in the third quarter, and McKinnon went from 0 mph to a 68-yard touchdown in eight seconds.
The Vikings totaled 218 rushing yards on 40 attempts, but 107 were gained on the two plays that we'll take a deeper look at this week.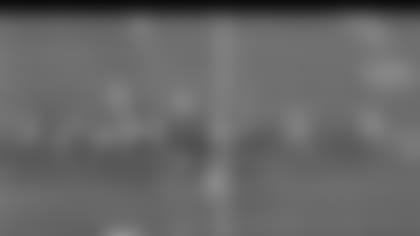 Second-and-8, MIN 20, 4:39 remaining, Q3: The Vikings have opted to go big and have their 13 personnel grouping in the game (one running back, three tight ends, one receiver). Rookie TE MyCole Pruitt starts outside of Kyle Rudolph, who is to the right of Rhett Ellison. Pruitt motions from the right side of the line to the left before Teddy Bridgewater takes the snap and prepares to hand the ball to Peterson.
The Giants have eight defenders within a yard of the line of scrimmage, two linebackers at the 24 and safety Landon Collins at the 32.
Rudolph seals Giants LB J.T. Thomas III, pushing him to the outside and taking CB Prince Amukamara out of the play as Ellison and RT T.J. Clemmings double team Jason Pierre-Paul to create a gaping hole and allow Peterson to press full-steam ahead until Collins uses his positioning 12 yards behind the line of scrimmage to get an angle and force Peterson out of bounds.
Vikings Head Coach Mike Zimmer said he had just asked Offensive Coordinator Norv Turner if he thought a breakaway run could happen soon to make New York pay for its commitment to trying to stop the run.
"Usually when they keep all of those people in there against the run, you have a chance to pop some long runs, and it took a long time before we were able to get a couple of them," Zimmer said. "It's just part of the mindset that I'm trying to develop with this football team."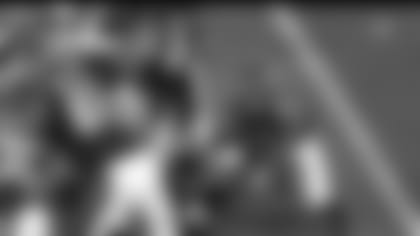 First-and-10, MIN 32, 3:48 remaining, Q4: This time, the Vikings are in 12 personnel (one running back, two tight ends, two receivers) with Peterson, Rudolph and QB Teddy Bridgewater already on the sidelines enjoying a 42-10 lead.
The Giants put nine defenders within a yard of the line of scrimmage, a linebacker at the 36 and Collins 13 yards back at the 45.
McKinnon makes it near the line of scrimmage, but patiently waits, allowing center Joe Berger to hammer a block as McKinnon cuts to Berger's left. Austin Shepherd, filling in for LT Matt Kalil seals LB Mark Herzlich farther to the left of McKinnon as the second-year pro accelerates. Stefon Diggs sidetracks CB Dominique Rodgers-Cromartie to allow McKinnon to hit full stride, and "Jet" has enough juice to win a footrace to the end zone.
"Jerick is a good football player, and you see the explosiveness that he has," Zimmer said.