After Further Review is a deeper look at plays or stats after Vikings games...
EDEN PRAIRIE, Minn. — Teddy Bridgewater liked what he saw at the line of scrimmage.
The home crowd loved what he did after the snap.
Bridgewater observed single coverage on rookie receiver Stefon Diggs and thought it was worth a shot. The second-year quarterback perfectly lofted the ball where it dropped into Diggs' "front pocket" (if jerseys had pockets) for a 15-yard touchdown to cap a 93-yard opening drive.
The Vikings were in 11 personnel, with receivers Mike Wallace, Jarius Wright and tight end Kyle Rudolph on the right side of the formation. Bridgewater was in the shotgun, and Adrian Peterson motioned to the left, outside of Diggs before the snap.
Peterson serves as a check-down option, occupying one defender and allowing Diggs to arc his path toward the left back corner of the end zone. Bridgewater made a safe throw in putting the ball over Diggs' outside shoulder away from Tracy Porter and did so with precision, allowing Diggs to get both feet in bounds.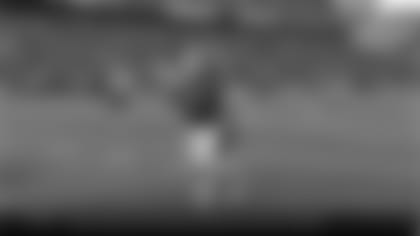 "The coverage that he got was one – he has options in it, but he saw the guy playing bump and run on Diggs. He knew Diggs was going to the corner, and that's a confident throw," Vikings Head Coach Mike Zimmer said. "There was a couple other safer places he could have made the throw, but he decided to try to hit the big one. I think that play probably shows as much [as any] about his confidence level right now."
Bridgewater was 4-of-6 passing for 59 yards during the drive. While other receivers cleared defenders out of the way by running deep routes, Bridgewater worked underneath.
He executed throws for 12 to Kyle Rudolph to convert third-and-10, hit Jerick McKinnon on a shallow cross to turn a third-and-4 play into a 25-yard gain and fired accurately to Jarius Wright while bootlegging to his left for a gain of 7.
Bridgewater's confidence mounted during the drive and expanded after it. He completed 13 of 14 passes for 172 yards and additional touchdowns of 17 yards to McKinnon, 33 to Diggs and 4 to Zach Line, becoming the first Vikings quarterback to throw four touchdowns in one game since Brett Favre did so against the New York Giants on Jan. 3, 2010. It was quite an encore to throwing for a career-high 335 yards at Arizona.
"He's felt good going into both of these last two ball games," Zimmer said. "He's felt really good about the plays, the things, and I think maybe sometimes in the past he saw some things that were covered that really had a chance to still get open and he's throwing those."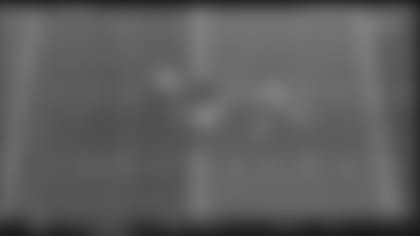 A throw to Mike Wallace that resulted in a 34-yard gain could rival the first touchdown toss on the confidence-boost-o-meter.
This time the Vikings are in 12 personnel, with one running back, two tight ends and two receivers. They line up Wallace in the left slot and send him down the seam as Bridgewater executes a fake handoff to McKinnon. Wallace speeds past linebacker Shea McClellin for an opening. Bridgewater knows that McClellin has help from safety Chris Prosinski, coming from Wallace's right, and places it on the receivers left side. Wallace makes a nice adjustment with the ball in flight and records the longest connection of their first season together.