After Further Review is a deeper look at plays or stats after Vikings games…
The Vikings fell 31-24 against the Panthers on Sunday in Carolina.
The loss ended Minnesota's eight-game win streak and run of five consecutive road wins that had tied a franchise record.
Like any game, there were multiple plays that affected the outcome, but Minnesota **did not fare as well** as it had since the bye week inside the red zone on offense or defense.
Minnesota had six possessions inside the Carolina 30-yard line on the day and ran 15 plays from that distance or closer but netted just 28 yards.
The results of all six possessions were as follows: an 18-yard touchdown from Case Keenum to Kyle Rudolph, a 30-yard field goal, a 22-yard field goal, a 54-yard missed field goal, an interception and a 27-yard field goal.
The Vikings failed to capitalize on possessions that started at the 30-yard line after a 29-yard punt return by Marcus Sherels and at the 6-yard line after a 34-yard interception return by Andrew Sendejo. Those possessions netted minus-9 yards and resulted in just three points.
Here's another look at what happened on the possession that started at the 30-yard line and lost 6 yards, keeping Carolina's lead at 24-13: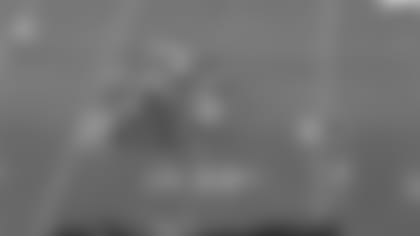 Q3, :16 remaining — First-and-10 at the Carolina 30
The Vikings have had to scramble on the offensive line after an injury to Riley Reiff. Rashod Hill has moved from right tackle to left tackle, Jeremiah Sirles has moved from left guard to right tackle, and Danny Isidora has entered the game at left guard.
Minnesota is in 11 personnel with Latavius Murray in at running back, Kyle Rudolph at tight end and receivers Adam Thielen, Stefon Diggs and Laquon Treadwell in at receiver.
The play is designed to go to the offense's right and the defense's left.
Linebackers Luke Kuechly and Thomas Davis move a couple of steps to their left before the snap. Defensive end Wes Horton gets through blocks and sets the edge as Joe Berger moves toward blocking Kuechly.
Horton, however, forces Murray to stop and cut back up the middle, but Davis has filled the gap and makes a tackle for a 3-yard loss on the final play of the third quarter.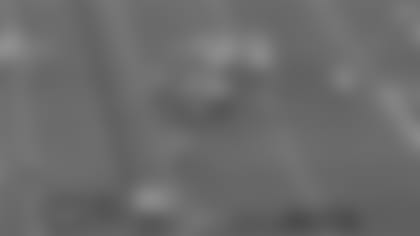 Q4, 15:00 remaining — Second-and-13 at the Carolina 33
The Panthers open the fourth quarter in nickel and with fresh defensive ends Bryan Cox, Jr., on the left and Mario Addison on the right.
Minnesota goes with 12 personnel with Jerick McKinnon at running back, Rudolph and Blake Bell at tight end and Thielen and Michael Floyd at receiver.
Floyd chips Addison, but the defensive end recovers and cuts in front of Hill as Keenum fakes a hand off.
Addison is able to pressure Keenum into throwing toward Floyd quickly and gets a hand on the football to force an incompletion.
Floyd had a little cushion from former Viking Captain Munnerlyn on the play, and McKinnon also had space, but the pressure didn't allow the play to develop.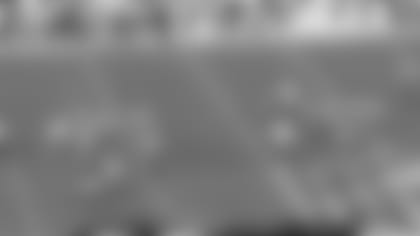 Q4, 14:57 remaining — Third-and-13 at the Carolina 33
Facing favorable down and distance, the Panthers blitz with Kuechly on the A-gap to the left of Easton and with safety Jairus Byrd between Berger and Sirles.
McKinnon picks up Kuechly, but Byrd forces Keenum to drop all the way back to the 48-yard line. Keenum avoids contact from Byrd and rolls to his right, but Kuechly is able to sack him for a loss of 3 along the sideline.