After Further Review is a deeper look at plays or stats after Vikings games…
The Vikings defeated the Bengals 34-7 on Sunday and posted their first return touchdown of the season when Eric Kendricks picked off Andy Dalton and returned the ball 31 yards.
Terence Newman also intercepted Dalton later in the game, impressing current teammates and coaches with a dazzling effort against his former squad.
Kendricks' interception was the second of his three-year career, and he's taken both back to the house. He started 2016 with a 77-yard interception return at Tennessee.
Newman's takeaway was the 42nd interception of his 15-year career. He ranks second among active NFL players (DeAngelo Hall has 43).
Here's another look at the pair of picks:
Q1, 6:05 remaining — Third-and-6 at the Cincinnati 23
With Mike Zimmer facing the team for which he was defensive coordinator from 2008-13, the Vikings head coach wanted to add wrinkles to his third-down defense that has caused problems for opponents all season.
Minnesota is in its nickel defense but decides to have three defensive linemen (DEs Danielle Hunter and Everson Griffen and DT Tom Johnson) in three-point stances. Brian Robison and LB Eric Kendricks flank Johnson and stand in two-point stances.
Anthony Barr lines up more in the middle of the field, and safety Harrison Smith plays closer to where an outside linebacker would play.
Cincinnati lines up Dalton in the shotgun with a trips formation of receivers to his left. A.J. Green is on the line of scrimmage, and Alex Erickson and Brandon LaFell complete the triangle.
When the ball is snapped, Robison and Kendricks bluff that they are both coming on blitzes before dropping into coverage. Kendricks attentively picks up on the route combination by LaFell and Erickson as he drops (screenshot below).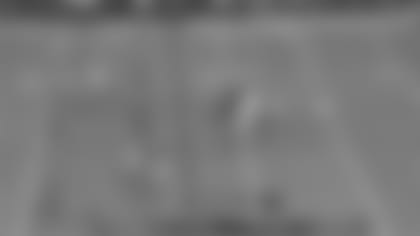 Green heads deep and is picked up by Xavier Rhodes, a matchup that doesn't seem to interest Dalton in spite of Green's talents. Dalton has plenty of time with only three Vikings rushing the passer and tries to hit Erickson.
LaFell is heading toward an area covered by Barr/Smith, but Kendricks manages to guard LaFell initially before drifting back and to the right enough to deny the throw to Erickson.
Q3, 6:34 remaining — First-and-10 at the Cincinnati 25
The Vikings have their base nickel defense in with four down linemen (Hunter, Johnson, Linval Joseph and Everson Griffen).
Minnesota again lines up Smith to Barr's left, and the safety heads to the line of scrimmage to bring pressure from the outside of Hunter.
Dalton, again in the shotgun, fakes a handoff to Giovani Bernard, who would be heading toward Smith. The quarterback pulls back the ball and throws quickly toward LaFell, who is working against Newman in the slot (screenshot below).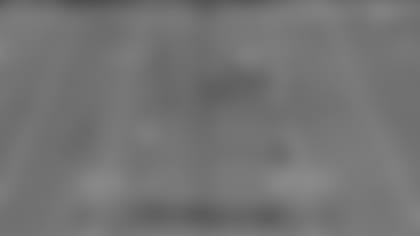 Newman puts in motion the response that was cultivated by strenuous study habits and is well on his way to the ball before Dalton lets it rip. Newman jumps the route and winds up securing the football between one hand and his leg.
"I jumped and turned, and it hit my shoulder pads," Newman said. "I was just trying to keep it from hitting the ground. The basketball play in the offseason kicked in."
Zimmer said the securing of the catch was "pretty good," but he enjoyed even more that the work Newman had put in during the week of preparations was rewarded.
"That was pretty good, that was pretty good catching it between his legs," Zimmer said. "You know he's so smart. He had seen that play previously in a couple of games, and for him to be able to jump it and then make the interception was really good.
"I am sure [Dalton] knew he had pressure coming off the other edge (from Smith), and he couldn't hand the ball off," Zimmer continued. "[Dalton] had to throw it on the smoke, and Terence made a heck of a play. I was happy, knowing [Newman] was [in Cincinnati], too, so I was happy for him, not only for that but I think it shows some of these other players that if you study hard, you do your due diligence, and you continue to work hard good things happen for you."