EAGAN, Minn. –Getting a phone call from the Vikings was a life highlight for Mike Boone, but pulling on a Purple jersey and stepping foot on the practice field in Minnesota made the experience even sweeter.
Wearing No. 44, Boone flashed a warm smile beneath the Vikings helmet that he tipped up on his head following day two of rookie minicamp practice.
"It was crazy! Truly a blessing," Boone said of suiting up at Twin Cities Orthopedics Performance Center. "As a little kid, you work so hard even for an opportunity like this. It just felt amazing, and I thank God for it."
Boone did not receive an invite to the NFL Scouting Combine. He turned some heads at the University of Cincinnati Pro Day, however, where he recorded a vertical jump of 42 inches and a broad jump of 11 feet, 7 inches. Both would have ranked No. 1 among running backs at the combine.
Boone went through the NFL Draft without hearing his name, but he immediately received interest from the Vikings for a rookie free agent deal. He was surrounded by family members when he got the news.
"It's just so amazing that I can make my mom proud, all of my family," Boone said. "It's just a dream come true for everybody.
"[My mom] was excited; I got a little emotional," Boone added. "Everybody was there. My sister, my cousins, my uncles, my aunts. It was just amazing."
The opportunity for Boone comes after a successful four-season run at Cincinnati.
Boone played as a true freshman in 2014 and led the Bearcats in rushing with 650 yards on just 101 carries. He scored nine touchdowns. His most impressive season statistically occurred the following year, when he racked up 749 yards and nine touchdowns on 104 attempts. As a junior in 2016, Boone suffered a foot injury after nine games that caused him to miss the rest of the season.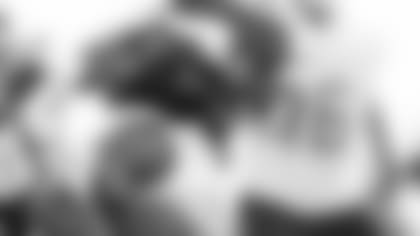 Boone finished his collegiate career with 420 carries for 2,250 yards and 24 touchdowns on the ground. He also added 65 catches for 596 yards and a receiving touchdown. In 2015 and 2016, he also contributed as a kick returner.
The 5-foot-10, 206-pound back played wide receiver at Baker County High School (Florida), and he credits his coaches, Joey and Ryan Sulkowski, for helping him develop the skill sets that allowed him to be a versatile scat back at Cincinnati.
"They helped put me in the position for where I am now," Boone said. "They had me at receiver, so I'm able to catch the ball out of the backfield."
When asked about the qualities that set him apart, Boone emphasized his versatility.
"I feel like I can line up at slot, anywhere from the backfield, catch balls, and I can also be a good running back. I just feel like I'm very versatile," Boone added. "Not to be cocky at all."
After two days of rookie minicamp practice, Boone told Vikings.com that he was getting the hang of things "pretty quick."
"Coach P has been doing a great job of breaking it down to us where we can understand it," Boone said of Vikings running backs coach Kennedy Polamalu. "I feel like I've been picking it up well and making good progress."
Polamalu brought valuable experience to the running backs room when he joined the Vikings prior to the 2017 season. The former All-American has more than 30 years of coaching experience at various levels, most recently at UCLA where he was the running backs coach (2014-15) and offensive coordinator (2016).
Polamalu also previously spent six seasons coaching running backs in the NFL, during which he was with the Browns (2004) and the Jaguars (2005-09).
Boone grew familiar with Polamalu during his time in Jacksonville, which was just a 30-minute drive from Boone's hometown of Macclenny, Florida.
"I also knew he coached Reggie Bush (at Southern Cal)," Boone added of Polamalu. "That guy, he's great. He knows a lot, he has a lot of experience. He's been helping me out tremendously already."
The Florida native also paid attention to Dalvin Cook's high school and college career before he was drafted by the Vikings in 2017.
Boon considers it "an honor" to have the chance to learn from Cook and Latavius Murray, among other older players in the Vikings locker room.
"Those guys are two great backs. We've been watching film from those guys. They're great; they're also versatile, you know?" Boone said. "To be in the position to learn from them … [I think] it would help me out tremendously, whether I'm here or somewhere else."