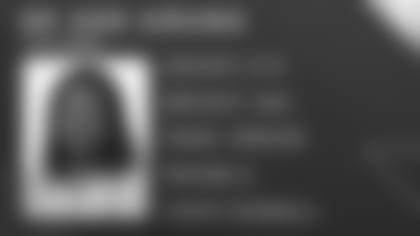 EAGAN, Minn. — Ade Aruna has had quite the journey to the NFL.
The Vikings added the Tulane defensive end to their roster on Saturday with the final pick of the sixth round where Minnesota selected Aruna with the 218th overall selection.
The 24-year-old was born in Nigeria and moved to the United States by himself when he was 16.
"It was really tough, especially for me," Aruna said of leaving his family behind in Nigeria. "I've been wanting to do something since I was born. My father put a lot of responsibility on me as the fourth child of the house. I wanted to do something that I was going to be proud of for the rest of my life.
"So, it was my decision. My parents didn't have anything to do with it. They just blessed me and wished me good luck on everything," Aruna added. "I came over just to do something for my family and bring joy to my country and my family."
After being spotted at an AAU basketball tournament, Aruna was asked if he wanted to give football a try.
He participated in camps starting his sophomore year of high school before finally getting on the field as a senior.
Aruna said his first season of organized football was an adventure.
"It was difficult. Mostly, I don't really know [what was happening] on the field," Aruna said. "But I had my teammates that I was playing with that year, they would literally tell me which was my gap and where to go. My coaches would tell me, 'Just pass rush every time. Don't worry about anything else, just line up at the 5-technique and just pass rush every time.'
"I was just there figuring it out and running, just doing whatever I could do for the team," Aruna added. "It was difficult. I mean, the first time I put on pads, I didn't even know how to do it. I had to go talk to my teammates, and they kind of literally put everything on my body and strapped it up for me."
Aruna, however, played four seasons at Tulane, appearing in 44 career games (with 34 starts). He recorded 107 total tackles (70 solo) with 19 tackles for loss, 12 sacks, three forced fumbles and three fumble recoveries during his time with the Green Wave. 
Aruna made 11 starts in 2017 and played in all 12 games. He recorded 25 tackles (14 solo,) with 3.0 tackles for loss, 3.0 sacks and a fumble recovery. 
The redshirt senior was listed at 6-foot-5 and 262 pounds at the 2018 NFL Scouting Combine, where he showed off his athleticism.
He had the top vertical jump (38.5 inches) and best broad jump (10 feet, 8 inches) among defensive linemen, and also recorded the second-best 40-yard dash with a time of 4.60 seconds.
Aruna said he trained with Vikings Legend Keith Millard this offseason in California. Millard had 53 sacks in six seasons with the Vikings from 1985-1990, including 18 sacks in 1989, and announced Minnesota's selection of Brian O'Neill in the second round on Friday night.
"Keith was one of the best to do it," Aruna said of Millard, who made Minnesota's second-round selection on Friday night. "I got the chance to work with him when I got to California … he was everything I wanted, especially when it comes to the d-line and a pass-rush specialist.
"He taught me most of everything I needed to know," Aruna said. "He installed so many [more] things than what I'd known before, so it was a great opportunity for me to get with somebody like him."
Aruna's new teammate and fellow defensive end Ifeadi Odenigbo is also of Nigerian descent.
And although his new home is now more than 6,000 miles from his original home, Aruna does have some athletic ties to Minnesota.
The Vikings new defensive end played high school basketball against Timberwolves guard Andrew Wiggins, who Aruna said scored just 11 points in the matchup.
"I was on him specifically. For me, I played old school," Aruna said. "I don't know if you watch the '70's and '80's basketball, but that's how I play my own basketball. I stick to playing physical, man on man.
"As soon as we got down to the stadium to play that game, my coach told me, 'Hey, I want you to guard Andrew Wiggins. He's going to be your assignment tonight,'" Aruna added. "I told him, 'No problem, if that's how you want it, I will get it done, just like that.' I gave him one of the lowest scoring games of his high school career that night."
Below is his Combine Profile from NFL.com:
Aruna came to the United State from Nigeria to attend high school and play basketball. A coach at La Lumiere High School in Indiana saw Aruna's build and convinced him to play football in his senior season. He received a three-star rating despite only playing one season of football, and Tulane signed him to a scholarship offer. Aruna redshirted in 2013 and played in eight games the following year, making seven tackles with one sack. He gained enough experience in those seasons to start 11 of 12 games as a sophomore, totaling 32 stops, five for loss, three sacks, and two pass breakups. Aruna had his best year in 2016, starting all 12 games, posting 43 tackles, 10 for loss and five sacks. He could only manage 25 tackles and three sacks in 11 starts (12 games played) in 2017.
Aruna's height, weight, length and athleticism are almost sure to get him targeted by teams looking to mine a diamond from his traits. He appears to be a ways away from becoming a factor on the pro level, but he did show interesting flashes as a 3-4 end this season. Aruna flashes as a rusher, but may not have the ability to get after the quarterback as often as teams would like from a traits-based prospect. Aruna is a developmental prospect, but after putting together a huge combine, he will be drafted early than where the tape would dictate.
Has ideal length with a frame that continues to get bigger and stronger
What you see is not what you get in the future
Traits guy with good wingspan and massive hands
Unfurls long arms into blockers with adequate timing
Displayed improved strength at point of attack
Shows potential as edge-setter
Can punch and extend to create space
Experienced playing as an end in both 4-3 and 3-4
Long strides close down alleys for running backs and scrambling quarterbacks
Flashed some edge bend in 2016
Blockers get too many leverage wins
Needs to improve pad level and hit those leg days to improve contact balance
Gets knocked off his spot by power and struggles to keep pad level square
Despite lateral quickness, gets beat across his face
Base gets too narrow as rusher
Speed to power conversion is inconsistent
Hands not yet skilled enough to overcome issues with play strength
Pass rush ends abruptly once his frame is snatched up
Lacks rush plan and workable counters at this point