Adam and Caitlin Thielen were unable to have a physical presence at their Thanksgiving turkey giveaway, but the impact was felt just the same.
Thielen Foundation partnered with Jennie-O to donate 2,000 turkeys on Nov. 17 to families served by The Salvation Army.
Adam was excited for the opportunity to double the number of turkeys donated by the foundation in 2019, especially during the COVID-19 pandemic that has affected so many households and livelihoods.
"I think there are so many people who probably have never been in this situation before – who need that help, who need those resources," Adam said. "It's kind of a thing where you've got to take ownership, and it might not be easy, but you've got to find a way to still … give back."
Adam is just one of several Vikings players who have continued to make a difference despite safety protocols that prevent in-person participation. From virtual and drive-through events to personal donations and fundraisers, Adam and his teammates feel strongly about lifting up the community.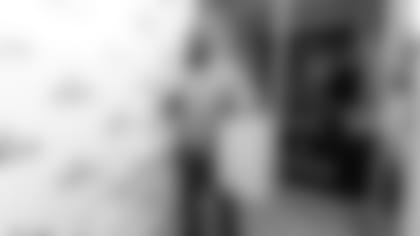 "We'll be able to feed [up to] 20,000 people with the 2,000 turkeys that we gave out," Adam said. "It's pretty special. I wish we had been able to be there and bring our sons to show them what it means to give back and how thankful people are to receive a meal for Thanksgiving."
As a mother to the couple's two young children, Asher and Hudson, Caitlin is especially passionate about any event that can help brighten the holidays for local families.
"It makes my heart so happy. Seeing the faces last year when we handed them out, [they] just lit up. And it's a simple turkey that a lot of people take for granted," Caitlin said. "It just puts things into perspective, and it's such a blessing that they'll have a nice, warm meal on their table thanks to Jennie-O and their partnership. It's awesome. I think it's such a cool thing that we were able to do this year and last year."
Thielen Foundation consistently supports The Salvation Army, an organization that Adam and Caitlin are especially proud to back.
The Thielens are supporting a text-to-give program to benefit The Salvation Army, which will be responding to increased needs brought by the pandemic with reduced opportunities for collecting money with red kettles and bell ringers.
To help, text SKOL to 24365. A suggested donation of $19 to match Thielen's jersey will help The Salvation Army fight hunger and empower youth in the Twin Cities community.
Last December, the Thielens sponsored five families who were part of The Salvation Army Pathway to Hope program and hosted a holiday party at the Mall of America. Caitlin enjoys staying connected with the families and has received positive updates about single moms who have since gotten back on their feet with the advocacy and support of The Salvation Army.
"I just love how they keep up with the families and continue to help them through their journey – not just during the hard times," Caitlin said.
She and Adam made sure to put a small personal touch on the event, as well. Individuals who received one of the donated turkeys also received a card that featured a family photo and Thanksgiving well-wishes.
"We both love being there physically in-person for all of these events, and that's been so hard for us this year," Caitlin said. "But we're just so thankful that we're still able to do things like this to give back."