EAGAN, Minn. — Vikings receiver Adam Thielen has been selected by the team as its nominee for the 2021 Art Rooney Sportsmanship Award, the team and NFL announced today.
Each NFL team nominated one player for the award that was created in honor of Steelers Founder Art Rooney, Sr. Thielen's former Vikings teammate, Teddy Bridgewater, was named the winner of the leaguewide award in 2020.
Thielen has been ruled out for tonight's game between Minnesota (5-7) and Pittsburgh (6-5-1) because of an ankle injury he suffered early last week at Detroit.
Although he couldn't return to action last week, Thielen walked the sidelines to encourage teammates during a rough start. Minnesota rallied but couldn't hang on for the win.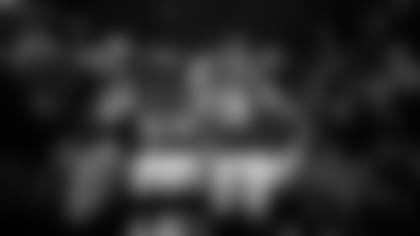 It was the fourth Vikings loss this season on the final play, quite the test of one's ability to maintain sportsmanship.
"It's not easy when you lose. When you're a competitor, you work so hard and put everything you've got out there, and you don't get the results that you prepared for, it's really difficult," Thielen said. "Your first instinct is to say, 'Forget that. I'm just going to go in the locker room and put my head in a locker and not talk to anybody.'
"I think the man in you realizes the right thing to do, and it's respecting the game, respecting your opponents and respecting your teammates, so I think that's kind of where I go to," Thielen continued. " 'What's my first instinct? What is the right thing to do?' The right thing to do is to respect the people you play against. You know what you put into the game and you know what they put into the game, what they did to be able to do their job, to prepare their bodies and minds, so I think it really comes with experience and understanding what an honor it is to play this game."
It was not surprising to look down moments after Baltimore edged Minnesota with a field goal in overtime to see Thielen and Vikings fullback C.J. Ham reconnect with Ravens running back and former teammate Latavius Murray. All three developed a bond as teammates and were highly important to Minnesota's 13-3 season in 2017.
But Thielen also connected with 49ers cornerback Josh Norman. Video from that Week 12 game in San Francisco shows Norman striking Thielen in the back while the receiver was on the ground with the teams trying to recover a fumble.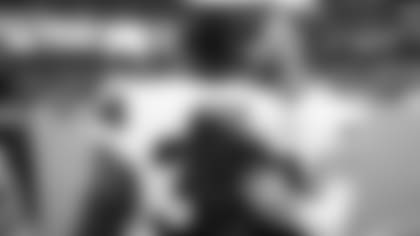 Norman apologized, and Thielen forgave.
"I think another thing that is important to me is my faith," Thielen said. "I think that has helped me a lot as well, realizing that so many times in my life, I've needed forgiveness, so why can't I, why should I not forgive others, especially when someone is asking for forgiveness and apologizes for what they've done? That's kind of a big answer for little things, but it really does help."
Thielen has advanced from a lightly looked-at high school prospect, to a top performer at a Division II school, to an undrafted tryout player at Vikings rookie minicamp and practice squader in 2013, to a special teamer, to a starting receiver and Pro Bowler.
Fans, young and old, have cast their eyes on him and worn his No. 19 jerseys.
Thielen, over time, has realized it's just as important to show good sportsmanship as it is elite route running and spectacular catching.
"You definitely forget about it at times when you're in the moment. You're just playing football and don't think about the number of eyes that are on you until you really sit back and look at it and see 19 jerseys on kids and have them come up and talk to you," Thielen said. "You see the social media stuff, and you just realize how important it is to try to be the best role model. Having kids of your own, it's a whole 'nother deal, trying to show them the right way and not just tell them to help them understand it. It definitely all goes through my head through tough times."
His receptions (461) and receiving touchdowns (49) rank fifth in team history, and his receiving yards (5,926) are seventh on the franchise leaderboard.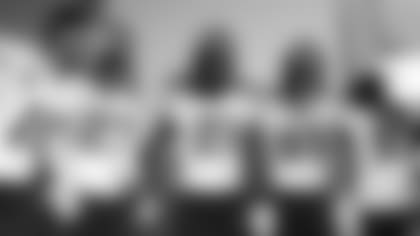 Every step of his remarkable journey has reinforced the value of sportsmanship. He credited coaches, mentors and his parents for doing their best to instill that in him during his youth. And like so much of his success, he worked at it.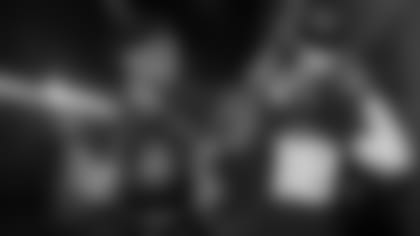 "It took me a lot of years to mature and to figure that part out about life, about how to handle winning and losing, how to treat people and things like that," Thielen said. "I say that because a big part of it is really respecting the game. The experience of the game, understanding how hard it is to have success in this game, understanding how hard it is to get to this level.
"You put all of that together and you realize you really take advantage of every opportunity that you're out there on that field," Thielen continued. "The people that you get to play with, that you get to play against, I have built a lot of great relationships over the nine years that I've played in the NFL."