For as long as she can remember, Nini Sokol has loved the Minnesota Vikings.
Of Vietnamese heritage but born in Hong Kong, she and her family moved to St. Paul when Nini was 1. It didn't take long for her father, NangNang, to grow attached to American football and become a loyal Vikings fan.
"It's interesting because soccer is huge in Vietnam, but he fell in love with football," Nini said. "Girls don't usually like sports [in Vietnamese culture, but] I grew up kind of as a tomboy. For the longest time, I remember my dad saying, 'Girls aren't supposed to like sports.' "
But eventually, Nang realized that his son and three daughters would be big sports – and especially football – fans.
Some of Nini's fondest memories are of watching Monday Night Football with her dad. Because he worked early hours at a manufacturing plant, Nang turned in by 8 p.m. most nights – except for Mondays during the NFL season, when the whole family would stay up to watch the game.
"It's just something that we loved to do together," said Nini, who became a Season Ticket Holder in 2016.
In her early years, she loved watching Cris Carter and Randy Moss, her all-time favorite Viking. She has vivid memories of the 1998 campaign, particularly the Thanksgiving game against the Cowboys. Moss feasted that day with three touchdowns of 50-plus yards.
To this day, Nini re-watches the 46-36 win at least once a year.
"Then also the pain of the loss to Atlanta," she recalled. "We were all at my aunt's house … the whole family, 20 people in their small living room, and we were just in shock. I don't necessarily cry, but I go into, like, emotional shock.
"And the [2009 season] with Brett Favre was really memorable, as well," Nini added. "Every Minnesota fan hates the Packers, so it's like, 'Well it's Brett Favre, but now he's on our team – now we cheer for him, right?' "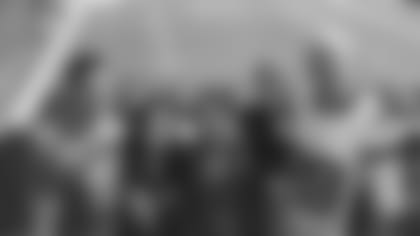 Nini's family knows not to talk to her after a Vikings loss, and her husband Mike also has learned to give her space. The two share a love of football, though, as well as a last name … thanks also in part to Nini's affinity for the Vikings.
"I joked about that with my husband," Nini said of Sokol's resemblance to SKOL. "I told him that's why I finally caved and said I'd change my name after we got married."
When Nang passed away 10 years ago, Nini and her family continued his beloved tradition of gathering together to watch the Vikings. Her mom has never truly understood the fandom – "they lose and you all get so mad!" – but nevertheless cooks traditional Vietnamese food for her children and their families for Vikings road games.
The COVID-19 pandemic has disrupted their ability to attend games at U.S. Bank Stadium or gather in large groups, so this season Nini has shared a group text thread with her sister, cousins and another friend "who's also obsessed with the Vikings."
"That's kind of getting us through not being able to watch the Vikings together," she said.
Nini and Mike are passing along the family tradition to their two sons, ages 4 and 5, both of whom are following mom's footsteps and love the Vikings.
Nini attended the 2016 home opener against the Packers while almost 8 months pregnant and had to be told by Mike on several occasions to not get so worked up.
"He's like, 'Can we just not have the baby here at the game?' But fortunately it didn't happen, and we won," she laughed.
But fast-forward six weeks later to Halloween, and Nini got so frustrated about the Vikings Monday Night Football loss at Chicago that her family joked, "You're going to go into labor." She went home following the game, and within 30 minutes her water broke, and they were on their way to the hospital.
"Mike jokes about that quite a bit, like, 'If we have a third kid, you're not allowed to be pregnant during the football season.' He is very fearful that we'll be at a Vikings game and they'll have to cart me off," Nini said.