Rauscher will serve as assistant offensive line coach under offensive line coach/run game coordinator Rick Dennison.
Rauscher brings five years of NFL coaching experience to the Vikings staff after previously spending time with Denver (2015-17) and Washington (2018-19). He most recently served as Washington's offensive line coach for the final 11 games of the 2019 campaign.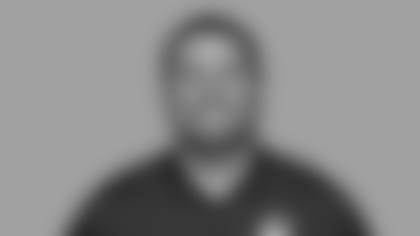 Here are five things to know about the Vikings new hire:
Rauscher may be new to Minnesota's staff, but he's quite familiar with several men in the building.
While with the Broncos, Rauscher worked with Gary and Klint Kubiak, Dennison and Brian Pariani, all of whom joined the Vikings for the 2019 season.
In 2017, Rauscher served as assistant to Broncos Head Coach Vance Joseph. He spent the 2015-16 seasons serving as an offensive coaching assistant and helped guide the Broncos to a Super Bowl 50 victory.
2. Collegiate coaching journey
Rauscher began his collegiate coaching career as the offensive coordinator at Dixie State University in 2010 and transitioned in 2011 to the University of Utah, where he served as an administrative assistant and tight ends coach.
He also coached tight ends – as well as serving as the recruiting coordinator – at the University of Hawaii from 2012-13. In 2014, he worked as the offensive coordinator and offensive line coach at California Lutheran University.
Rauscher graduated from UCLA, where he was an offensive lineman from 2004-05.
He started his coaching career as an undergraduate assistant with the Bruins from 2006-07 and worked as a graduate assistant from 2008-09.
Rauscher is from Carlsbad, California, which is located 83 miles from San Bernardino, the hometown of Vikings running back Alexander Mattison and cornerback Nate Meadors.
It also is equidistant from Anthony Barr's hometown of San Pedro, California.
Rauscher joins fellow California natives Pariani and Andre Patterson on Minnesota's coaching staff.
Rauscher attended La Costa Canyon High School in Carlsbad.
Other notable alumni who call La Costa their alma mater include Texans wide receiver Kenny Stills, Rams Offensive Coordinator Kevin O'Connell and former NBA forward Chase Budinger, who played for the Minnesota Timberwolves from 2012-15.