After the past two seasons of visiting the Lions on Thanksgiving and splitting results, the Vikings are home for the holiday weekend.
Minnesota (5-4-1, 1-1-1 in NFC North) is trying to maintain its hold on second place in the division and its path to a postseason berth by beating rival Green Bay (4-5-1, 1-1-1) in the 117th Border Battle on Sunday Night Football.
We normally use this space to highlight games that could have an impact on the Vikings, but there are three such games on Thanksgiving alone, so here's a look at those, plus an important Sunday game between Carolina (6-4) and Seattle (5-5) that will air in the Twin Cities on FOX.
Bears (7-3) at Lions (4-6)
Kickoff: 11:30 a.m. (CT) Thursday
Sirius: 82 (CHI), 83 (DET) | XM: 226 (CHI), 225 (DET)
The Bears are going for their fifth straight victory, third in a row against the division and second in three weeks against the Lions. Detroit, which is seeking its 38th win on Thanksgiving, bounced back last week to edge out Carolina after falling 34-22 in Chicago in Week 10.
Mitchell Trubisky completed 23 of 30 passes for a career-best 355 yards and totaled four touchdowns against the Lions in Week 10. He leads all players with at least 50 rush attempts with an average of 7.1 yards per carry. Trubisky (shoulder) was listed by the Bears as doubtful for Thursday's game. If he is unable to go, Chase Daniel will start for Chicago.
Allen Robinson had six receptions for 133 yards and two touchdowns against the Lions in Week 10.
The Bears lead the NFL with 18 interceptions and are tied for first in the NFL with 16 forced fumbles. Khalil Mack leads the NFL with five forced fumbles and has 8.0 sacks in just eight games.
Matthew Stafford has averaged 330 passing yards and thrown for 15 touchdowns against three interceptions for a passer rating of 100.8 in his past six Thanksgiving games. He has gone 4-0 with nine touchdowns against three interceptions in Detroit's past four home games against Chicago.
Kenny Golladay had eight catches for 113 yards and a touchdown against the Panthers in Week 11.
Ezekiel Ansah has 7.5 sacks, along with a forced fumble and fumble recovery, in five career Thanksgiving games.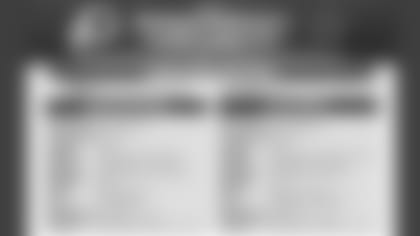 Redskins (6-4) at Cowboys (5-5)
Kickoff: 3:30 p.m. (CT) Thursday
Sirius: 82 (WAS), 83 (DAL) | XM: 226 (WAS), 225 (DAL)
Washington has won two of its past three Thanksgiving games, and Dallas has lost two of three.
The Cowboys lead the all-time series 70-43-2 and have claimed four of five in the division rivalry.
Colt McCoy will start in place of Alex Smith, who left last week's game with a broken leg. McCoy passed for 299 yards in his only career start against Dallas (Oct. 27, 2014).
Adrian Peterson recorded his 26th game with two or more rushing touchdowns last week, the fourth-most such games in NFL history. Peterson (105 career rush touchdowns) passed Hall of Famer John Riggins (104) for sixth-most rushing touchdowns in NFL history.
Ryan Kerrigan has 5.5 sacks, two forced fumbles and a fumble recovery in his past five games. He has had 2.0 or more sacks in two of his past three games against Dallas. Kerrigan's 78 sacks are the third-most in the NFL since 2011.
Dak Prescott leads NFL QBs with 16 rushing touchdowns since 2016. He has six touchdown passes and four rushing touchdowns in his past five games.
Ezekiel Elliott joined Hall of Famers Eric Dickerson and Edgerrin James as the only players in NFL history with more than 4,500 scrimmage yards (4,540) and 30 touchdowns (32) in their first 35 games.
Demarcus Lawrence had 1.5 sacks last week at Atlanta. He has 3.0 sacks, six tackles for loss, a forced fumble and fumble recovery in his past three games against Washington.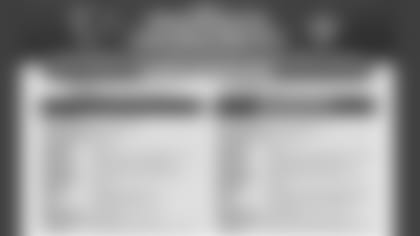 Falcons (4-6) at Saints (9-1)
Kickoff: 7:20 p.m. (CT) Thursday
Sirius: 82 (ATL), 83 (NO) | XM: 226 (ATL), 225 (NO)
The teams went to overtime in their first meeting of the season before New Orleans prevailed 43-37 in Week 3. The Falcons are 3-4 in games decided by one possession, and the Saints are 3-1 in such games this season.
Matt Ryan completed 26 of 35 passes for 374 yards with five touchdowns and a passer rating of 148.1 when the teams met in September. He's averaged 296.7 yards with six touchdowns and one interception in three career road games on Thursdays.
Julio Jones had six catches for 118 yards and a touchdown last week. He leads the NFL with 1,158 yards.
Vic Beasley, Jr., had 2.0 sacks in Week 11 for the fifth multi-sack game of his career.
Drew Brees passed for 363 yards with four touchdowns and a passer rating of 153.2 against the Eagles last week. It was his 23rd career game with four touchdown passes and no interceptions, moving him ahead of Tom Brady (22) for the NFL record. Brees leads the NFL with a completion percentage of 76.9 and passer rating of 126.9.
Michael Thomas ranks second in the NFL with 82 receptions and 1,042 yards.
Cameron Jordan has recorded 2.0 or more sacks in consecutive games against the Falcons.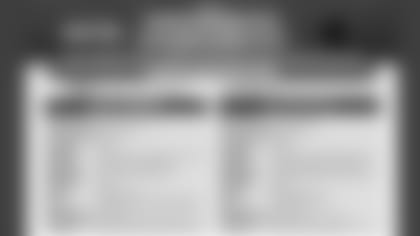 Seahawks (5-5) at Panthers (6-4)
Kickoff: Noon (CT) Sunday
Sirius: 98 (SEA), 83 (CAR) | XM: 380 (SEA), 225 (CAR)
With it virtually impossible for the Seahawks to catch the Rams (L.A. wins the NFC West with one more victory or one more Seattle loss) and nearly the same for the Panthers to overtake the Saints (Carolina trails New Orleans by three games with six remaining), this one is big in terms of teams bidding for a Wild Card berth.
Russell Wilson is 5-2 in seven career games against Carolina (includes two postseason wins). Wilson has nine passing touchdowns and one interception in his past three road games. His 26 touchdown passes in fourth quarters are the most since 2017.
The Seahawks are leading the NFL with 154.3 rushing yards per game behind a blend of Chris Carson (580), Mike Davis (372), Rashaad Penny (300) and Wilson (227).
Frank Clark had 2.0 sacks in Week 11 and has 7.0 sacks, two forced fumbles and a fumble recovery in his past five games. His 7.0 sacks since Week 6 rank second in the NFC.
Cam Newton passed for 357 yards with three touchdowns and an interception for a passer rating of 114.4 last week. He has thrown two or more touchdowns in a franchise-record nine consecutive games.
D.J. Moore had seven receptions for 157 yards and a touchdown in Week 11. Moore's 157 yards are the most in one game by a Panthers rookie.
Luke Kuechly has 60 tackles, three tackles for loss, four passes defended and two interceptions in six career games against Seattle (including postseason).
Bears (7-3) at Lions (4-6)
Redskins (6-4) at Cowboys (5-5)
Falcons (4-6) at Saints (9-1)
Browns (3-6-1) at Bengals (5-5)
Seahawks (5-5) at Panthers (6-4)
Jaguars (3-7) at Bills (3-7)
Raiders (2-8) at Ravens (5-5)
49ers (2-8) at Buccaneers (3-7)
Giants (3-7) at Eagles (4-6)
Patriots (7-3) at Jets (3-7)
3:05 p.m. (CT) Sunday Game
Cardinals (2-8) at Chargers (7-3)
3:25 p.m. (CT) Sunday Games
Steelers (7-2-1) at Broncos (4-6)
Dolphins (5-5) at Colts (5-5)
7:20 p.m. (CT) Sunday Night Football
Packers (4-5-1) at Vikings (5-4-1)
7:15 p.m. (CT) Monday Night Football
Titans (5-5) at Texans (7-3)