The Vikings (6-2) took a look at themselves this week, practicing twice to focus on areas where Head Coach Mike Zimmer believes his squad can improve in the second half of the season.
Minnesota's players and coaches will have this weekend off before returning to action in Week 10 at Washington (3-4). That will begin with a practice next Monday, the same day that Green Bay (4-3) will host Detroit (3-4).
That NFC North battle is an obvious selection for Vikings fans to keep their eyes on this weekend. The Atlanta at Carolina game will pit the past two NFC Champions against each other, and Washington's visit to Seattle features another set of NFC teams and a preview of the Redskins.
Here are some notes on those three games: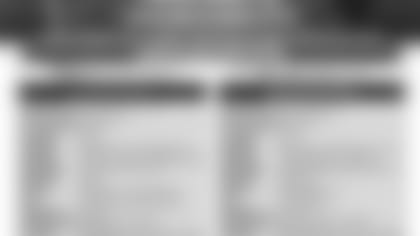 Atlanta Falcons (4-3) at Carolina Panthers (5-3) | Noon (CT) Sunday
Atlanta's Matt Ryan has averaged 362 passing yards and thrown for seven touchdowns and one interception in his past three games against the Panthers. Ryan has thrown a touchdown pass in 26 consecutive games (longest active streak) and has passed for 200 or more yards in 62 games in a row (an NFL record).
Devonta Freeman has five rushing touchdowns so far this season (tied for third in the NFL) and has 805 yards from scrimmage and four touchdowns in his past seven NFC South road games.
Julio Jones ranks second in the NFL since 2014 with 360 receptions and 5,413 yards.
Vic Beasley, Jr., has 18.5 sacks since 2016, ranking second in the NFL in that time frame. Deion Jones has recorded 11-plus tackles in each of the past three games.
Carolina's Cam Newton has 17 passing touchdowns and six rushing scores in 12 games against the Falcons.
Running back Christian McCaffrey leads all rookies in receptions (49) and ranks second in receiving yards (378). The 49 receptions are already a team record for a Panthers running back in a season.
Ed Dickson is averaging a whopping 15.9 yards per catch, which is the most among qualifying tight ends (20 or more receptions).
Julius Peppers (151 career sacks) passed Vikings Hall of Famer Chris Doleman (150.5) for fourth in NFL history last week.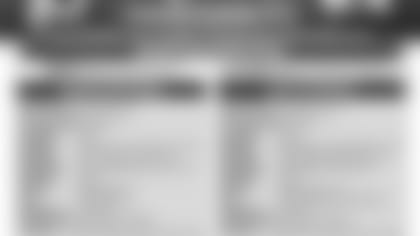 Washington Redskins (3-4) at Seattle Seahawks (5-2) | 3:05 p.m. (CT) Sunday
It came down to previewing Kansas City (6-2) at Dallas (4-3), which will be a national broadcast on Sunday, or this game, but with Washington up next for Minnesota and Seattle on a four-game win streak, this one bears watching.
Washington's Kirk Cousins is third in the NFL with a 103.3 passer rating. He passed for 283 yards and two scores (102.0 passer rating) in his only game against Seattle.
Chris Thompson leads NFL running backs with 442 receiving yards and has three touchdown catches. He is the only player in the NFL to lead his team in rushing and receiving yards.
Jordan Reed has caught 19 touchdown passes since 2015, which is tied with Rob Gronkowski for most by a tight end in that span.
Ryan Kerrigan has 64.5 sacks since 2011, including two last week, which was his 10th career game with 2.0-plus sacks.
Seattle's Russell Wilson passed for a franchise-record 452 yards last week with four touchdowns and one interception (passer rating of 123.2). He passed for 201 yards and two scores (127.3 passer rating) and rushed for a career-best 122 yards in his only game against Washington.
Doug Baldwin has 23 touchdown catches since 2015, which is tied for third in the NFL.
Richard Sherman recorded two interceptions and two pass breakups against Houston last week, and Earl Thomas returned an interception 78 yards for a touchdown.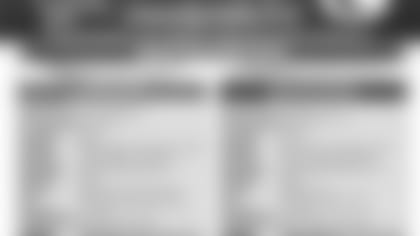 Detroit Lions (3-4) at Green Bay Packers (4-3) | 7:30 p.m. (CT) Monday
Detroit's Matthew Stafford, who passed for 423 yards last week, has averaged 317.3 per game and thrown seven touchdowns and two interceptions in his past three games against the Packers.
Zach Zenner rushed for a career-best 69 yards and a score in the 2016 season finale against Green Bay.
Marvin Jones, Jr., has caught six passes in each of the past three games. He had 205 yards and two touchdowns last season at Green Bay.
Glover Quin is tied for the NFC lead with three interceptions and ranks second in the NFL with 16 picks since 2014.
Green Bay's Brett Hundley rushed for 44 yards and a touchdown (his first on the ground) in Week 7.
Jordy Nelson has 643 receiving yards and nine touchdowns in his past seven home games against NFC North teams.
Damarious Randall has recorded an interception in three straight games.
Ha Ha Clinton-Dix is the only safety in the NFL with three-plus sacks (3.5) and eight interceptions since 2015.