EAGAN, Minn. — Verizon Vikings Training Camp is over and done with, but the Vikings were hard at work Tuesday at Twin Cities Orthopedics Performance Center.
Minnesota practiced for roughly two hours in full pads in preparation for Saturday's home preseason game against Arizona. Kickoff is at noon (CT) at U.S. Bank Stadium.
Of the 87 players who do not have a Physically Unable to Perform (PUP) or Non-Football Injury (NFI) designation, tackle Aviante Collins, wide receiver Bisi Johnson and defensive end Ade Aruna did not practice. Tackle Brian O'Neill did not participate in team periods.
Here are three observations from Tuesday afternoon's session:
A pair of specialists received plenty of work Tuesday afternoon.
Kaare Vedvik handled field goal duties in team drills, with the newcomer making five of seven kicks on the day.
He was good from 33, 37 and 41 yards in the first team session, with punter Matt Wile doing the holding. Vedvik then made kicks from 42 and 46 yards before his 50-yard try was no good.
Vedvik got a chance for a seventh kick in a situational drill after the Vikings offense had moved the ball to the opposing 41-yard line with four seconds left in the fourth quarter of a 10-10 tie.
But Vedvik's 59-yard try was short of the uprights.
Wile handled the punting duties during practice and displayed a big leg, with several punts over 60 yards, with one going past 70 yards while he was pinned in his own end zone to punt.
The punter's final attempt came from his own 45-yard line, when he had a chance to down the opposition inside the 20-yard line. The kick rolled into the end zone on the play, but there were no gunners trying to down the football.
2. An update on Joseph, O'Neill
The Vikings are getting healthier in the trenches.
Defensive tackle Linval Joseph participated in team drills for the first time this summer, mixing in with the first-team defense on multiple occasions Tuesday.
While Joseph wasn't involved in every play, his return was a step forward after going through individual drills and working with trainers on a side field in recent weeks.
O'Neill also is making progress. He suited up and went through warmups and position drills Tuesday. The right tackle has missed the past two weeks of practices and preseason games.
The 2018 second-round pick worked with trainers on a side field when the Vikings began team drills.
The Vikings spent a portion of practice working on 1-on-1 drills between offensive and defensive linemen.
Riley Reiff and Everson Griffen had a pair of nice battles, with the offensive tackle narrowly getting the win each time.
Other players who won both of their reps included center Garrett Bradbury, defensive end Danielle Hunter and guards Danny Isidora and Dru Samia.
Josh Kline and Shamar Stephen had two good battles against each other, as did Pat Elflein and Jalyn Holmes.
Former Vikings defensive end Brian Robison was on hand for Tuesday's practice along with his father, Jimmy.
Robison, who officially retired from the Vikings in May, spent time chatting with Vikings General Manager Rick Spielman on the sideline.
He also caught up with Griffen, Hunter and Joseph, and later went over some techniques with Shamar Stephen after practice.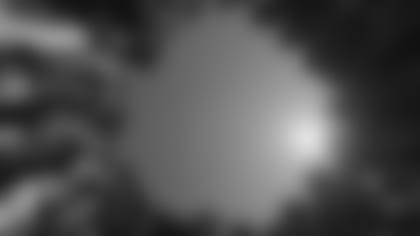 NFL Kickoff | We Ready
The kickoff for #NFL100 is here and we only have two words - WE READY! Don't miss the season opener Green Bay Packers taking on the Chicago Bears on Thursday, September 9th at 7:20 PM CT