EAGAN, Minn. — Rookies, quarterbacks and select veterans hit the practice field again Wednesday afternoon at Twin Cities Orthopedics Performance Center.
The group of 37 total players, who practiced for roughly 90 minutes, will hold their final practice with the reduced roster on Thursday morning. Vikings veterans will report to the team facility Thursday afternoon.
The first full-team practice (and first open to fans) set for Friday afternoon at 2 p.m.
Here are three observations from Wednesday's session:
1. Mitchell making good impression
Dillon Mitchell is in the mix for a spot among Minnesota's wide receiver group on the 53-man roster, and the rookie has impressed in the early stages of camp.
The former seventh-round pick made a sliding catch Tuesday, and then made a nice adjustment on a pass Wednesday as he stopped on a dime to haul in a pass behind him.
Mitchell, who led the Pac-12 and set an Oregon single-season record with 1,184 receiving yards in 2018, capped off his nice day with another sweet catch near the sideline as he smoothly caught the pass while keeping both feet in bounds.
He and rookie tight end Brandon Dillon were also a part of a double-take photo.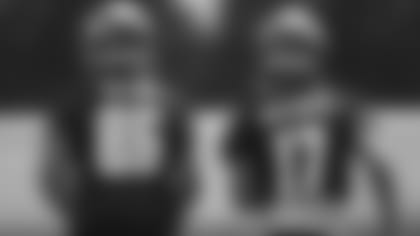 Mike Hughes and Ameer Abdullah combined for 14 of Minnesota's 22 kickoff returns in 2018.
Hughes missed most of his rookie season with a torn ACL, and Abdullah is set to report Thursday with the veterans, so the Vikings had seven different players work on kickoff returns, including Jeff Badet, Davion Davis, Mitchell, Mike Boone, Kris Boyd, Terrence Alexander and Bisi Johnson.
Vikings Special Teams Coordinator Marwan Maalouf kept a close eye on the group, and later had a first-hand look at long snapper Austin Cutting.
With punter/holder Matt Wile also not in camp yet, Maalouf served as the holder for Cutting on 8-yard snaps that will be the length for extra points and field goals once Wile, kicker Dan Bailey and incumbent long snapper Kevin McDermott hit the field.
It remains to be seen how Vikings Offensive Coordinator Kevin Stefanski's offense will look once preseason contests and the 2019 regular season get underway.
But if Wednesday's practice was any indication, the Vikings could look to stretch defenses out wide.
Minnesota's offense worked on some quick passes outside the numbers.
The running game, which Vikings Head Coach Mike Zimmer has described as trying to get defenses on the move before a cut back inside, also worked the numbers on the field.