The Vikings (4-3-1) are kicking off a stretch of three consecutive division games by hosting the Lions (3-4) at noon (CT) Sunday.
The NFC North matchup will air on FOX in markets from Michigan and northwest Ohio all the way to Washington, Oregon and a small part of northern California. Eastern Iowa will have the Bears-at-Bills game during this time slot, according to **506sports.com**.
The home game by Minnesota means that CBS single coverage will feature the 3:05 p.m. (CT) game between the Chargers (5-2) and Seahawks (4-3) in the Twin Cities and most of Minnesota.
Almost all of the country will receive the showdown between the Rams (8-0) and Saints (6-1) at 3:25 p.m. (CT) before the Packers (3-3-1) visit the Patriots (6-2) for NBC's Sunday Night Football.
Here is a little more info on three games that could have major implications for the Vikings down the road.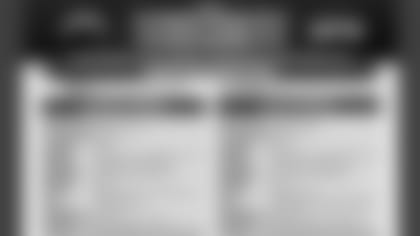 Chargers (5-2) at Seahawks (4-3)
Sirius: 111 (LAC), 82 (SEA) | XM: 392 (LAC), 227 (SEA)
The Chargers are back from the bye that followed their 20-19 win over the Titans in London in front of 84,301, which is more than the combined attendance of 76,110 in three Chargers games in Los Angeles.
The Seahawks dropped their first two games but have won four of five and came within two points of the undefeated Rams in Week 5.
Philip Rivers ranks third in the NFL with a passer rating of 117.8 and is tied for third with 17 touchdown passes. He threw for 455 yards with two touchdowns and two interceptions the last time he visited Seattle (Sept. 26, 2010).
Melvin Gordon has had three consecutive games with at least 120 scrimmage yards and one touchdown. Since 2016, he is one of two players (Todd Gurley) with 3,500-plus scrimmage yards and more than 30 touchdowns.
Melvin Ingram has three tackles for loss, three passes defended, two sacks and an interception in his past three games.
Russell Wilson maxed out the passer rating (158.3) by throwing for 248 yards and three scores last week against Detroit. He became the first quarterback in Seahawks history (minimum 10 attempts) to record the NFL's perfect passer rating in a game.
Chris Carson is one of four players (James Conner, Ezekiel Elliott and Gurley) with 100-plus rushing yards in at least three games this season.
Frank Clark has recorded 4.0 sacks, two forced fumbles and an interception in his past five home games.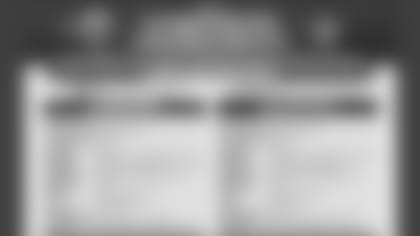 Rams (8-0) at Saints (6-1)
Sirius: 136 (LAR), 83 (NO) | XM: 390 (LAR), 225 (NO)
Barring a tie, one of the NFL's two longest win streaks will be stopped.
Los Angeles flirted with that last week before outlasting Green Bay 29-27. New Orleans has ripped off six in a row since losing to Tampa Bay to open the season.
Jared Goff is 7-0 with 13 touchdowns against five interceptions for a passer rating of 97.5 in his past seven road games.
Gurley is the third player in NFL history (Jim Brown and Priest Holmes) with 15 touchdowns in the first eight games of a season. His 2,105 rushing yards and 24 touchdowns since 2017 lead all players.
Aaron Donald recorded 2.0 sacks last week against the Packers. It was the eighth multi-sack game of his career and pushed his season total to a league-leading 10.
Drew Brees, who was limited to 120 passing yards against Minnesota last week, has averaged 348.3 in his past three home games. He's thrown eight touchdowns, no interceptions and totaled a passer rating of 131.1 in those contests.
Alvin Kamara has 10 touchdowns (six rushing, four receiving) in 11 career home games. Since 2017, he and Gurley are the only running backs to have four games with a rushing and receiving touchdown.
Marcus Davenport and Sheldon Rankins each recorded 2.0 sacks against the Vikings. It was the first time for either player to have a multi-sack game.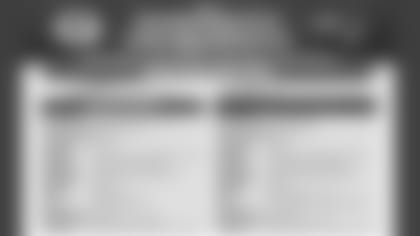 Packers (3-3-1) at Patriots (6-2)
Sirius: 81 (GB), 83 (NE) | XM: 226 (GB), 225 (NE)
The Packers have gone W-T-L-W-L-W-(Bye)-L through the first eight weeks of the season, and five games have been decided by eight or fewer points.
The Patriots are going for their 10th consecutive win at home.
Aaron Rodgers' 286 passing yards last week gave him 40,785 for his career and moved him past Joe Montana (40,551) for 18th all-time.
Davante Adams and Steelers WR Antonio Brown are the only two players with 2,500-plus receiving yards and at least 25 touchdown receptions since 2016.
Jaire Alexander had five pass breakups last week, the most by a player in 2018.
Tom Brady has thrown for 300 or more yards in three of the past four games. Brady has eight touchdowns, no interceptions and a passer rating of 114.7 in his past three games against Green Bay.
James White ranks second among running backs with 55 receptions. He has had 90-plus scrimmage yards in each of his past three games.
Devin McCourty returned an interception 84 yards for a touchdown last week against Buffalo. It was his first career pick six.
San Francisco improves to 2-7; Oakland falls to 1-7
Bears (4-3) at Bills (2-6)
Buccaneers (3-4) at Panthers (5-2)
Chiefs (7-1) at Browns (2-5-1)
Jets (3-5) at Dolphins (4-4)
Steelers (4-2-1) at Ravens (4-4)
Lions (3-4) at Vikings (4-3-1)
Falcons (3-4) at Redskins (5-2)
3:05 p.m. (CT) Sunday Games
Texans (5-3) at Broncos (3-5)
Chargers (5-2) at Seahawks (4-3)
3:25 p.m. (CT) Sunday Game
Rams (8-0) at Saints (6-1)
7:20 p.m. (CT) Sunday Night Football
Packers (3-3-1) at Patriots (6-2)
7:15 p.m. (CT) Monday Night Football
Titans (3-4) at Cowboys (3-4)