The Saints-at-Vikings game, set for 7:20 p.m. (CT) Sunday, will be broadcast nationally on NBC's Sunday Night Football.
That means Vikings fans could, in theory, begin watching football at 8:30 a.m. (CT) when the Eagles face the Jaguars in London and barely hit pause until time expires at U.S. Bank Stadium late Sunday. NFL Network is exclusively televising the Philadelphia-Jacksonville game.
According to **506sports.com**, most of Minnesota, all of Wisconsin, eastern Iowa and eastern North Dakota will have the Jets at Bears game on CBS at noon (CT). Southwest Minnesota, western Iowa, western North Dakota and all of South Dakota will receive the Broncos at Chiefs in this time slot on CBS.
Over on FOX, all of the aforementioned locations and many places beyond will see the Seahawks at Lions game at noon (CT).
In the 3:25 p.m. time slot, almost all of the country will see the Packers take on the Rams in Los Angeles.
Here is a little more info on the Jets-at-Bears, Seahawks-at-Lions and Packers-at-Rams games.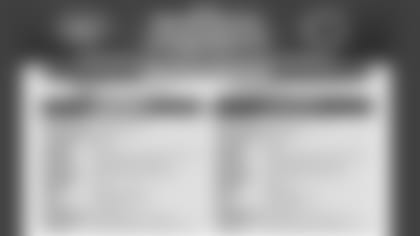 Jets (3-4) at Bears (3-3)
Sirius: 133 (NYJ), 108 (CHI) | XM: 388 (NYJ), 228 (CHI)
For the third of four consecutive weeks, the Bears will face an AFC East team when they host the Jets. Chicago has dropped its past two contests at Miami and against New England. In Week 9, the Bears will visit the Bills.
The Jets are trying to bounce back from losing 37-17 to the Vikings last week.
Sam Darnold leads all rookies with 124 completions, 1,552 yards and 10 touchdown passes.
Jamal Adams' 50 tackles rank second among safeties in the AFC.
Avery Williamson is one of three players (Demario Davis and Christian Kirksey) with 400-plus tackles and 10 or more sacks since 2014.
Mitchell Trubisky has passed for more than 300 yards in three consecutive games. Since Week 4, Trubisky is the only quarterback with 10 or more touchdowns and a passer rating of more than 115.
Trey Burton set career highs with nine receptions and 126 yards last week against New England. He also caught a touchdown for the third consecutive week.
Khalil Mack has forced a league-best four fumbles in 2018. He has 2.0 sacks, two forced fumbles and a pass defended in three home games since joining Chicago.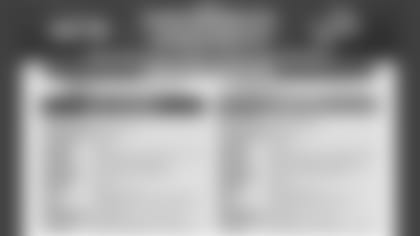 Seahawks (3-3) at Lions (3-3)
Sirius: 99 (SEA), 81 (DET) | XM: 385 (SEA), 226 (DET)
Seattle is coming off its bye after defeating Oakland 27-3 in London.
Detroit toppled Green Bay in Week 5 and continued momentum out of its bye with a 32-21 win at Miami last week.
Russell Wilson became the third NFL quarterback to ever pass for three touchdowns and have a passer rating of 125 or higher in London. He is aiming for his third consecutive game with those numbers.
Tyler Lockett is one of three players this season who is averaging 15 or more yards per catch and has caught at least five touchdown receptions.
Frank Clark had a career-high 2.5 sacks and two forced fumbles against the Raiders.
Matthew Stafford completed 18 of 22 passes with two touchdowns against the Dolphins. Since Week 4, he leads the NFL with a passer rating of 125.3.
Rookie Kerryon Johnson set a career high with 158 rushing yards in Week 7 and ranks second among rookies with 444 rushing yards this season.
Since 2017, Darius Slay leads the NFL with 31 passes defended and is tied for the league lead with nine interceptions.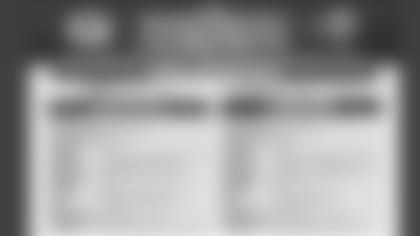 Packers (3-2-1) at Rams (7-0)
Sirius: 134 (GB), 83 (LAR) | XM: 384 (GB), 225 (LAR)
In 92 previous meetings, the teams have tied twice, and each has recorded 45 victories.
After four of six at home and a bye, Green Bay is beginning a stretch of four road games in five weeks.
Los Angeles is back from its three game road swing to Seattle, Denver and San Francisco for the first of three at home in four weeks. The Rams have scored 33 or more points in six of seven games and are 7-0 for the first time since 1985.
Aaron Rodgers became the first quarterback in NFL history with consecutive games of more than 400 passing yards and no interceptions.
Davante Adams is one of four players with at least 40 receptions and six or more touchdowns in 2018.
Blake Martinez has recorded 27 tackles and 3.0 sacks in his past three games.
Jared Goff is 5-1 with 2,081 yards, 16 touchdowns, three interceptions and a passer rating of 123.3 in his past six home games.
Todd Gurley leads the NFL with 14 touchdowns from scrimmage (11 rushing, three receiving) and is the third player in NFL history to have 14 or more touchdowns in his first seven games.
Aaron Donald had a career-high 4.0 sacks against San Francisco, bringing his season total to 8.0, which is tied with Danielle Hunter for the league lead.
Houston improves to 5-3; Miami falls to 4-4
8:30 a.m. (CT) Sunday Game
Eagles (3-4) vs. Jaguars (3-4) in London
Broncos (3-4) at Chiefs (6-1)
Browns (2-4-1) at Steelers (3-2-1)
Redskins (4-2) at Giants (1-6)
Seahawks (3-3) at Lions (3-3)
Buccaneers (3-3) at Bengals (4-3)
Jets (3-4) at Bears (3-3)
Ravens (4-3) at Panthers (4-2)
3:05 p.m. (CT) Sunday Game
Colts (2-5) at Raiders (1-5)
3:25 p.m. (CT) Sunday Games
49ers (1-6) at Cardinals (1-6)
Packers (3-2-1) at Rams (7-0)
7:20 p.m. (CT) Sunday Night Football
Saints (5-1) at Vikings (4-2-1)
7:15 p.m. (CT) Monday Night Football
Patriots (5-2) at Bills (2-5)