As the days on the 2018 calendar dwindle, the stakes for each NFL game seem to increase.
With Minnesota (6-5-1) set to visit Seattle (7-5) for Monday Night Football on ESPN (it **also will air** on WCCO in the Twin Cities), Vikings fans can cast their attention on Sunday's lineup of games.
The first game of the post-Mike McCarthy Packers is scheduled to air throughout Minnesota, Wisconsin, Iowa and the Dakotas.
Atlanta (4-8) will visit Green Bay (4-7-1) for a noon (CT) tilt on FOX between teams that are far removed from when they met in the NFC Championship two weeks before Super Bowl LI.
FOX has the doubleheader this week, and almost all of the country — outside of the Pittsburgh, Oakland, Detroit and Arizona markets — will receive Philadelphia's game at Dallas.
The 6-6 Eagles are trying for a late-season rally by securing their third consecutive victory, but the Cowboys are also hot, having won four in a row to take the lead in the NFC East with a 7-5 record.
The non-Vikings game that is most important to Minnesota this week is the visit by the Rams to face the Bears at Soldier Field.
Los Angeles (11-1) has already clinched the NFC West, but the Rams need to finish the season a game ahead of the Saints in order to secure the No. 1 overall seed in the NFC Playoffs because New Orleans (10-2) claimed the head-to-head on Nov. 4.
A win by the Bears (8-4), who are a game and a half ahead of the Vikings in the NFC North, would give Chicago a 93-percent likelihood of winning the division, according to analytics site FiveThirtyEight.com. A loss would decrease that likelihood to 70 percent.
Here are notes on the Falcons-Packers, Eagles-Cowboys and Rams-Bears games.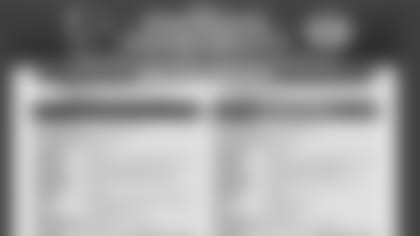 Falcons (4-8) at Packers (4-7-1)
Kickoff: Noon (CT) Sunday
Sirius: 125 (ATL), 83 (GB) | XM: 383 (ATL), 225 (GB)
A loss by the Falcons would knock them out of the postseason. The Packers are hanging in by a barely visible thread.
By the way, the CBS game scheduled to air at noon (CT) in most of Minnesota is Baltimore (7-5) at Kansas City (10-2) in a matchup with strong implications for the AFC Playoffs if a higher-stakes game is more of your style.
Matt Ryan ranks third in the NFL with 3,814 passing yards and is one of three players this season with at least 3,500 passing yards and a passer rating of 109.3 or higher. He's averaged 326.8 yards per game and thrown 12 touchdowns and just one interception in his past four games (passer rating of 124.9) against the Packers.
Julio Jones leads the NFL with 1,323 receiving yards and ranks fourth with 86 receptions. In his past four games against Green Bay (including playoffs), Jones has totaled 28 catches, 576 yards and three touchdowns.
Deion Jones returned from injured reserve last week after getting hurt in Week 1 and showed why Atlanta has missed the linebacker. He had 15 tackles (13 solo) and a sack against Baltimore.
Aaron Rodgers has played the Falcons eight times (including playoffs) and averaged 327.8 yards per game. He's thrown 21 touchdowns against three interceptions for a passer rating of 112.9 in those games.
Davante Adams is tied for second in the NFL with 11 receiving touchdowns and ranks fifth with 85 receptions this season. Since 2016, Adams is tied with Antonio Brown for the NFL lead with 33 receiving touchdowns.
Blake Martinez leads the NFC with 106 tackles (league stats). He's had 10 or more tackles in three of the Packers past four home games.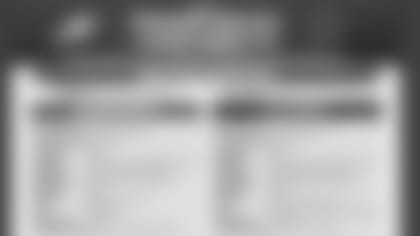 Eagles (6-6) at Cowboys (7-5)
Kickoff: 3:25 p.m. (CT) Sunday
Sirius: 78 (PHI), 83 (DAL) | XM: 391 (PHI), 225 (DAL)
Side note: The Patriots can claim the AFC East for the 10th consecutive season with a win or tie against the Dolphins.
The NFC East, however, has been one of the most balanced since 2004. Every team in the division has claimed at least two crowns in that timeframe, and no one has repeated since the Eagles claimed three in a row from 2002-04. Philadelphia also was the division champ in 2001 before the league underwent realignment and is trying to repeat.
Carson Wentz's 13 career games with 300-plus passing yards already rank second in franchise history behind Donovan McNabb's 27. Wentz was 32-of-44 for 360 yards in a 27-20 loss to the Cowboys on Nov. 11.
Zach Ertz ranks second in the NFL (behind Adam Thielen's 98 receptions) with 93 catches. He is second in the league among tight ends with 978 receiving yards.
Brandon Graham had a sack and forced fumble last week against Washington. He has had a sack in consecutive games against Dallas.
Dak Prescott has completed 46 of 59 passes (78 percent) for 537 yards with three touchdowns and no interceptions (passer rating of 121.5) in his past two games, connecting with Amari Cooper 16 times for 255 yards and two scores in that span.
Ezekiel Elliott ranks second in the NFL with 1,150 rushing yards and 1,573 yards from scrimmage this season. Since Week 9, he is the only player with 500-plus rushing yards and more than 750 scrimmage yards.
Leighton Vander Esch is going for his sixth game in a row with more than eight tackles. He had 13 tackles and an interception against the Eagles on Nov. 11. Vander Esch is one of two rookies with at least 100 tackles (league stats) in 2018.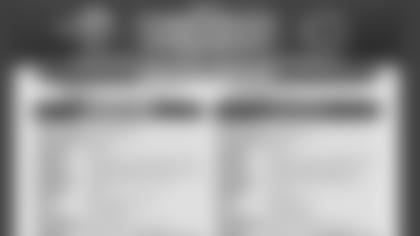 Rams (11-1) at Bears (8-4)
Kickoff: 7:20 p.m. (CT) Sunday
Sirius: 81 (LAR), 83 (CHI) | XM: 226 (LAR), 225 (CHI)
Trying to list the number of things that have changed for the franchises since these teams last met in Chicago (Sept. 23, 2012) is daunting. How about just saying that "almost everything" is different.
Los Angeles is trying to finish a perfect 4-0 against the NFC North; Chicago is aiming for its sixth win this season at Soldier Field and could take a significant step toward earning a home playoff game.
Jared Goff ranks second in the NFC with 3,754 passing yards and third in the conference with 27 touchdown passes.
Todd Gurley leads the NFL with 1,649 scrimmage yards and 19 touchdowns. He is the eighth player in NFL history with 1,600-plus yards and 18 or more touchdowns in a team's first 12 games.
Aaron Donald leads the NFL with 16.5 sacks and 20 tackles for loss in 2018. He has had 2.0 or more sacks in five of his past six games.
Mitchell Trubisky appears ready to return to the lineup after missing the past two games. He has averaged 285.4 yards and thrown 14 touchdowns against four interceptions in his past five home games.
Tarik Cohen set career highs with 12 receptions and 156 receiving yards last week against the Giants when he also had a passing touchdown. He is the first running back with at least 12 catches and 150 receiving yards in one game since Shane Vereen in 2013.
The Bears lead the NFL in turnover differential (plus 12) and interceptions (21). They are tied for the NFC lead with 16 forced fumbles.
Tennessee improves to 7-6; Jacksonville falls to 4-9.
Jets (3-9) at Bills (4-8)
Giants (4-8) at Redskins (6-6)
Saints (10-2) at Buccaneers (5-7)
Patriots (9-3) at Dolphins (6-6)
Ravens (7-5) at Chiefs (10-2)
Colts (6-6) at Texans (9-3)
Panthers (6-6) at Browns (4-7-1)
Falcons (4-8) at Packers (4-7-1)
3:05 p.m. (CT) Sunday Games
Broncos (6-6) at 49ers (2-10)
Bengals (5-7) at Chargers (9-3)
3:25 p.m. (CT) Sunday Games
Eagles (6-6) at Cowboys (7-5)
Lions (4-8) at Cardinals (3-9)
Steelers (7-4-1) at Raiders (2-10)
7:20 p.m. (CT) Sunday Night Football
Rams (11-1) at Bears (8-4)
7:15 p.m. (CT) Monday Night Football
Vikings (6-5-1) at Seahawks (7-5)