The rare visit by the Vikings to New England to face the Patriots this weekend is one of just two interconference matchups.
The other is Baltimore at Atlanta, which leaves seven matchups between AFC teams and seven NFC head-to-heads.
Minnesota (6-4-1) is second in the NFC North and would be the No. 5 seed in the NFC if the postseason started this weekend, but half the teams in the conference have at least six victories.
New England (8-3) is fast approaching its 10th consecutive AFC East title and has a three-game lead on Miami (5-6) with five to play.
According to **506sports.com**, the Twin Cities and most of Minnesota will have the Cleveland-at-Houston game on CBS and the Arizona-at-Green Bay game on FOX at noon (CT).
Since the Vikings have completed their series with the Packers, neither of those has an immediate impact on Minnesota's chances.
Here's are notes on the New Orleans-at-Dallas, Chicago-at-New York Giants and Washington-at-Philadelphia games.
Saints (10-1) at Cowboys (6-5)
Kickoff: 7:20 (CT) tonight
Sirius: 81 (NO), 83 (DAL) | XM: 226 (NO), 225 (DAL)
New Orleans can clinch a playoff berth with a win. A tie with Dallas could still secure a trip to the postseason with some help. The Saints also can win the NFC South with a win and a Carolina loss or tie.
Dallas has surged to the top of the NFC East, but that division is the most open. According to the New York Times' **Playoff Simulator**, the Cowboys have a 53-percent likelihood to win the division, followed by Washington (31 percent) and Philadelphia (16 percent).
QB Drew Brees is leading the NFL with a completion percentage of 76.4 and passer rating of 127.3. He is trying for his fifth game in a row with at least three touchdowns and a passer rating higher than 110.
TE Dan Arnold and WR Keith Kirkwood each caught their first receiving touchdowns last week.
DE Cameron Jordan had 2.0 sacks on Thanksgiving, bringing his total to 9.5 sacks in his past seven Thursday games. Jordan has 12 tackles for loss, a forced fumble and a fumble recovery in those contests.
QB Dak Prescott threw for two touchdowns and rushed for another on Thanksgiving, his seventh career game with at least two passing touchdowns and a rushing score.
WR Amari Cooper broke free with eight catches for 180 yards and two touchdowns on Thanksgiving.
LB Leighton Vander Esch led the Cowboys with nine tackles last week and is the only rookie in the NFL with at least 90 tackles (91) and five or more passes defended (seven) in 2018.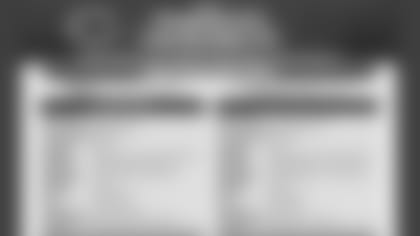 Bears (8-3) at Giants (3-8)
Kickoff: Noon (CT) Sunday
Sirius: 135 (CHI), 83 (NYG) | XM: 386 (CHI), 225 (NYG)
According to the New York Times' **Playoff Simulator**, the Bears have a 96-percent chance of making the playoffs and an 82-percent likelihood of winning the division (the Vikings are next at 64 percent and 18 percent, respectively). Chicago has won five games in a row since a home loss to New England.
The Giants are mathematically alive but by the tiniest of margins. New York will try to bounce back from a 25-22 loss at Philadelphia after leading the Eagles 19-3.
QB Mitchell Trubisky has averaged 268.3 passing yards and thrown for 18 touchdowns against six interceptions in his past seven games.
Trubisky was sidelined on Thanksgiving at Detroit. Chase Daniel completed 27 of 37 passes for 230 yards with two touchdowns and no interceptions (passer rating of 106.8) against the Lions.
The Bears lead the NFL with 20 interceptions, are tied for the lead with 16 forced fumbles and rank fourth with 34 sacks.
Safety Eddie Jackson has had consecutive games with a pick-six. He returned an interception 41 yards for a touchdown at Detroit on Thanksgiving.
QB Eli Manning has completed 62 of 86 passes (72.1 percent) for 716 yards with six touchdowns against one interception in his past three games.
RB Saquon Barkley became the fourth rookie in NFL history to have consecutive games with at least one rushing and one receiving touchdown. He totaled 142 scrimmage yards (101 rushing) in Week 12.
Landon Collins leads the Giants and all safeties with 91 tackles in 2018 (league stats). He has had at least nine tackles in the past three games.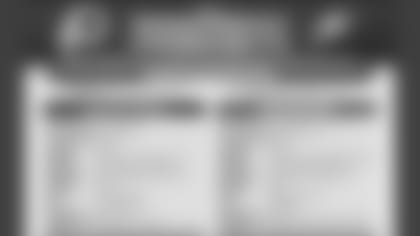 Redskins (6-5) at Eagles (5-6)
Kickoff: 7:15 p.m. (CT) Monday
Sirius: 81 (WAS), 83 (PHI) | XM: 226 (WAS), 225 (PHI)
According to the New York Times' **Playoff Simulator**, Washington has a 48-percent chance of making the playoffs and a 31-percent likelihood of winning the division. Philadelphia, however, is currently listed with an 18-percent chance of making the playoffs and a 16-percent likelihood of winning the division.
This will be the first of two meetings in the final five weeks of the 2018 schedule.
QB Colt McCoy passed for 268 yards and two touchdowns, but it wasn't enough for Washington at Dallas on Thanksgiving.
RB Adrian Peterson has 105 career rushing touchdowns and needs two to surpass Hall of Famer Jim Brown for the fifth-most in NFL history.
LB Preston Smith had career highs of eight tackles and 1.5 sacks last week against the Cowboys. He is going for his fourth game in a row with a sack.
QB Carson Wentz passed for 236 yards and a touchdown, posting a passer rating of 108.6 against the Giants in Week 12.
TE Zach Ertz led the Eagles with seven catches for 91 yards and a score last week. He enters Week 13 with 84 receptions (tied for third in the NFL and the most in a season by a tight end in franchise history).
Safety Malcolm Jenkins had six tackles, a forced fumble and interception in Week 12.
Saints (10-1) at Cowboys (6-5)
Ravens (6-5) at Falcons (4-7)
Panthers (6-5) at Buccaneers (4-7)
Bears (8-3) at Giants (3-8)
Bills (4-7) at Dolphins (5-6)
Broncos (5-6) at Bengals (5-6)
Rams (10-1) at Lions (4-7)
Cardinals (2-9) at Packers (4-6-1)
Browns (4-6-1) at Texans (8-3)
Colts (6-5) at Jaguars (3-8)
3:05 p.m. (CT) Sunday Games
Jets (3-8) at Titans (5-6)
Chiefs (9-2) at Raiders (2-9)
3:25 p.m. (CT) Sunday Games
Vikings (6-4-1) at Patriots (8-3)
49ers (2-9) at Seahawks (6-5)
7:20 p.m. (CT) Sunday Night Football
Chargers (8-3) at Steelers (7-3-1)
7:15 p.m. (CT) Monday Night Football
Redskins (6-5) at Eagles (5-6)