The Vikings are back from their bye and back in prime time.
Minnesota (5-3-1) better be ready because three of its next four games are scheduled to be night games, beginning with Sunday at Chicago (6-3) for a contest that was flexed to NBC's Sunday Night Football.
According to 506sports.com, at noon (CT) most of Minnesota is scheduled to see the Pittsburgh-at-Jacksonville game on CBS and the Carolina-at-Detroit game on FOX.
The Steelers (6-2-1) and Jaguars (3-6) were initially scheduled for SNF, but the matchup between 2017 AFC Playoff teams lost a little luster with the Jaguars faltering.
The Panthers (6-3) would be the No. 5 seed in the NFC if the playoffs started this weekend. The Lions have fallen to 3-6 thanks to a three-game losing streak.
Suggestion: keep an eye on the Cowboys (4-5) at Falcons (4-5) and Texans (6-3) at Redskins (6-3) games at noon (CT).
Philadelphia (4-5) and New Orleans (8-1) will be seen at 3:25 p.m. (CT) throughout the United States, except for most of Arizona.
The NFL's only 9-1 teams, Kansas City and the Los Angeles Rams, will play on Monday Night Football.
Here are notes on the Panthers-Lions, Eagles-Saints and Chiefs-Rams games.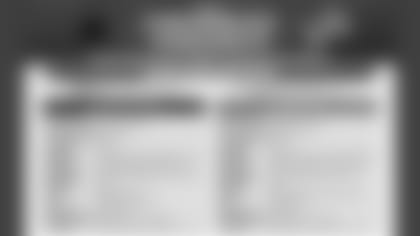 Panthers (6-3) at Lions (3-6)
Kickoff: Noon (CT) Sunday
Sirius: 125 (CAR), 119 (DET) | XM: 388 (CAR), 229 (DET)
The Panthers are 6-2 all-time against the Lions and have claimed two in a row, including a 27-24 win last season in Detroit.
Cam Newton and Bears quarterback Mitchell Trubisky are the only two NFL quarterbacks this season with a passer rating higher than 100, at least 300 rushing yards and three or more rushing touchdowns.
Christian McCaffrey had 138 scrimmage yards and three total touchdowns last week against Pittsburgh and has scored seven touchdowns since Week 8. McCaffrey is one of three running backs with more than 50 receptions and 1,000-plus scrimmage yards this season, along with Saquon Barkley and Alvin Kamara.
Mario Addison has totaled 3.5 sacks and forced a fumble in his past two games against Detroit.
Matthew Stafford has averaged 285 passing yards and thrown eight touchdowns against three interceptions for a passer rating of 98.5 in three career games against Carolina.
Kerryon Johnson ranks second among NFL rookies with 757 scrimmage yards and fourth with 554 rushing yards. He's averaged 95.3 scrimmage yards in his past three home games.
Damon Harrison has recorded 20 tackles, four tackles for loss and a sack in three games with Detroit.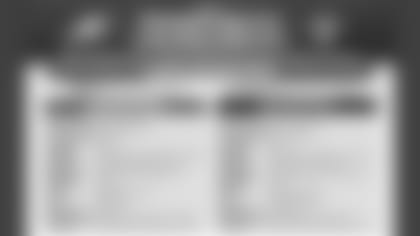 Eagles (4-5) at Saints (8-1)
Kickoff: 3:25 p.m. (CT) Sunday
Sirius: 113 (PHI), 83 (NO) | XM: 384 (PHI), 225 (NO)
This matchup features the defending NFC East and NFC South champions and will be the first meeting since 2015.
Since Week 5, Carson Wentz and Drew Brees are the only two QBs with a completion percentage above 70 and a passer rating greater than 115.
The Saints have scored 40 or more points in five games this season and became the third team in NFL history to post 40-plus points in five of the first nine games of a season, joining the 2013 Broncos and 2000 Rams.
Wentz has thrown for two touchdowns and posted a passer rating of at least 100 in five consecutive games.
Zach Ertz led the Eagles with 14 receptions, 145 yards and two touchdowns against Dallas last week. He leads NFL tight ends with 75 receptions and 789 yards.
Fletcher Cox recorded career bests of 3.0 sacks and two forced fumbles when the teams met in 2015.
Brees completed 22 of 25 passes for 265 yards with three touchdowns for a passer rating of 150.4 last week and overtook Brett Favre (508 career touchdown passes) for the second-most in NFL history.
Michael Thomas is tied with Adam Thielen for the NFL lead with 78 receptions. He ranks second in the league with 950 yards.
Cameron Jordan had seven tackles, 3.0 sacks and a forced fumble when the teams last met in New Orleans (2012).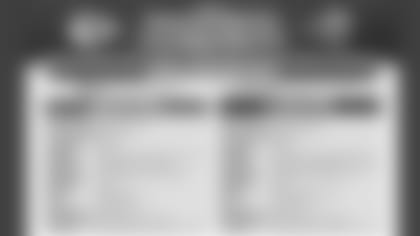 Chiefs (9-1) at Rams (9-1)
Sirius: 81 (KC), 83 (LAR) | XM: 226 (KC), 225 (LAR)
This will be just the fifth meeting since 1970 between two teams with one or fewer losses in Week 11 or later. The 2013 Chiefs (9-0) and Broncos (8-1) were the most-recent matchup.
Since 2017, Kareem Hunt and Todd Gurley are the only two players with more than 2,000 rushing yards.
Patrick Mahomes leads the NFL with 31 touchdown passes and has already topped Len Dawson's Chiefs franchise record of 30 in the 1964 season. Mahomes has passed for at least 300 yards in his past four road games.
Hunt has posted more than 140 scrimmage yards and scored in each of Kansas City's past three road games.
Dee Ford has 5.0 sacks and three forced fumbles in his past four games.
Jared Goff ranks second in the NFL with 3,134 passing yards and third with 22 touchdown passes this season.
Gurley became the fourth player in NFL history to score at least one touchdown in each of a team's first 10 games of a season, joining O.J. Simpson, Lenny Moore and Elroy "Crazy Legs" Hirsch.
Aaron Donald leads the NFL with 12.5 sacks and 16 tackles for loss. He had 2.5 sacks, three tackles and five quarterback hits last week against Seattle.
Seattle improved to 5-5; Green Bay fell to 4-5-1
Bengals (5-4) at Ravens (4-5)
Steelers (6-2-1) at Jaguars (3-6)
Panthers (6-3) at Lions (3-6)
Titans (5-4) at Colts (4-5)
Cowboys (4-5) at Falcons (4-5)
Buccaneers (3-6) at Giants (2-7)
Texans (6-3) at Redskins (6-3)
3:05 p.m. (CT) Sunday Games
Broncos (3-6) at Chargers (7-2)
Raiders (1-8) at Cardinals (2-7)
3:25 p.m. (CT) Sunday Game
Eagles (4-5) at Saints (8-1)
7:20 p.m. (CT) Sunday Night Football
Vikings (5-3-1) at Bears (6-3)
7:15 p.m. (CT) Monday Night Football
Chiefs (9-1) at Rams (9-1)