Vikings players gathered recently to knock down pins during a fun fundraiser for the Vikings Children's Fund.
Everson Griffen, one of the team's captains this season, hosted the 21st annual celebrity bowling night for the first time. Griffen drummed up a record turnout of 27 players for the event that pairs supporters of the fund with Vikings for a unique experience.
"It's another chance that we could give back to the Vikings Children's Fund and show that we care," Griffen said. "We do other things besides play football. We're looking to give back to the community and give back to the kids and show other people where our heart truly is."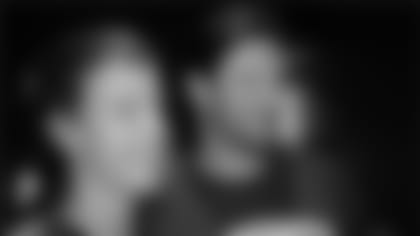 Griffen described his bowling game as "pretty awesome," with a combination of spin, power and finesse.
"I give it the whole deal," Griffen said. "It's great to have all the teammates out and have them here to support. They care too. It's awesome to have everybody out here."
Captain Munnerlyn proclaimed himself as "probably the best on the team, hands down," but Adrian Peterson described his own game as "OK."
"I have a different technique," Peterson said. "I just grab it and try to aim straight down the middle. I'm super competitive, so even when I'm not good at something I pretend that I am."
Kyle Rudolph said he focuses more on velocity.
"That's usually the competition I get into because the score doesn't end up too well," Rudolph said. "We're all just out here to support the Vikings Children's Fund. I think this is the biggest turnout we've had. It shows the respect that guys in our locker room have for Everson. When he stepped up and put his name on this, guys were really excited to get out and support him."
Vikings Children's Fund Coordinator Patrick Leopold said the Vikings Children's Fund will be distributing more than $460,000 to non-profits in the Upper Midwest this year, including the University of Minnesota's Department of Pediatrics.
"It's great to see the players come out to support the Vikings Children's Fund," Leopold said. "Everyone is aware that the VCF supports numerous organizations throughout the Upper Midwest."