Monday night's sports landscape included the Denver Nuggets winning their first NBA Championship.
On Tuesday morning, Good Morning Football's Peter Schrager rolled out an interview with Vikings General Manager Kwesi Adofo-Mensah, who's similarly in pursuit of Minnesota's first Super Bowl championship.
Adofo-Mensah didn't delve into Nikola Jokić stats, but he covered plenty of other topics on Schrager's podcast, The Season.
From his time growing up in South Jersey, to working on Wall Street in New York City, making the unprecedented leap to football and last year tackling his first season as a general manager, Adofo-Mensah shared funny anecdotes and lessons learned along the way.
"I know there's a lot going on with the Vikings roster right now, and that there's an opportunity to make headline news, but I wasn't looking for that in this interview," Schrager told Vikings.com. "I think Kwesi has one of the most inspiring stories in the NFL. A son of immigrant parents, he made a massive career pivot when he left a high-paying Wall Street job to be an entry level research person with the 49ers.
"Whether you agree with his roster moves or not, you have to appreciate his disciplined approach, his path, and his humility," Schrager added. "I loved getting to know him better through this wide-ranging interview."
Here are seven nuggets from Adofo-Mensah's chat with Schrager:
1. Heartfelt farewell to Dalvin
The one "current events" question Schrager did throw Adofo-Mensah's way was in regard to Minnesota's recent release of running back Dalvin Cook.
The GM called Cook a "franchise pillar" and emphasized the "really tough decision" to part ways with him.
"Incredibly productive over his time here, and I'm glad I got to see that up close last year," Adofo-Mensah said. "A guy who wants the ball, wants to help his team win, can do it from all levels of offensive play. Just a talented player. His teammates love him.
"These are really hard decisions we have to make, but they give us constraints in the NFL, and you're always trying to build toward that ultimate goal, and sometimes these decisions are the ones you have to make. They get made with a lot of care and thought, because obviously you're dealing with people," Adofo-Mensah continued. "We wish him the best, and obviously we'll always be fans of his here in Minnesota."
Adofo-Mensah joked with Schrager that he's "not sure how this all happened and I got here."
After all, he's had quite the unique journey to NFL GM, beginning with attending high school in Cherry Hill, New Jersey.
"I was just a kid in South Jersey, immigrant parents – my family's from Ghana, West Africa, so super proud of that and how that all impacted my life – [and then] I went to Princeton," Adofo-Mensah detailed. "I thought I was a cool kid and was going to go study with a bunch of nerds, and I found out I was just as nerdy as everybody else there. I loved my time there. I … really loved math and economics — that's what I studied."
He found himself specifically interested in behavior economics and "how decision-making and human emotion interact together."
"That took me to Wall Street where I interned on a commodities desk, trading gold and silver the summer after my junior year. Got to live in New York down on Water Street and do that experience," said Adofo-Mensah, who said he lived in a loft with five other young men whom he still considers brothers today.
"And then I went to Stanford, where I wanted to become an econ professor. I have a passion for teaching," he said. "But there was a little bit of competitor still left in me. I still wanted to apply and practice my knowledge of the industry, was really interested in sports and wanted to seek out an opportunity.
"Obviously the 49ers, I was fortunate, they happened to be looking for somebody to advance their efforts," Adofo-Mensah added. "Bryan Hampton and Paraag Marathe, I got connected with them at the MIT Sports Analytics Conference, and the rest, as they say, is history."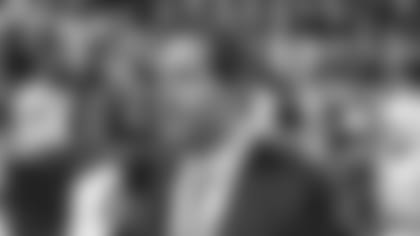 3. Starting out in San Francisco
As process-driven as he is, Adofo-Mensah didn't take lightly the decision to leave Wall Street for the NFL.
Especially because, remember, he didn't start at the general manager level.
"There were a lot of hard days, man. … I think I did the math. It was like 1/20th of what I made [in trading]," Adofo-Mensah laughed. "[And there's] no guarantee [of success]. It's crazy. My boss who wrote my recommendation for Stanford, he was like, 'OK, so you're really goin?' I don't think he really believed me."
Why did he make the jump?
"As much as I loved Wall Street, I just didn't want – not to be morbid, but I'd think about, 'What do you want your tombstone to read?' I didn't want that to be the sole thing that was on there," Adofo-Mensah said. "Not that it was a bad thing, but I wanted more. I always wanted to pivot at some point … and football came calling.
"Obviously I'm glad it worked out, but there were a lot of days where I was like, 'What did I do?' I'm not gonna sit here and tell you it was this easy path," he later continued. "I went from money not being a big variable in my life to, 'Hey, a coupon? What's that? Let me get this.'
"But again, I'm so fortunate to have had that experience and grown from it. I took it as a challenge. 'How do I humble myself? How do I change my life to accomplish my goals?' And I'm glad I did it," he added.
4. A hand in George Kittle?
During Adofo-Mensah's early days in San Francisco, the 49ers drafted Iowa tight end George Kittle 146th overall in the 2017 NFL Draft.
Schrager asked Adofo-Mensah what part he played in nabbing the eventual four-time Pro Bowler.
"That was the first year I got there, so I wasn't as involved in draft, but I did models. I'd take information like their on-field production or their combine and kind of give a number that says, 'Hey, this is pretty good. This is actually better than everybody's talked about,' " Adofo-Mensah explained. "So they had all my model grades, and our models liked him a little bit better than the consensus.
"But I said this at my opening press conference [in Minnesota] – I didn't say George Kittle would be one of the best tight ends to every play this game. I'm not gonna sit here and take that credit," he said. "But on the margins, I did like him a little bit better than some other sources did."
5. Making it to Minnesota
Adofo-Mensah highlighted his time in Cleveland, during which he learned under one of his biggest mentors in Browns General Manager Andrew Berry.
"Really when I got there, he said, 'Kwesi, you're gonna be a GM one day.' And I wasn't even sure that I should be a VP of [Operations]," he recalled. "He was pushing me, 'Hey, if you were making decisions, what would you do?' … I was ready when I got to those positions because of him."
When Adofo-Mensah had the opportunity to interview for GM positions, which included with the Bears and Vikings, he was impressed by Vikings Owners Mark and Zygi Wilf and their approach to filling the role.
"The Minnesota interview, what I was so impressed about their process was, a lot of it was about leadership. Leadership and culture," Adofo-Mensah told Schrager. "I think a lot of times … people try to make the GM job a head scout. And that is a portion of the job. But a lot of the job is leadership. Setting up process, building culture, vision – all those things.
"Minnesota immediately impressed me with how they sought out those things," he added. "It was just a match."
6. Connection with O'Connell
It was clear over their first season together that Adofo-Mensah and Vikings Head Coach Kevin O'Connell mesh well together and share a similar mindset both on the field and off.
"He's my partner in crime," Adofo-Mensah said of O'Connell.
But what some might not know is that the two actually connected years ago, when they met for meals a handful of times in California.
"He had this weird title, like special projects or something like that, so we'd joke, I was the R&D analyst and he was the special projects, and now we're head coach and GM together," Adofo-Mensah quipped. "But we had lunch together a few times, and like I said, I like to pick people's brains when I talk to them, so I'd ask him about quarterback play. So when the Wilfs asked me about him after my first interview, I was like, 'Oh, you know, I haven't stayed in touch with him, but he used to tell me the smartest things about quarterbacks.' And I just kind of left, not thinking anything of it."
We know the rest of the story, of course, how the Wilfs hired Adofo-Mensah and then O'Connell.
"He's a home-run, A-plus guy, and I think we can win championships together. I just have to do my part of the equation and handle the business," Adofo-Mensah said.
7. Vikings unsung hero for 2023
Looking ahead at the Vikings 2023 season, Schrager asked Adofo-Mensah to spotlight one player who can be an "unsung hero" for Minnesota that fans should keep their eye on.
He didn't hesitate in responding.
"Josh Metellus," Adofo-Mensah said. "He's a safety, and he'll play some more this year, so I think you'll see the stuff that we've seen. He was a special teams stalwart last year, team-captain type. I was in the team meeting room later in the season after [Brian O'Neill] got hurt, [Metellus] was given team captain … You can feel when somebody's teammates really love them, really appreciate them and really want to follow them into battle, and he's one of those guys.
"He's everything that the Minnesota Vikings are about, and I think people are really going to appreciate that more this season," he added.