EAGAN, Minn. — For the first time in the history of U.S. Bank Stadium, the Minnesota Vikings are hosting the Kansas City Chiefs.
The defending Super Bowl Champions are the only team in the league yet to play at U.S. Bank Stadium. The matchup is one of the league's marquee Week 5 games, with Jim Nantz and Tony Romo set to call the game for CBS.
The Chiefs (3-1) are looking for their fourth consecutive victory following a 23-20 win at the New York Jets on Sunday Night Football. Kansas City has not lost since Week 1 when the Lions squeaked out a one-point victory at Arrowhead Stadium on opening night.
Minnesota (1-3) is coming off its first win of the season. The Vikings defeated Carolina 21-13 thanks to three Harrison Smith sacks, two Justin Jefferson touchdowns, and one scoop-and-score by D.J. Wonnum.
Kickoff is set for 3:25 p.m. (CT).
Vikings Uniform
The Vikings will wear their traditional home purple jerseys and white pants.
4 Storylines
1. The "Quarterbacks" square off: Kirk Cousins shared a story with media during his weekly press conference a few weeks ago. He said former NFL Head Coach Jon Gruden used to challenge Cousins to play well enough so he could say to his wife, "Get in here; Cousins is on." Cousins said Gruden was pushing him to reach a level reserved for NFL stars.
Sunday is one of those "get-in-here games" as Mahomes and Cousins are set to meet just three months after the Netflix docuseries Quarterback debuted. Since then, Cousins' star power has continued to rise.
Both quarterbacks are top 10 in passing yards, top seven attempts, and top five in passing touchdowns this season. Cousins leads Mahomes in all those categories through the first four games of 2023.
Of course, Mahomes and Cousins will not actually "face" each other on Sunday. Both strictly play offense. But this matchup has all the makings of a sequel to one of the summer's most popular streaming events.
2. Passing teams who can run: Mahomes and Cousins lead two of the better passing attacks in football. But both teams have found success running the ball lately.
Minnesota features a new one-two punch in Alexander Mattison (17 carries for 95 yards) and Cam Akers (five for 40). The duo helped the Vikings run for a season-best 135 yards last week at Carolina. It's their second consecutive game rushing for 130 yards or more. Minnesota averaged 34.5 rushing yards per game entering Week 3. Through four weeks, the Vikings rank 10th in yards per rushing attempt (4.6).
Chiefs second-year running back Isiah Pacheco had a career night on Sunday, setting single-game highs in rushing yards (115), rushes of 10-plus yards (4), and total scrimmage yards (158). His 48-yard touchdown put Kansas City up 10-0 early in the first quarter. According to Pro Football Focus, Pacheco's 107 yards after contact led all players in Week 4.
His 270 rushing yards rank 10th on the season.
3. Jerick McKinnon returns to Minnesota: For the first time in his eight-year career, running back Jerick McKinnon is set to face the team that drafted him.Minnesota selected McKinnon No. 96 overall (third round) in the 2014 NFL Draft. McKinnon appeared in 58 games with the Vikings from 2014 to 2017. He played a key role for the Vikings over those seasons. In his rookie season, he helped fill in during Adrian Peterson's suspension and gained 538 rushing yards on 113 carries. McKinnon again split running back duties in 2016 following a Peterson injury and recorded 794 scrimmage yards and four touchdowns.
McKinnon totaled 2,902 scrimmage yards and 12 touchdowns as a Viking.
4. First time versus Mahomes: Not only are the Chiefs becoming the 32nd NFL team to play their first game at U.S. Bank Stadium, but Sunday will mark Mahomes' first game against the Vikings.
He has played the other 30 NFL teams and has defeated all but one (0-2 vs. Colts) at least once.
The last time Minnesota faced the Chiefs was at Arrowhead Stadium in 2019. Mahomes missed the game due to an ankle injury. The Vikings have won its last two home games against the Chiefs (2003 and 2015), which predates U.S. Bank Stadium.
3 Things 'Bout the Chiefs
1. Wide receiver by committee: In today's NFL, it's usually a committee approach at running back. But the Chiefs have used a collection of wide receivers this season.
Seven different receivers have recorded at least one reception for Kansas City. That number jumps to 13 when including running backs and tight ends. The Chiefs do not feature a pass catcher inside the top 50 receiving leaders. Receiver Justin Watson leads the team with 163 yards on eight receptions. Kelce, who missed Kansas City's opener, leads the Chiefs with 17 receptions for 155 yards.
The Chiefs six receivers with at least one catch this season have combined for just 39 more yards than Justin Jefferson, whose 543 yards lead the league.
2. Three scores or fewer: The Chiefs defense is keeping opposing teams out of the end zone.Kansas City is the only team to hold the opposition under 22 points in every game thus far. However, a closer look at the Chiefs four games reveals the defense is playing even better than that stat suggests.
In Week 1, seven of the Lions 21 points came via a pick-six. In Week 2, the Chiefs surrendered just nine points, then just 10 points in Week 3. Last week, the Jets scored two points due to a safety. The Chiefs are also the only team allowing 18 or fewer offensive points per game this season.
3. Mahomes constantly making history: Vikings fans are getting used to reading about Jefferson becoming the "fastest receiver" to reach several yardage milestones. Chiefs fans can relate with Mahomes' passing records.
On Sunday, Mahomes became the fastest player in NFL history to 200 career touchdown passes. He did so in five fewer games than the previous record holder, Dan Marino.
Mahomes' greatness cannot be denied, but credit the Chiefs for protecting their franchise quarterback. Through four games, Mahomes has only been sacked twice. He is the least-sacked quarterback in the NFL.
2 Trends
Star-studded pass catches: Usually, there is a talented pass catcher alongside every great quarterback. Mahomes and Cousins are no exception. Sunday will feature Kelce and Jefferson competing for highlight-reel grabs. Both are considered the best active players at their respective positions.
Kelce entered the 2023 season with a seven-season streak of at least 1,000 receiving yards. He has made four First-Team All-Pros and eight Pro Bowls. Last week, he caught six passes for 60 yards, which marked his 76th game with at least 60 yards since 2016, six more than any player over that span.
Chris Jones already in All-Pro form: Despite sitting out Week 1 due to a holdout, All-Pro defensive tackle Chris Jones ranks 10th in sacks with 3.5. He returned already in game shape and is leading a stout Chiefs defense.
Jones has three tackles for a loss and 10 quarterback pressures.
1 Talking Point
"When you're playing a premier opponent that causes so many issues, really, in all three phases, your preparation better be really good. Otherwise, you're setting yourself up for some problems on Sunday. So we've got to control what we can as coaches and players, and let's just do everything possible to prepare our football team to have our best effort yet of the season. We're still looking for that game of winning the turnover battle, and we've got to continue to work to improve on that. That's going to be something we're chasing all season long."
— Head Coach Kevin O'Connell on facing the Chiefs
Reconnecting
In addition to McKinnon, Chiefs tight end Blake Bell is a former Viking. "The Belldozer" played for Minnesota in 2017.
Team Connections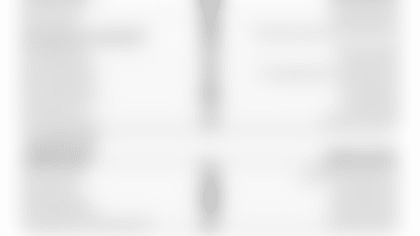 Series History
The Vikings are 5-8 all-time against the Chiefs, which includes a loss in Super Bowl IV.
Minnesota is 4-2 when hosting Kansas City.