2-Minute Drill: Get to Know Vikings Safety Jack Tocho
EAGAN, Minn. — It had been 21 months since Jack Tocho had snagged an interception in a football game.
So when the opportunity presented itself Saturday night in Denver, the Vikings safety pounced.
Tocho's interception with just over five minutes left in the fourth quarter helped preserve Minnesota's lead on the way to an eventual 42-28 win.
Tocho, who graduated in just three years from North Carolina State with an accounting degree, described the play to Vikings.com.
"It was first-and-20, so we knew they were going to try and probably get at least a little bit of the yardage back and we were expecting a pass," Tocho said. "My responsibility, since the corner had the tight end backside, if I see anybody coming across, I take that guy as my man.
"I saw the No. 3 [receiver] coming over on the route. I slowed down and looked at the quarterback to see where his eyes were going, and they were transitioning toward my guy," Tocho added. "I kind of baited him and waited for him to hopefully throw the ball, and he did."
Not bad for a guy who played cornerback in college but switched to safety after being drafted in the seventh round by the Vikings in 2017.
Tocho, who spent part of the 2017 season on the practice squad, said he has grown by leaps and bounds over the past year with the Vikings.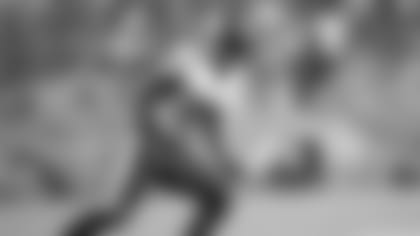 "Just this whole transition period and learning how to become a safety in the NFL, I've learned so much throughout this whole process," Tocho said. "The biggest challenge is mental.
"At safety you are responsible for a lot of the communication," Tocho added. "To be able to know not only my own position, but everyone else's as well, that takes a lot of mental aptitude."
The 22-year-old showed some of that — and more — in the Vikings preseason opener.
Here are three other topics Tocho covered with Vikings.com:
Your parents moved here from Kenya in 1993, what was your first exposure to football?
"My dad was already watching football when I wanted to play. That's what intrigued me to want to play the game. I'm from North Carolina, so we were always watching the Panthers. So when he asked me what sport I wanted to play, without any hesitation, I said football."
With your last name being Tocho, do people have any fun nicknames for you?
"I don't have any nicknames, but people butcher my name a lot. I've heard all types of different variations: 'Taco, Tot-cho, and To-ko.' It's just 'ocho' with a T in the front. Tocho."
Away from football, what is your favorite thing to do in Minnesota?
"The lakes. There are just so many. I love being outdoors and just appreciating nature. I try to go to different lakes and see the environment and experience the fresh air every once in a while. Just getting away and embracing something different."
Editor's Note: This series will run frequently during 2018 Vikings Verizon Training Camp. It will offer a quick snapshot of players on Minnesota's roster who are looking to make a name for themselves in camp.