EAGAN, Minn. – Curtis Cothran just wanted an opportunity, and he's gotten one with one of the most talented defensive line groups in the league.
The Penn State graduate from Newton, Pennsylvania, was signed by the Vikings as an undrafted free agent.
Since that time, he has appreciated the opportunity to work with defensive line coach Andre Patterson and several talented veterans in the position room.
"I'm just out here trying to get better every day and master my skills and do what Coach Dre tells me to do, and everything's working out," said Cothran, who finished his career at Penn State with 13.5 tackles for loss and 6.5 sacks. "He's definitely a teacher. He breaks things down for me and not only tells me what to do but tells me why I'm doing it, so I can get a better understanding of what I'm doing out there. He's a great teacher, and I'm glad that I'm here."
The 6-foot-5, 283-pound lineman said he's improved his hand-eye coordination and general technique since working with Patterson, who's presented Cothran with a different approach than he had in college.
"I've been taking [those tips] and trying to hone in on those skills, and they've gotten me into a better player," Cothran said.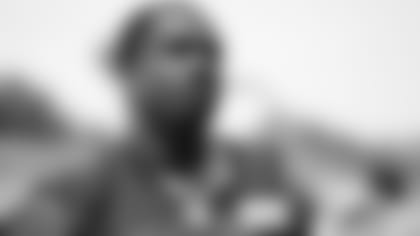 It could be intimidating to learn under dominant defensive tackles like Linval Joseph and Sheldon Richardson, but Cothran has appreciated the chance to connect with veteran players who have been willing to mentor him.
Cothran pointed out that each player has played in multiple critical situations, which the rookie has learned about through 1-on-1 instruction.
"It means a lot," Cothran said of the time older teammates have spent with him. "It just shows what type of football team this is, that the veterans are trying to help out the young guys – we're all trying to make each other better, and we're all out there striving for the same goal, [and that's] to get wins."
Added Cothran: "I'm just glad that they were able to take me under their wing. They treat me well."
The Vikings are about halfway through training camp, and Cothran said that, although it's been hard work, his time at Penn State helped prepare him for the work ethic that Vikings coaches expect from their players.
"Probably the biggest takeaway [from college is] just the grind. Putting in the work," Cothran said. "Penn State guys are usually blue-collar guys who like to [get their] lunch pail and go to work. That's definitely the biggest takeaway I've gotten – being able to grind away and hone my craft."
Here are three other topics covered with Vikings.com: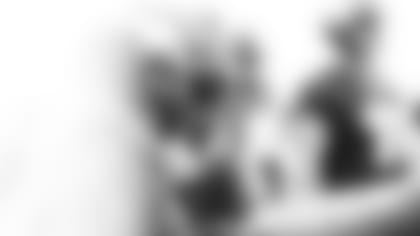 What has been your early impression of Vikings fans?
"Vikings fans are awesome. They come out here in full support of the team, and every practice seems packed. I can just tell that we have great fans. I've obviously watched the games on TV and seen the SKOL Chant and things like that, so I was just excited to be able to come out this way knowing that we have such great fans."
Growing up a football fan, who was a player you especially looked up to or modeled your game after?
"There were a lot of players. Even though we didn't play the same position, I always looked to Brian Dawkins, just the way he led the team. And then those other guys on the [the Eagles], like Jevon Kearse. I like a lot of D-lineman. There are a lot of D-lineman out there who are cool. Obviously growing up watching Julius Peppers and those types of guys … Ndamukong Suh.
"There's a lot of guys I watched over the years that have kind of sprinkled in. I was always huge into football, so I always watched a lot of teams and a lot of defensive lines and different positions. It's hard to pick just one guy."
You have a degree in criminology from Penn State, correct? Tell me a little bit about that.
"It was really something that I was interested in. I tried out a couple different fields when I got to Penn State and realized that they weren't really for me. I kind of fell into criminology. I think I was taking a psychology class, and [it ended up leading to] that. I ended up taking a lot of criminology classes and taking a lot of sociology classes. As far as law enforcement, I'm not really too sure – police officer, higher up in the ranks – I haven't really thought about it too far. I'm mainly focused on what I've got going on right now. Football is the number-one goal.
Editor's Note: This series will run frequently during 2018 Vikings Verizon Training Camp. It will offer a quick snapshot of players on Minnesota's roster who are looking to make a name for themselves in camp.