Three days of padded practices for the North and South teams have concluded in Mobile, Alabama, as Senior Bowl week rolls on and the actual game – televised by NFL Network on Saturday – approaches. Most NFL coaches and scouts have left town because their interest lies in what happens during each team's padded practices.
So who were the standouts? Here are 10 players who improved their draft stock during Senior Bowl practices…
1. Kyle Van Noy – Linebacker (BYU)Clearly a special player, it's rare to see an individual defender make such a profound impact in so many ways on the football field. Van Noy plays like his hair is on fire – he can rush, he can chase and tackle, and he can cover. He's technique-sound, hard to block and clearly a natural leader. With how explosive and violent he plays, he is also controlled and measured in his movements, rarely blowing an assignment or taken out of a play. He seems slight of build to play inside linebacker and it's fair to question if he has the size to be an outside linebacker in a 4-3 scheme. But it's not fair to question his ability to make plays. And that's what the draft is about – adding playmakers to your team, scheme fit aside at times. Linebacker talk for the 2014 class typically revolves around UCLA's Anthony Barr, Buffalo's Khalil Mack and Alabama's C.J. Mosley. None of those three were at the Senior Bowl, and it's too bad because it would've been fun to compare Van Noy to those three heavy-hitters.
2. Aaron Donald - Defensive Tackle (Pittsburgh)Whether in a one-on-one pass rush drill, the 9-on-7 rushing drill or a team period, Donald was constantly penetrating the backfield and disrupting the offense. Weighing in at a shade under 6-1 and at 288 pounds, some will question if he has the size to play in the NFL and what scheme suits him best. But the bottom line is he's an explosive defender, he won the Outland Trophy as the nation's top lineman, he was named the ACC Defensive Player of the Year, and the increased competition at the Senior Bowl did nothing to dispel the notion that he can play in the NFL.
3. Stanley Jean-Baptiste – Cornerback (Nebraska)If you like big cornerbacks (6-2, 215 with 78¾ wingspan) who are fast, physical and can cover, then get on the Jean-Baptiste bandwagon. Michigan State's Darqueze Dennard is widely-considered to be the top-rated cornerback in the 2014 class, but he was not in Mobile this week. That left the door open for Jean-Baptiste to improve his draft stock, and the Nebraska defender stormed through the door with no hesitation and capitalized on the opportunity. During one-on-one drills he looked especially effective in press coverage, but he also demonstrated a good back pedal and an explosive first step in closing on the receiver and the ball when he was in off coverage. His tape shows a mean tackler who is unafraid of contact and he did nothing to take away from that during the week of practices, either. Pairing him with Xavier Rhodes would give the Vikings a pair of long, physical and athletic outside cornerbacks.
4. Derek Carr – Quarterback (Fresno State)Of those six quarterbacks at the Senior Bowl this week, Carr displayed the most consistency and was simply the best overall player at the position. He has a compact delivery, a strong arm with a tight spiral, he looks the part and has good presence, and appears poised in the pocket. Critics say he can improve his footwork, particularly when throwing on the run. Tuesday was an extremely windy day, particularly during the South's practice, but Carr's passes seemed unaffected by it, a good indication that his velocity, trajectory and release are sound. Jimmy Garoppolo, following a MVP performance in last week's East-West Shrine game, also had a good week. He was a bit more inconsistent, but was clearly the second-best passer in Mobile behind Carr. Garoppolo has a lightning-quick release, appears to be a good and quick decision maker, and also looks the part around his teammates and in the huddle.
5. Zach Martin – Offensive Tackle (Notre Dame)It's important to temper criticism of offensive linemen in all-star settings because there's no position at a greater disadvantage than them. They are a position group that relies on cohesion and teamwork more than any other, yet an all-star game setting they are playing for coaches they've never played for, teammates they've never played with, and a scheme in which they've never played. With that caveat, one who overcame all of those hurdles was Martin. He was at times dominant at left tackle, and it shouldn't come as a surprise because he's coming off a career at Notre Dame in which he started all 52 games of his career. Martin measured in at 6-4, 305, he plays with good bend and technique, he's strong and he's smart.
6. Dee Ford – Defensive End (Auburn)What Aaron Donald was to disruption from the interior, Ford was to the outside. A constant pest for the offense as an edge rusher, Ford displayed explosiveness and savvy technique in the one-on-one pass rush drills and during team periods. At 6-2 243 pounds, he's squarely in the "tweener" conversation. But in today's game, we should be getting past the obsession with size profiles for certain positions. It's about getting good football players who have ability and instincts. Ford has all of that and projects to be a productive and talented defender on the edge of the defense.
7. Ra'Shede Hageman – Defensive Tackle (Minnesota)A monster for the North squad all week on the interior, Hageman was especially disruptive as a pass rusher on the interior. His explosive first step and ability to go speed-to-power quickly could also make him an effective run defender, but his forte', at least in what I observed this week, was as a pass rusher who can overwhelm his blocker quickly and ultimately push the pocket from the middle. One of his best moments was on Tuesday when on consecutive reps during the one-on-one pass rush drill he used a power move to overwhelm his blocker and on the next rep used an inside swim move to get home. Adding to the appeal here is that Hageman measured in favorably at 6-6, 318 pounds with an 81¾ wingspan.
8. Chris Borland – Linebacker (Wisconsin)Borland's top two three traits are effort, instincts and toughness. Are there any more important traits for a linebacker – particularly an inside linebacker – to have than those three? No, Borland doesn't have the size or measurables you want, but neither did Zach Thomas. Cowboys linebacker Sean Lee doesn't have the measurables, either, but he's about as good as you'll find. One scouting report on Borland reads that he does a good job of minimizing his limitations by using leverage and short area explosiveness. He's also just an instinctive defender who is around the ball a lot, and in Monday's practice he had both a fumble recovery during a team period and an interception during 7-on-7 work. Borland had a solid week of practice, and his best day may have been Tuesday with his performance during the 9-on-7 drill and with his pursuit ability in team periods.
9. Pierre Desir – Cornerback (Lindenwood)Desir's East-West Shrine week was described by many as just "okay." A late addition to the Senior Bowl, Desir measured in at 6-1 195 and played collegiately at Lindenwood. All of that together generated low expectations of him, for me at least. But Desir competed hard all week and had perhaps his best day on Wednesday, displaying solid technique and good results in press coverage and also showcasing his athletic skills to make plays on the ball and recover quickly when beaten. All of this speaks to Desir's competitiveness as well as his ability, and competitiveness is a great trait for a cornerback to have because in the NFL you're going to get beat from time-to-time. The key is how you respond on the next rep. Desir displayed competitiveness and toughness all week.
10. Jared Abbrederis – Wide Receiver (Wisconsin):His suddenness or speed won't blow you away, but his route-running is precise and that allows him to create space from his defender just the same as if he was quick. Abbrederis also catches everything in his area code, he's a hands catcher who doesn't rely on his body to trap the ball, and he's a willing run blocker.
Honorable MentionDaQuan Jones – Defensive Tackle (Penn State):He flashed quite a bit during pass rush drills and, if he can bring that to the next level, will be a valuable defender because he can push the pocket from the middle and force quarterbacks off of their spot. Jones was also competitive in the 9-on-7 rushing drill.
Christian Kirksey – Linebacker (Iowa):Kirksey first flashed to me in the one-on-one pass rush drill, where linebackers go against running backs and tight ends. He used a variety of inside out moves to get past his defender. Kirkskey, like Borland, also does well with his pursuit to the ball.
Daniel McCullers – Defensive Tackle (Tennessee): Those who believe in him will point out that at 348 pounds and nearly 6-7, McCullers is a giant tackle who has the size and strength to be a tremendous anchor at nose tackle in either a 30 or 40 front. Critics will question his movement skills and wonder if he's simply a one-gap penetrator.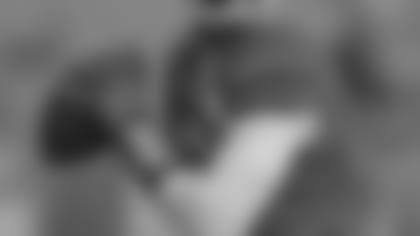 Stephen Morris – Quarterback (Miami):Everyone's trying to show they are the best at their position. But there's something to be said for showing improvement, and Morris (pictured, right) did that over the week. Some criticized his accuracy/placement, but it improved each day at Senior Bowl practices and Morris generally throws a good ball. One North receiver said Morris was his favorite quarterback of the group to catch passes from, a testament to the improvement in placement.
Michael Schofield – Offensive Lineman (Michigan):It wasn't a great week overall for the North offensive line, but Schofield was one of the more consistent standouts. He played multiple positions, but perhaps looked best at guard and always held his own in the one-on-one pass rush drill against some pretty stout North defensive tackles, including Donald and Hageman.
Chris Smith – Defensive End (Arkansas):Tuesday's practice was a standout day for Smith, who ranks fourth in Arkansas history with 21.5 sacks. In nearly every individual drill on Tuesday he was giving his blocker a hard time and was at times dominating. Measuring in 6-1, 266 pounds, he doesn't have prototypical 4-3 defensive end size and may be best-suited for an odd-man front alignment. What we do know is he has terrific speed-to-power transition and is a skilled pass rusher.
Jimmie Ward – Safety (Northern Illinois):A versatile defender who played both cornerback and safety at Northern Illinois, Ward looked good all week at safety for the North team. His best traits are his physical nature in coverage and in support of the run plus either a quick first step or quick diagnosis. I would have to study game tape of his to make a determination on which one it is, but either way Ward is quick to get to the ball because of one (or both) of these traits.
Jaylen Watkins – Cornerback (Florida):Many criticize Watkins press coverage ability but I didn't see too many errors throughout the week. What you can see easily with Watkins is athleticism – great recovery speed and you always feel he's in position to make a play.