Every week, a number of Vikings players spend part of their off day giving back to the community. Players are sometimes joined by their wives or significant others at the events, but last week it was "girls-only" joining forces for a unique donation event.
Jordan Rudolph, the wife of Vikings tight end Kyle Rudolph, regularly visits the University of Minnesota Masonic Children's Hospital with Kyle and has a passion for serving the patients and their families. Jordan recently spoke with Associate Development Officer Ashley Lawson, who told Jordan that the hospital had run out of its supply of blankets typically offered to each patient to use during his or her stay and then take home.
Jordan, along with a several other wives, took action. The group of women selected, purchased and donated fleece to replenish the hospital's blanket supply.
Jenni Greenway, wife of linebacker Chad Greenway, said she appreciated the opportunity to make a difference in the Twin Cities community alongside close friends.
"Working with [the ladies] without the husbands gives us time to bond and make an impact of our own," Jenni said.
She pointed out that while most of the women are not native to Minnesota, they now consider it their home.
"Living here for so long and having our kids grow up here makes us want to make the community as strong as we can," Jenni said. "It gives us a sense of belonging when we can help those around us.
"We want to leave a mark that will forever be remembered," Jenni added.
On Dec. 16, Jordan and Jenni were joined at the hospital by Ashley Peterson (Adrian Peterson), Emma Bradford (Sam Bradford), Kalyn Johnson (Charles Johnson) and Raina Ellison (Rhett Ellison).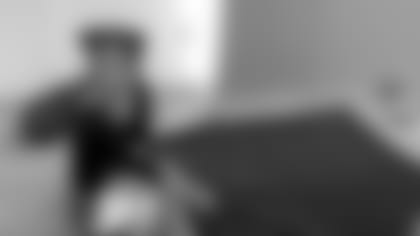 "It was beyond amazing to see us women and mothers come together for the common good," Kalyn said. "As a mother myself, I didn't look at the blanket project as a way to help sick children. I just thought of it as a way to help make a child more comfortable when they need it.
"Some children arrive at the hospital with nothing, and being given something as yours to keep is sure to put a smile on their faces and warm their hearts," Kalyn continued.
As a mother of three young daughters – and with a fourth child on the way – Kalyn said she appreciated the opportunity to care for not only the patients but for the patients' families.
"It's already hard enough to see kids not feeling well and having no control over [their situation]," Kalyn said. "Me giving up a few hours to try and help is nothing compared to what they are going through. I'd do it every day if I could."
The Rudolphs welcomed twin daughters in October, and Jordan said the hospital visits have gained an entirely new meaning for her as a new mom.
She recalled the "Halloween Huddle" she and Kyle hosted for patients just two weeks after the girls were born.
"I said to Kyle when we were leaving, 'It's so crazy to me how differently that hit me.' You always feel for the family, but to go in as a mom who has two healthy children, and they're there at the hospital, it just hits close to home," Jordan said. "It's nice that we were able to help out and offer any type of normalcy."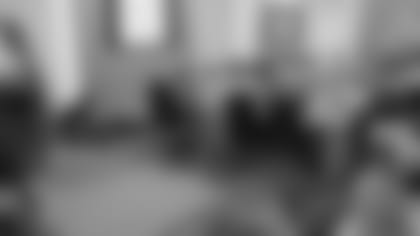 After making regular visits to the hospital and forming relationships with patients and their families, Jordan said she wanted to share the experience with the other women.
Jordan emphasized that it's much more than just a visit.
"We want to go above and beyond because those families there need it, they appreciate it," Jordan said. "And anything we can do to help make their stay a little better and make them forget for a little bit why we're there, we're happy to do so."
Jordan was grateful for all of the women who donated fleece and helped assemble blankets. While Jenni and Chad do a lot of work through their Lead the Way Foundation, Jenni found it important to also support Jordan and Kyle in their initiative at the children's hospital.
"I always want to help anyone who puts an event together to help out those in need. It is the least I can do, as so many are there for us and our foundation events," said Jenni, who added that the hospital holds a special place in her heart.
Jenni said the young patients encourage her each time she's able to interact with them.
"The kids who will benefit from the blankets do more in one day than I could ever do," Jenni said. "They are inspiring and some of the bravest people I know. The least we can do is take some time to come and make them a gift."