Mike Hughes paused as he reflected on the past year.
It was Oct. 14 when the Vikings cornerback was playing in his sixth career game, a home tilt against Arizona, and final outing of his rookie campaign.
Hughes had already made an instant impact as a first-round pick, notching a pick-six in his first career game, fitting in well with a talented defense.
But against the Cardinals, Hughes suffered a torn ACL and was lost for the season. He missed the first two games of 2019, too, before returning in Week 3 against Oakland.
Hughes explained what the upcoming one-year milestone of his injury means to him.
"It's been a long road, and I've been working my tail off. It's been rough … it wasn't an easy comeback. But that day is something to remember. I'll never forget that day," Hughes said. "And Oct. 23 is the day I had surgery, so I'll never forget that day, either. I just want to keep working to get back to myself and be better than I was.
"You learn patience. With an injury like this, you can't really rush it," Hughes also added. "Being patient was pretty rough, but being mentally strong was a tough part of it, as well. Those are two important things I learned."
Hughes couldn't walk for the first six weeks after his surgery but attacked his rehab with a passion, even on the rough days.
The 22-year-old provided some details on what his least-favorite day was during rehab.
"I'm not sure if you're familiar with a BFR machine … blood flow restriction … but it's a thing they put on your leg," Hughes said. "It cuts off all circulation, and you have to do certain workouts with it.
"That was tough for me, and one thing that I didn't really enjoy. It's to get it stronger," Hughes added. "It's one of those where you come in and think, 'Oh, I've got that today.' It's just another thing you have to push through. I tried to look at the positives."
While Sunday's game against the Eagles marks Hughes' fourth of 2019, he is still looking for his first interception since Week 1 of the 2018 season.
But when he gets it, he knows the amount of work he will have put in to get it.
"It will be that much more exciting for me, especially if I get another pick-six," Hughes said. "It will be special, just thinking about all the hard work I put in since I got my first one. I can't wait to get in that moment."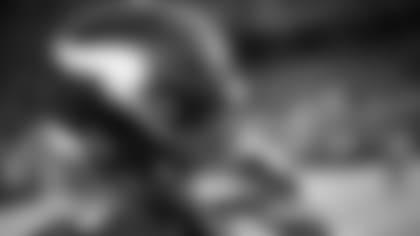 We caught up with Mike to talk about his impressive fashion sense, the house he bought for his mom and one of his hidden talents:
Q: You always seem to be one of the best-dressed guys on road trips. Where did you get your passion for fashion?
A: "The fashion thing has grown on me over the last couple years. I see guys around the league express themselves in different ways with how they dress, and I wanted to get in that phase. I kind of found my own little niche, so anytime I can express myself … me and the other guys kind of compete, especially for road games when we have to have business attire. We try to have fun with it."
Q: Do you have a go-to look?
A: "No, I like to switch it up. I try to wear something I've never seen any other guy wear, whether it's a different brand or something."
Q: You bought your mom a house in North Carolina in July of 2018. How is she liking her new home?
A: "She's doing well. Obviously, I'm not able to go back and visit too much. When I do, I have my own room. It's just a great feeling to know I've taken care of my family and know they're all set. That was a big accomplishment for me and something I wanted to do ever since I started playing football. Being able to do it was special."
Q: Is your room decked out with Vikings gear?
A: "Actually, I have my own bedroom, and then we made a Vikings cave. It's upstairs, like a game room that is painted purple and yellow, has a Fathead [sticker] of me in there, some pool tables."
Q: You're in a section of the locker room where, particularly on Fridays, there always seems to be a lot of chatter between you and the other defensive backs, often at a high volume. What are you guys usually debating?
A: "Usually random things (laughs). Honestly, you might have to ask me on a Friday to see what we're talking about that day."
Q: Who is the loudest person in those debates?
"You'll probably agree with this, but probably Jayron [Kearse]. We get pretty deep in the debate, and he's probably the most passionate about what he believes."
A: What's one thing people might not know about you?
"A lot of people back home know, maybe not Vikings fans, but I'm a big gymnast. I can do some pretty crazy flips that I've been doing since I was young. Obviously with the knee injury, I don't try anything right now, but I've still got it in me."
Q: Were you in gymnastics growing up?
A: "I wasn't, I just learned on my own. But I got pretty good at it."