Warm light with just a hint of purple illuminates the resilient, weathered, determined face of Jim Marshall, his voice strong and deep decades after his illustrious playing career.
The reverberating beats of the Vikings War Drum.
Shots of U.S. Bank Stadium and current game highlights spliced together with grainy images of the Vikings past, snowy games and muddy tackles at the Old Met.
And now, snow raining down onto cheering fans. The temp inside the enclosed stadium is warm, but the atmosphere creates goosebumps as the larger-than-life video culminates with a screaming Eric Kendricks, head thrown back and arms raised.
"An epic intro that pays homage to the giants that built this storied franchise," reacted Nick Anderson, a native Minnesotan and lifelong fan who made the trek from Los Angeles for the Vikings home opener.
Adam Weber and his son Wilson also traveled from out of state, making the drive up from Sioux Falls, South Dakota.
"What an amazing way to kick off the first home game," Weber said of the pregame sequence. "Did it really start SNOWING?! Let's go!"
It's nearly impossible to put the atmosphere and energy into words, to be honest. The Vikings spectacular "Showtime" sequence and pregame player intros has been in the works since, really, 2019. It ultimately harkens, though, to the period when the Vikings were the only thing harsher than the late-season weather at Metropolitan Stadium.
New NFL guidelines that season prohibited the use of the fire-breathing dragon the team previously used for intros. While remaining hopeful that pyrotechnics will one day return, Vikings Entertainment Network began brainstorming to revitalize a presentation that would be just as enchanting for fans.
When the COVID-19 pandemic caused games to be played in empty stadiums in 2020, ideas were postponed for a year that also provided extra creative time for the VEN team.
"We knew we wanted something that everyone could touch, feel and see all the way around the stadium," Vikings Director of Entertainment Greg Bostrom said. "Just like people could feel the dragon's fireball from the 300 level, we wanted to bring the experience to everybody, not just people in the front row."
What could better represent the state of Minnesota and "Old Norse" of the Minnesota Vikings than a downfall of crisp, white snow?
So, the concept of an indoor snowstorm was born.
Before Sunday's game, 42 individual machines generated evaporative snow that floated and flurried over 66,000-plus fans at U.S. Bank Stadium.
Pair that snow with the complete sequence – the "Symphony of the North" performed by the Minnesota Orchestra, Jim Marshall's telling of the "Odin" story and the dramatic introductions of current Vikings – and fans are treated to an all-enveloping experience like no other.
Vikings Entertainment Manager and Associate Producer Darius Smith called the 2021 season a "pivotal" one for fans.
"We're always thinking about, 'What can we do to rival the broadcast experience?' It's much easier to sit on your couch and watch a game than invest your time and money with the Vikings to come to a game," Smith acknowledged. "So what we're trying to do is to create those can't-miss moments that give fans the desire to come to U.S. Bank Stadium.
"Because after 2020, you really can't take any of that for granted," Smith added. "We just wanted to create an environment that people will want to come to."
That certainly has been accomplished.
"Odin," narrated by Marshall, combines the Viking god of war and Minnesota Vikings lore.
When the Vikings played at Metropolitan Stadium on frigid winter afternoons, the Purple People Eaters came expect a drop in temperature – and light – when the sun slipped behind the edge of the stadium wall. Right at that moment, Marshall and his teammates would slowly and methodically chant "O-Din. O-Din" over and over.
The chant created a disconcerting and almost spine-chilling aura for the opposing team, who felt any semblance of warmth dissipate as their enemies' voices rose.
When Vikings Motion Graphics Specialist Arthur Kuh began planning what type of music should accompany "Odin," he took a different approach.
Rather than sorting through music, finding something he liked and then editing the video to fit that tone, Kuh pivoted to an entirely custom score.
"I liked the tone of the violin [in a song I heard]; I liked the orchestral sound. But it was very generic," Kuh said. "But then I thought, 'We've got one of the greatest orchestras in the world just right down the road from us."
The Minnesota Orchestra, like the Vikings, were unable to perform for fans over the past year-and-a-half. It only seemed fitting that as the Vikings celebrate their home opener today, the orchestra is also kicking off its 2021 season.
Kuh worked with composer Tommy Barbarella, who embraced the opportunity to tackle such a creative and unique challenge that culminated with "Symphony of the North," an original piece.
"Any time you get asked to write something for one of the world's best orchestra's, it's a no brainer. The answer is 'Absolutely,' " Barbarella told Vikings.com "The challenge was to do it all in 90 seconds. My background in composing for television commercials over the years definitely helped me in that regard.
"The Vikings were looking for something that felt like a preparation for battle. War drums, etc. Something dark and ominous that grew with intensity to a big finish that would get everyone fired up," Barbarella added. "I really tried to use the entire orchestra, giving each section some moments."
Barbarella, a native Minnesotan who enjoyed the "glory days" of Marshall and the Purple People Eaters, said it wasn't difficult to find the necessary inspiration.
"I've been a die-hard Vikings fan (for better or worse) for almost 50 years. And with this, my worlds collide," Barbarella said.
In July, the Minnesota Orchestra directed by Osmo Vänskä performed "Symphony of the North" live for the Vikings to record.
Vänskä called it a "powerful piece" filled with energy and emotion.
"I really enjoyed bringing it to life with the orchestra," he said. "I love the idea that the Vikings and the Minnesota Orchestra have partnered to create something that speaks to our common sense of place."
Vänskä noted that while the group has performed all over the world, being a part of the Vikings inaugural game at U.S. Bank Stadium in 2016 remains one of the orchestra's most memorable shows.
"It was amazing to experience the energy in the venue. So we were very happy when the Vikings came forward to suggest this new collaboration – which also has a tremendous energy to it – to celebrate the grand reopening of the stadium," Vänskä said. "This will be an important milestone for our community, and I am proud the orchestra can play a role in it. These kind of creative partnerships between civic organizations are part of what I love about Minneapolis.
Fans at U.S. Bank Stadium Sunday were treated to an incredible video that shows not only intense snapshots of Danielle Hunter, Eric Kendricks and others but also up-close sequences of violins and other instruments intertwined.
"This intro video has a heart," Kuh said. "It has soul, and it has life outside of the building and outside of what you see pregame. And that's what I wanted, and the orchestra was the only way to do it. They're the best of the best at what they do, and their sound was so great."
Bostrom, Kuh and Smith were thankful for the opportunity to produce the entire intro sequence in-house rather than outsourcing to a different production company.
The three of them, along with Vikings Technical Producer Jesse Marquette, combined their individual skill sets for every piece of the collaboration.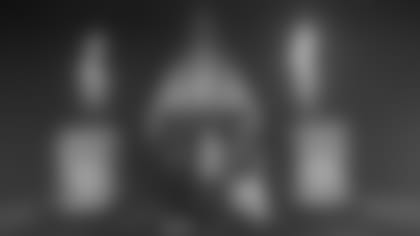 "I think the three of us complement each other so well in our strengths, and everything just came together," Kuh said. "Working with those guys throughout this whole process is one of my favorite experiences I've ever had."
Vikings Entertainment Network also is thankful to multiple other people who helped support the collaboration, from Vikings Owner/President Mark Wilf, to team photographer Andy Kenutis, Game and Presentation Associate Tom Avitzur, Alumni Affairs Coordinator Tracy McDonald, Director of Alumni and Youth Football Communications Tom West, and Museum and Asset Manager Jessica Faucher.
Faucher warmly welcomed the VEN group and Vikings Legends into the Vikings Museum to record the "Odin" segments.
From Marshall and Eller to Daunte Culpepper and Jake Reed, several Legends are featured in the "Showtime" sequence.
"This franchise has an incredible history and an incredible legacy. A lot of Vikings fans today, they got their fandom passed down from the generation above them – or they're an original fan and have been a fan for 60 years," Bostrom said. "So much of what we have today that's built on the shoulders of those guys, so we thought it was really important to tie in their place in history and how it got us to where we are today. So we're leaning heavily on the history and those Legends for telling this story."
Smith also emphasized the importance of the Vikings Legends to the heart of the franchise.
"We took it upon ourselves to really do everything we could to be able to give them the recognition that they deserve," Smith said. "You're coming to Minnesota to play the Minnesota Vikings of today, but you're also coming to play the Minnesota Vikings of the past. And not the Vikings players, but the environment. The passion. The grit. All of these components that have formed what we think of when we think of Minnesota Vikings football – they've really been established by guys like Jim Marshall, Carl Eller, Alan Page.
"They deserve to be equally a part of this team as anyone else," Smith added. "That's really what we wanted to do."
After a 2020 campaign in which the Vikings played in front of eerily empty purple seats, it's clear now more than ever how important the fans are to the U.S. Bank Stadium game-day environment.
Vikings safety Harrison Smith spoke to media members earlier this week and said it's a "big deal" to have fans back in the stadium this season.
"Honestly, I took it for granted my whole career, even going back to high school, just having fans around," Smith said. "Once you play without them, you realize how real fans are when it comes to impacting the game. … It's just better. It's better energy, it's better for the game."
"The fans have such an impact on the game, and the energy that they provide, the players feed off of it, it does give us a home-field advantage. And when we do all these things pregame, the idea is to get everybody in their seats, to get them fired up so that by kickoff we're 66,000-strong and we're raring to go. That's why we focus all these efforts here. We know the fans are the secret sauce at U.S. Bank Stadium, and we want to give them life-long memories. … We're excited to have them back."