The annual player rankings are out for the Madden NFL 20 video game, and it's Harrison Smith and Adam Thielen leading the way for the Vikings.
Both players garnered an overall rating of 94 and were two of three Vikings players to be rated in the 90s.
Smith, who has been to four straight Pro Bowls and was an All-Pro in 2017, was helped by a 93 rating in pursuit ability, play recognition and zone coverage as a safety.
Thielen has been to back-to-back Pro Bowls and was an All-Pro two seasons ago. The wide receiver and Minnesota native was boosted by his 97 rating in awareness and 96 ranking in catching ability and for spectacular catches.
Vikings wide receiver Stefon Diggs was rated at 93 overall, as the former fifth-round pick was praised with 97 rating for his catching ability and juke moves.
Defensive end Danielle Hunter, defensive tackle Linval Joseph and cornerback Xavier Rhodes were next in line with 86 overall ratings.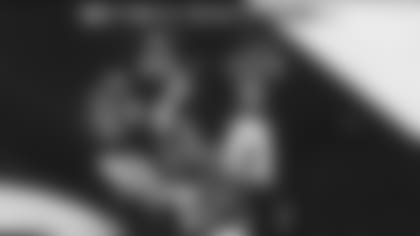 Hunter, who set a career-high with 14.5 sacks in 2019, earned a 91 rating for his awareness.
Joseph, a two-time Pro Bowler, was Minnesota's strongest player at 98 overall. Joseph routinely takes on double teams in the trenches and won a state championship on his high school weightlifting team.
Rhodes' highest individual rating was a 96 in jumping. He is also a two-time Pro Bowl selection.
Running back Dalvin Cook, defensive end Everson Griffen and tight end Kyle Rudolph were each ranked at 85 overall by Madden's developers.
Other notable rankings included linebacker Anthony Barr (82), quarterback Kirk Cousins (81) and linebacker Eric Kendricks (78).
Second-round tight end Irv Smith, Jr., was Minnesota's highest-ranked rookie at 75 overall, and cornerback Trae Waynes was listed as the fastest Viking at 94 overall.
The toughest player? That went to long snapper Kevin McDermott with a 96 rating. McDermott lost part of his left pinkie in a Week 4 matchup against the Rams in 2018.
The long snapper said part of it got caught in a facemask during a play. After looking for it on the field at halftime, McDermott returned to the game in Los Angeles.
Madden NFL 20 will officially be released on Aug. 2, but early access for an increased price is available on July 29.