Kyle Rudolph spotted the spiral first and went up above the crowd in the end zone.
The 44-yard Hail Mary grab by Rudolph, thrown by Kirk Cousins all the way from the Minnesota 45-yard line, helped the Vikings take a 14-9 lead at halftime and ultimately defeat Detroit 27-9.
"It was like when I turned, the ball was on its way down," Rudolph recalled. "It's kind of a scrum in that situation, and I was able to turn and just use my big body, jump as high as I could and catch it."
Earlier that game, Minnesota's offense had gotten off to a slow start and held little-to-no momentum after four consecutive three-and-outs. The Vikings trailed by 9, but Rudolph pointed out that if they could put points on the board (and knowing they would have the ball to start the second half), back-to-back scores would take back the lead.
The Vikings did that and then some. After a Stefon Diggs touchdown inside the 2-minute warning, Minnesota forced Detroit to punt and had 36 seconds to make something happen.
Thanks to the heave by Cousins and "rebound" by Rudolph, the Vikings got on a roll and never slowed.
"Points can happen so quickly in this league," he said of encouraging his teammates to keep at it. "You can't lose sight of the flow of a game. There's going to be ups and downs, and sometimes it starts down before it gets up."
Rudolph's experiences in the NFL have enabled him to keep a level head in a variety of game situations over the years. He's been part of a 3-13 team as a rookie and a 13-3 squad that began 2017 with a 2-2 mark through four games.
There was some external speculation about his future with the Vikings this offseason, but the tight end signed a multiyear extension in June.
Fans from all over reached out to Rudolph after he inked his new deal. From social media messages to random run-ins and planned player events, he felt "overwhelming support" from across Minnesota.
He recalled an appearance at Twin Cities Orthopedics Performance Center in which he and Vikings Head Coach Mike Zimmer signed autographs and hosted a Q&A for fans.
"The first 'question' was just a statement telling Coach Zimmer they were glad that he kept me," Rudolph said.
For the 29-year-old, the showing of love from fans validated his philosophy of "doing things the right way" on and off the field. He explained:
"On the field, I take pride in, no matter what my assignment is, whether it's glamorous or not, trying to execute it so that the 10 other guys on offense always know, 'We don't have to worry about Rudy. His assignment's going to be taken care of.' "
---
---
Away from the gridiron, Rudolph is thrilled to be calling Minnesota "home" for good.
Kyle and his wife, Jordan, have welcomed three children – twin daughters, Andersyn and Finley, and son, Henry – here. The family is deeply connected to the University of Minnesota Masonic Children's Hospital, in which they opened Kyle Rudolph's End Zone as a space of respite for young patients and their families.
And on July 30, the Rudolph family broke ground on a forever home that will keep them embedded in the community.
Kyle and the three kids took turns posing for photos in the front seat of the large, yellow excavator, and Jordan operated the machine and actually moved the first chunk of soil.
Rudolph explained that he purchased the land a year ago, before his future with the Vikings was "necessarily certain."
"No matter where football was to take me, we want to come back here. We want our kids to grow up here," Rudolph said. "Now having broken ground, you start to see that future come to life."
After a Vikings training camp practice this summer, Rudolph laughed as the twins took turns lugging his heavy purple helmet and trying on his yellow gloves. Henry sat in the grass nearby, taking in his surroundings.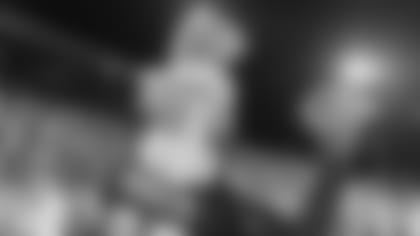 A few days later, the family gathered on the field of TCO Stadium after the annual night practice and watched fireworks sparkle across the sky. Rudolph stood and held Finley, who wore a custom 82 shirt with a purple-and-gold DADDY in place of a nameplate.
Family moments at the facility are fatherhood favorites for Rudolph.
He smiled and reflected on watching Henry experience his first visit to TCO Performance Center and the girls' innocent excitement about Viktor the Viking and endless Gatorade at "Daddy's football camp."
"It's been really fun for me to see them grow up around this organization," Rudolph said.
---
---
The Vikings win at Detroit was longtime assistant coach Kevin Stefanski's second game as interim offensive coordinator.
Now heading into the 2019 campaign, Rudolph is excited for Stefanski to continue calling the plays.
Rudolph recalled first meeting Stefanski in 2011, who at the time served as the Vikings assistant quarterbacks coach, and realizing early on he was a "really, really sharp offensive mind."
In 2014, Stefanski began a two-season stint as the tight ends coach and worked directly with Rudolph.
"A guy that played safety in college, that had never played the tight end position before … he didn't try to coach us or teach us like he knew what playing the position was like," Rudolph said. "Instead, he always prepared us so well mentally that we could just let our athleticism and our intuition of playing the position take over."
Stefanski has led three different position groups under the direction of six different offensive coordinators. Add the influence this year of Assistant Head Coach/Offensive Advisor Gary Kubiak, and it's seven.
But as his coaching prowess his increased, his ego hasn't.
"I feel like most first-time coordinators would [say], 'Now I'm the coordinator, and we're going to do things my way. I finally earned the way to do things my way.' And that couldn't be more opposite of Kevin," Rudolph said. "He just wants to put us in situations to be successful. If that means taking something from the Pat Shurmur offense, great. If that's something that Coach Kubiak's been doing for the last 18 years, great. If that's something that Kirk's comfortable doing, great."
It's no secret that the Vikings 2019 offense plans to be "more multiple," as Stefanski puts it.
It's likely that fans will see the use of heavier personnel groupings, which would certainly benefit Rudolph. But it's more than the potential of 12 personnel that has him geared up for Season No. 9.
"The thing that excites me most about this offense is utilizing everyone," Rudolph said. "With the talent that we have on offense – when we utilize both receivers, the tight end, the running back – who are you going to defend? It's not possible to defend everyone.
"Everybody knows we've got to get back to running the football, and once we run the football and we have our whole playbook open, you can't defend it," he continued. "There are just too many guys that can make a play on any given down. That's what excites me most."
In addition to helping bolster the ground game, Rudolph also hopes to continue making plays through the air – although not necessarily via Hail Marys.
Cousins' trust in Rudolph has grown, and the quarterback acknowledged this summer that he wishes he would have given him more opportunities last season.
"I think our comfort level has come from playing together for a whole year," Rudolph said. "People don't realize that I didn't practice a whole lot last season coming off ankle surgery. … I took a few reps in the spring but really didn't get going until training camp."
"Your first year [with a team] as a quarterback, you kind of get comfortable with things, and he never really got comfortable with me," Rudolph continued. "And then we played together for a whole year."
Rudolph finished 2018 with 64 receptions for 634 yards and four touchdowns. He caught a career-best 78 percent of his targets.
"That's kind of always been my mentality: 'If he trusts me enough to throw me the ball, make a play for him. Because then it will come back again,' " Rudolph explained, "That may take time. It may take a whole year to build that chemistry. But we're starting to build that, and I think it's going to help our offense."