On a chilly, cloudy day just outside Washington, D.C., three friends sat in the nosebleed section at FedEx Field – near an elderly man who snoozed a few seats away – and waited for the game to end.
The Redskins trailed by 8 with under two minutes remaining, and it a Ravens victory seemed certain. But then Ross Verwys sat up, eyed the sideline and poked Eric Huizenga and Kyle Cousins to get their attention.
"Hey, guys – Kirk's warming up."
Robert Griffin III had exited the game with an injury, and backup quarterback Kirk Cousins stepped in – much to the joy of his brother and pair of friends.
Time ticked off the clock, and Washington moved into Baltimore territory. With 36 seconds remaining and on third-and-5 from the Ravens 11, Kirk connected with Pierre Garçon for an 11-yard touchdown.
And then, the 2-point conversion: a QB sneak that sent the game into overtime and the stadium into a frenzy.
"The guy is passed out next to us, and here we are, the three of us freaking out in the corner of the upper bowl because in comes our buddy from high school," Ross recalled for Vikings.com. "We were losing our ever-loving-minds when he threw the TD pass."
Washington went on to win the game with a 34-yard field goal in overtime, and from there, the rest is history.
The origins of 'Crushing the Capital'
Not long before that game in December 2012, Kyle had texted 10-15 friends about meeting up in the nation's capital to support Kirk for the weekend and cap it off by attending the game – in which they never expected Kirk to play.
Eric and Ross were available, and the weekend began to take shape with plans to connect with Kirk and tour the city. At some point, it was decided that the trip deserved a name.
"Kyle was the ringleader," Eric laughed. "He had brought it up, and we wanted to find a name using alliteration."
Among several options, including "Destroying D.C." and "Whalloping Washington," "Crushing the Capital" emerged as the winner, and the name stuck.
Next, T-shirts. The plan was family vacation-style – the tackier, the better, right?
Kyle took matters into his own hands, purchasing plain white tees and screen-print paper, spending "hours" on his computer on photos and lettering and then ironing them onto the matching shirts to surprise Kirk.
"They were just going to have a great time that weekend. Then when the game happened, I got to play at the end, and we won in overtime," Kirk recalled. "It really kind of made it a memorable weekend, and that was my first significant playing time in a game.
"They said, 'Let's do it again.' So every season since then, they've picked a weekend to come to a home game," he added.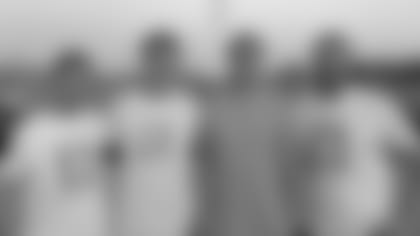 For the past eight years, the "CTC" group has done just that.
Each year, they come up with a new theme for the weekend – businessmen, coaches, dad-mode, lumberjacks – and not only dress but act according to the designated theme.
"The year that he became a full-time starter, we went with 'Business Time,' so we dressed the part," Eric explained. "Very formal, handshakes all weekend, that kind of thing."
The outfits and theme also are kept a surprise for Kirk until Friday evening when the group meets for dinner, and they never fail to produce a good reaction.
"I just kind of stay out of it," Kirk said with a smile. "But they have fun with it, and I just kind of shake my head and laugh."
Although Kirk's focus remains mostly on football throughout the weekend, the time that the four are able to spend time reconnecting is appreciated by everyone.
"I think people give Kirk a hard time – you've heard that narrative – he needs to have more fun," Kyle said. "But playing quarterback in the NFL is an intense job. And I think Kirk plays best when he's dialed in mentally and has a bit of an edge to him.
"So, I don't fault Kirk for being serious. That being said, we've always enjoyed adding an element of fun when we visit," Kyle added. "Kirk's not necessarily going to be the goofy one, that's not how he's wired, but if you notice, a lot of his close friends are guys like us who can bring the fun."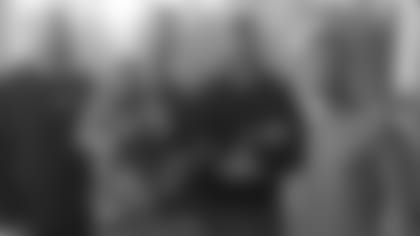 Ross and Eric also emphasized that the yearly trips are centered not only on wins and losses but on spending time together and having fun.
But interestingly, no game (in which Kirk started) that they've ever attended has been a loss for the home team.
There was the 31-20 win over the Browns in 2016; the 26-24 defeat of the 49ers in 2017, during which Kirk scored the 10th rushing touchdown of his career; the Vikings win over the Cardinals in 2018, when Kirk scored two touchdowns, including a rushing score that triggered his rendition of Adam Thielen's "dead-arm dance."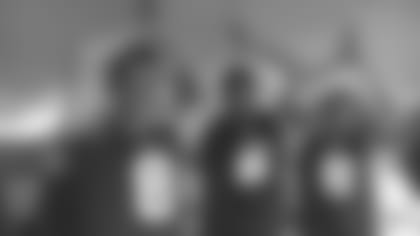 But don't forget about 2015.
Ross, Eric and Kyle circled Oct. 25 against the Buccaneers on their calendars that season. Little did they know, they would attend the legendary "You Like That?!" game, when Kirk led Washington back from a 17-point halftime deficit to win the game inside the final 30 seconds with a touchdown to Jordan Reed.
While they had much better seats for that game than three years earlier, Eric had recently undergone laser eye surgery and struggled to see most of the matchup, and Kyle suffered food poisoning and left the stadium after the second quarter.
Kyle, who had retreated to the famed Cousins conversion van in the parking lot, was unable to re-enter the stadium and spent the second half refreshing his game-day app.
"I would hear the crowd go crazy, and then I would hear the PA announcer make a muffled call, and then I would update the app and [see the play]," Kyle laughed. "That was how I watched it.
"Every year, something seems to happen," he later added.
Kirk can't deny the coincidence, either.
"The games where I've played, we've won, so we joke that there's something there," the quarterback said. "For whatever reason, their visits have sparked some big wins."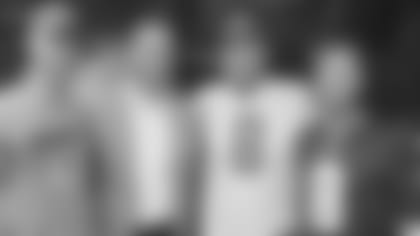 And of course, this year was no different.
It's likely that Eric, Kyle and Ross didn't expect to see another comeback as great as the 2015 contest in Washington. They certainly couldn't have imagined what would transpire when they booked airline tickets to Minneapolis for the Vikings-Broncos game on Nov. 17.
Minnesota trailed Denver 20-0 at halftime, and some fans booed as the team trotted into the locker room.
"The air that was sucked out of the stadium was just overwhelming," Ross acknowledged. "We were all just feeling really down."
But Kirk's wife, Julie, felt confident that the team could bounce back, reminding the group that they had all seen it done before, and Kyle agreed.
When Kirk threw a touchdown to Irv Smith, Jr., to put the Vikings on the board in their opening third-quarter drive, spirits began to lift.
"We all kind of looked at each other, like, 'Dude – this could happen,' " Ross said.
Added Kyle: "I immediately turned to Julie and said, 'We're going to win this game. We can win this game.' "
It still seemed less-than-probable to the masses, however, when Minnesota still trailed by three scores late in the third quarter and faced a third-and-14 from its own 32. Then Kirk came through again, perfectly hitting tight end Tyler Conklin for a 20-yard gain to keep the drive alive.
"That was really, honestly, the understated highlight of the game for me," Kyle said. "From there on out, it was just rolling."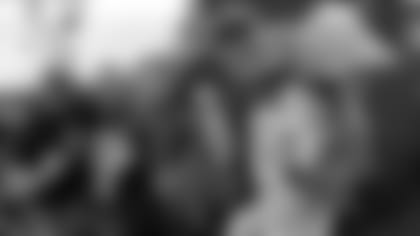 As you know, the Vikings rolled all the way to a 27-23 defeat of the Broncos to enter this week's bye 8-3.
Eric and Ross pointed out specific high points of the come-from-behind victory, as well.
"The SKOL Chant in the fourth quarter was incredible. I don't think I've ever been in a stadium that loud," Eric said. "Then the celebration at the end – it's cool how sports bring people together. I'm pretty sure I hugged and high-fived our entire section."
After the game, Kirk's friends and family met the quarterback to celebrate the dramatic win.
"Kirk said even in his press conference, he's trying to be the CEO where he keeps it just straight-laced, keeps his emotions 'right here,' " Ross said. "But to see his excitement come out [after the game is great]."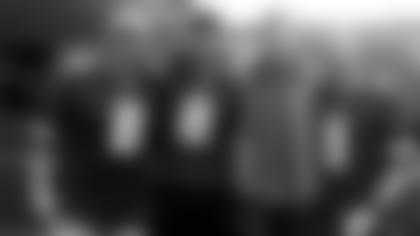 From making the 70-plus mile drive from Grand Rapids to Michigan State games to support Kirk in college, to flying out east in 2012 for that very first game, to planning this year's trip to Minneapolis, the "CTC" group has been a longtime story of friendship and support.
"The first game at Michigan State that Kirk dressed, we bought MSU shirts and ironed his name on the back and got there early. I think that's where it all started," Eric said. "It's such a unique bond that we have. I don't think any of us would consider ourselves best friends with each other; we talk quite often but will go months without seeing each other.
"But it's just fun how, the minute we step off the plane, it seems like no time has passed," he added.
To this day, a large group of friends from Holland Christian High School stay in touch, remain on a group text thread and volunteer each summer for Kirk's youth football camps.
"That's been one of the special parts of my journey, having friends and family along the way who have been with me through the ups and downs," Kirk said. "It's certainly made the journey more memorable and more fun when you can share it with friends and family who have been there since high school."
Ross and Kyle both called the lasting friendships an indication of Kirk's character.
"It's a testament to the people who love him and want to support him, and how his career over the years has been such a bonding thing for our family and our friends," Kyle said of his brother. "Kirk's football career has been something that's brought us closer together, which has been really special."
Added Ross: "It's a [reflection of] who Kirk is, because he takes the time, and he really pours into those friendships. To have this trip specifically with this group of guys, and to be able to do that for eight years, is really special. … And I hope we continue that – because obviously we're good luck."