There Garrett Bradbury sat, in the summer of 2017 after his redshirt sophomore season.
He was appreciative of an internship en route to completing his degree in business supply operations management the following December.
The only thing was, as he explained during his Vikings introductory press conference, it didn't create the spark that football does.
"I got an internship with Lenovo, thinking I was going to go into the supply chain of business, and it was a good internship, did pretty well, and left that summer like, 'I've got to stay around football-minded people the rest of my life,' " Bradbury said. "Nothing against them; I just think my calling is through sports, through football specifically, and so from then, I was like, 'I'm going to make it in the NFL, and then after that, or if that doesn't work out for some reason, I'm going to coach.' I just love being around locker rooms, I love being around football guys."
Bradbury moved to center at N.C. State in the fall of 2017. He received a team award for a making a vital contribution in an unsung role.
By the end of 2018, his praises were sung from coast-to-coast, as evidenced by him winning the Rimington Trophy as the nation's best center among all FBS players, an invitation to the Senior Bowl, an impressive showing of athleticism at the NFL Scouting Combine and lofty projections that predicted he would be selected in the first round of the 2019 NFL Draft.
Players projected as high as Bradbury were invited to Nashville for the opening night of the draft, but rather than basking in the neon glow of Lower Broadway and making the televised two-step across a custom-built stage in front of thousands in Music City, Bradbury opted for his family's South Carolina home, just south of Charlotte, North Carolina.
He sat in the middle of a couch surrounded by friends and family and former coaches, the latter of which also classify as friends and family.
When the call came in, the room went silent.
Bradbury's right hand, the one he snaps footballs with, gripped a smart phone and made it look like a toy. His left hand rubbed the short hair on top of his bowed head.
First, he spoke with regional college scout Pat Roberts, who then handed off the phone to General Manager Rick Spielman, who followed with a lateral to Head Coach Mike Zimmer.
Bradbury stood and announced, "I'm going to Minnesota." Cheers filled the room.
"It was cool to share that moment with everyone because that moment wasn't just for me," Bradbury said. "My college o-line coach (Dwayne Ledford), high school coach (Jason Estep), some awesome parents and some best friends.
"I think there's two ways to go, but I wouldn't change anything I did," he added. "It's cool to be around that many people that I love who helped me get there."
---
---
It was quite the transition for a player who began his college career as a tight end and did an offseason stint on the defensive line before transitioning to guard and blossoming at center, which reminded him of playing catcher in baseball, a role in which he shined in high school.
Tim Bradbury, who played offensive line in college, wasn't surprised that his son excelled, particularly once he was involved with handling the football and protections on every play.
"I always knew he'd be … an offensive lineman. He has that mentality," Tim said. "When the helmet's not on, he's a student of the game. But you put the helmet on, he can be a little ornery and get after people. So I always thought he'd make a good offensive lineman."
Tim played high school football for the Puyallup Vikings near Seattle, Washington, before the Seahawks were created, so he grew up watching highlights of Chuck Foreman's spin move, Fran Tarkenton's scrambling and the Purple People Eaters savageness.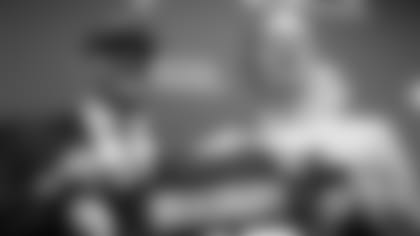 Tim joined his son for the trip to Minnesota the day after the draft, and when Foreman heard of Tim's fandom, the 1973 first-round pick and NFC Rookie of the Year headed over to Twin Cities Orthopedics Performance Center to give him an autographed No. 44 jersey.
Tim's mom still lives in Seattle and is looking forward to Minnesota's game there this December. She'll be tuning in tonight, as well, but with a new allegiance.
"She's awesome. She was a Seahawks fan, but now she's a full-fledged Vikings fan," Bradbury said. "They're pretty loyal in Seattle, but I think it was an easy decision for her. … My grandma has been so supportive over this process and excited about each step in the journey of my football career because she can follow it online and watch on TV.
"I haven't been able to see her every month like a lot of people are maybe able to see their grandparents, but it's been fun to have her keep up with me," he added. "She's going to try to [come here for a Vikings game], but it works out good that we're in Seattle this year."
---
---
The Vikings have been able to line Bradbury up at center because Pat Elflein, another Rimington Trophy winner who has played center the past two seasons, had a willingness to move to left guard and has the ability to make an impact at that spot.
Coaches and teammates have complimented Bradbury's approach in his first four months as a pro, describing a keen focus on the task at-hand, a maturity beyond his years and an overall professionalism that equips him for extensive responsibilities placed on an NFL center.
"He's a brilliant kid, so that helps a lot," Zimmer said. "He's going to have a big load."
"He's got a very business-like personality, wants to be right, wants to do things the right way," Zimmer added. "I think he's got an aggressive nature. I think he's going to fit in fine."
Quarterback Kirk Cousins, who is preparing for his eighth pro season and will turn 31 on Aug. 19, said it's easy to communicate with the 24-year-old Bradbury.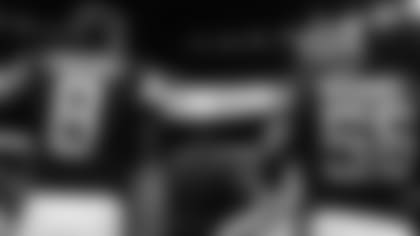 "I'm excited for the player he can be, and I know the coaches are," Cousins said. "I think he's picked up things pretty quickly for how much we've thrown at him, and he's handled it with a calm and a coolness about him that is also great to see."
That doesn't mean there might not be a "wake-up call" moment or two, or things that require adjustments by the quarterback and center.
One such occasion happened early during Organized Team Activity practices. Cousins explained during a radio interview that N.C. State QB Ryan Finley stood 5 ½ yards deep in the shotgun formation, but Cousins stands at 4 ½ to create a tougher angle for NFL edge rushers that would love to scream around the edges.
"The ball is coming back fast. It's like a howitzer coming back, and I can't catch it, so we had to do some reps in shotgun," Cousins said. "Imagine a center-shotgun snap thousands of times, and we're having to get reps at that simply because I stand 1 yard closer to the ball. These are the things that take time, but you expect by mid-August that it's a no-brainer and he does it in his sleep."
Cousins said Bradbury was asked to give a report on howitzer artillery pieces to the offensive line room.
"I heard he even put a works cited page on his report," Cousins added. "That's the o-line room for you."
Bradbury downplayed the report as "just a few slides of a PowerPoint; fun to put together."
---
---
Bradbury's background as a catcher, where he called games and adjusted the infield's plan for covering bunts, helped him with overall athleticism and a certain comfort with taking charge.
"I love being in control on a football field, so when I'm at center, I love the responsibility of making calls and helping get the other linemen lined up," Bradbury said.
The offensive line took pride under Ledford with helping Matt Dayes in 2016 become the first 1,000-yard rusher in school history since T.A. McLendon in 2002. Nyheim Hines hit the four-digit milestone in 2017, and Reggie Gallaspy II followed with 1,091 last season.
"There hadn't been a 1,000-yard rusher there for a long time, and Matt Dayes is a special running back, and we had a special o-line the past three years," Bradbury said. "It was fun to just go out there and kind of have a demeanor and attitude that, 'We're going to run the ball, and we're going to protect the quarterback.' "
As Bradbury's role progressed with the Wolfpack, he kept focusing on ways to improve his game, whether it was fine-tuning practice habits, maximizing time in the weight room or "taking my diet more seriously." There were even quite a few yoga sessions as part of the team's strength and conditioning program and as an elective during free time by Bradbury and a few teammates.
"You're not really thinking about that stuff in high school; you're just playing for the love of the game, and then you realize it is a business and you can reach your goal if you do the right things," Bradbury said. "I kind of started understanding that the things I did off the field would translate."