MINNEAPOLIS – Eric Kendricks wore a wide smile and his white practice jersey as he walked into a classroom with teammate Rashod Hill and surprised eight young men.
The room was small but vibrant. Posters and photographs covered previously bleak walls, and a quote from Martin Luther King, Jr., was projected onto the whiteboard:
"Our lives begin to end the day we become silent about things that matter."
A stack of colorful poetry books sat on the desk, filled with verses and poignant words penned by youth staying at the Hennepin County Juvenile Detention Center.
The young men wore matching gray sweatsuits and navy blue shoes, but animated personalities and character set each one apart as they asked questions of the professional athletes who were guests in their English class.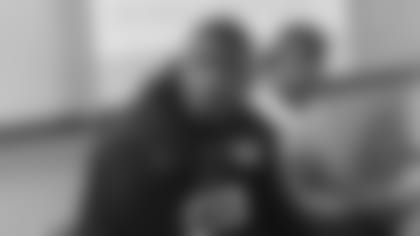 Was it hard for you to keep up in school and football? What made you want to play football? Do you like this cold weather? … Are there times you feel like quitting?
"They just wanted to ask questions; they're just like normal kids, you know? They're curious about what we do, and just being there was good," said Kendricks, who jumped at the chance to spend time at the JDC. "I don't think those kids have a lot of people visiting very often. So any time they get visitors, you can just tell that they're high-energy, excited.
"Just us being there and supporting them, they know that they have someone who cares about them, someone looking after them," Kendricks added. "It was just a good thing."
He and Hill shared their own stories and openly answered questions before going down to a courtyard to play catch with the youth.
"I like to give back because, when I grew up, I saw the Jacksonville Jaguars players come around, and they gave back and always were positive," Hill told the class. "They gave their old cleats to us in high school to wear when we didn't have any cleats. I always saw them give back; they always took time out during their busy schedule to come out."
Kendricks and Hill were two of 10 Vikings players who visited the Juvenile Detention Center Tuesday afternoon to spend time in various classrooms talking to the young people, encouraging them and sharing advice.
The players were grouped into pairs: safeties Harrison Smith and Jayron Kearse; defensive ends Danielle Hunter and Stephen Weatherly; safety George Iloka and tackle Brian O'Neill; linebacker Anthony Barr and wide receiver Brandon Zylstra, who also were joined by Vikings Legend Greg Coleman.
Hennepin JDC Superintendent Craig Riggs addressed the group beforehand and thanked the Vikings for their partnership and work in the community. A 36-year employee of the JDC, Riggs expressed his passion for the youth he works with.
"As far as programming, people think jail … they think incarceration. But that's not what we're about," Riggs explained. "Kids make bad decisions. Why do kids make bad decisions? Most of our kids have had some kind of trauma in their life. A lot of trauma often influences decisions that kids make. What we do in our department is from detention, to our treatment facilities, to probation. It's all about, 'What services can we provide our kids so they make those better decisions in life?' "
"Decisions" was exactly the word that Iloka hoped the young women in his science class would remember.
The period started with a fun, sports-related lesson about calculating one's BMI but then moved into a Q&A and some real talk with the pair of teammates.
Iloka has only been with the Vikings since August, but he is passionate about speaking to the young people at the juvenile detention center in his hometown of Houston. When he heard of the visit to the Hennepin County location Tuesday, he was excited for the opportunity.
Iloka reminded the class that decisions made at a young age can affect you as an adult. He added that it's important to focus on the future rather than the past.
"It's still about the decisions moving forward. It's always about the next decisions," Iloka said. "You can't change the past decisions; you can't change past actions; but you can always control what you do going forward. And that was kind of like the overlaying message for me and O'Neill.
"They might have gotten something out of this, hopefully, but I feel like I got just as much out of it personally," Iloka added.
In a nearby World History class, Hunter and Weatherly spent time talking with the students before moving into an interactive project. Instructor Jeremy Johnson challenged the group to analyze a political cartoon negatively portraying the continent of Africa and asked them to redesign their own cartoon to flip the narrative.
In the background of the young men hard at work, U.S. Bank Stadium towered just across the street.
Johnson considers it an honor to teach at the JDC and was grateful for the Vikings investing their time.
"These [players] are clearly role models for the guys that are here. Just having their presence in the classroom today is something that I can tell is actually motivating them," Johnson said. "They're interested in a topic, they're interested in what these guys do, and they're interested in what they can possibly learn from them. It's nice when you can get somebody from the community to come in, especially when that big, beautiful stadium is right across the street, and then you get the actual guys who play in it to come visit, coach and help train and give good advice. It's a good thing."
Barr, Zylstra and Coleman spent time connecting with and encouraging young women in a math class.
There, the message also revolved around not defining oneself by a poor choice. Barr, whose Raise the Barr Foundation supports single mothers, urged the teenage girls to not be caught up in the opinions of others.
"It's how you view yourself. Can you look in the mirror and be proud of what you see?" Barr asked them. "[Remember that] failing is part of the process. You have to fail to be able to succeed. You have to fail to become what you want to be, to become better.
"I've failed more than I've succeeded – that's a fact," Barr continued. "But the reason why those successes are so important and feel so good is because of going through all those experiences of failure. I think that's the biggest thing I've learned … It's OK to fail and mess up. Just try not to do it too often. Try to learn from it. Don't make the same mistake twice."
Barr later said how much he appreciated the productive dialogue and hearing some of the young people's backgrounds, journeys and aspirations.
"They're kind of going through … a learning experience but also expressed that it's only a minor bump in the road," Barr said. "The group I was with, the group of girls, they were very outgoing, very bright and they have bright futures ahead of them if they continue on the path that they're on. If they continue trying to improve their situation."
Riggs stood in the back of the classroom and observed the students asking questions and hanging on every word the three Vikings shared.
Riggs pointed out that at some point, the jerseys disappear and the youth focus only on the fact that they're being listened to and valued.
"And that's what it's all about. It's, 'I was where you are.' And, 'We all make choices, and sometimes they aren't the right choices, but we correct those choices. We don't define our life by one mistake,' " Riggs said. "And Greg Coleman talked about that. I think that really hit home for a lot of those kids. It's like, right now it's a bump in the road, but that doesn't necessarily mean they can't change and make different choices. I'm going to again quote Greg, and it's, 'Follow your dreams.' That's what it's all about here."
While all the players invested in and enjoyed the afternoon, perhaps the visit hit home most for Kearse, who said there was "no question" he would attend when he heard about the opportunity.
For Kearse, it was personal.
"When you see a kid get in trouble like that, you immediately think he's a bad kid, but I was in that situation before – I've been down that road," Kearse said. "So it was good for me to go out there, talk to them and just show them, 'If you get your mind together, if you act right, there's always another way.'
"I sat down with them and just let them know the whole thing. I let them know, 'I'm not just someone in here who hasn't been through it – I've been through what you guys are going through,' " Kearse added. "You kind of see it differently when you've seen someone who's been through the same thing, and he's doing good now. It was big for me to go there and talk to them."
Kearse said it was important to be genuine with the group and show them what could be accomplished despite making a mistake early in life.
"For them to be around us and talk to us, joke around and play with us, it was good for them," Kearse said. "And it was good for us to be there."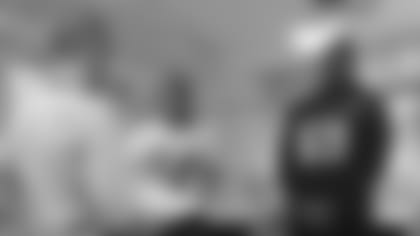 At the end of the visit, as players talked amongst themselves and departed, it was clear that the afternoon had been impactful across the board.
Kendricks afterward explained his motivation for being involved.
"Growing up, I had some friends or just peers who got in trouble the same way, and it was, not all of the situations were things they could really help," Kendricks said. "A lot of stuff was related to family problems and just kind of being in the system their whole life. I just feel for those kids, and I felt like it was important.
"A bunch of us showed up," Kendricks added. "It just shows you that the locker room cares."