Just before Christmas of Alexander Mattison's eighth-grade school year, his father Darrell was diagnosed with pneumonia.
Darrell, who had been dealing with a persistent cough, was admitted to the hospital and spent "longer than any of us anticipated" there.
Doctors ran additional tests and gave Darrell a new diagnosis: leukemia.
"I had no idea what it was at the time, but hearing about that – especially my mom having to explain to me and my brothers what it is and what he's going through – was hard," Mattison said. "It was a time where he didn't want us to see him like that. He had lost, I believe, 50 pounds from going through chemo and bone marrow transplants. He was fighting. He was in the hospital for a couple months.
"Thank God that he came out on the other side of it, and he's doing a lot better now," Mattison added.
Mattison joined teammates C.J. Ham, Chad Beebe, Ifeadi Odenigbo, Dan Chisena and Irv Smith, Jr., on the 75-minute call with individuals who have battled – or are currently battling – cancer. The event was moderated by Vikings Legend Greg Coleman; Vikings Chief Operating Officer Andrew Miller and Dave Benson, executive vice president of the ACS North Region, also participated.
"Through that time, he showed a lot of strength. He cared so much about us that he would relay messages through my mom, 'He's doing fine, he's doing great,' " Mattison said. "It was just one of those moments where he didn't want his kids to see him like that.
"He pushed through," Mattison added. "He's a soldier. I'm glad to have him by my side still."
Watching his dad's fight with cancer, Mattison noted, taught him at a young age what a "great father" looked like.
"A strong man, holding faith in God through it all and sacrificing [so much] for your family. There were plenty of times where the pain [could have been overwhelming], but he just thought about us and knew he had to come home to his kids and come home to his wife," Mattison said. "That's something I really admire about my dad and something I remember when times get rough. I just know there are people that are looking at me and that love me and want me to do well. I know that's the mindset he had, so I try to take that with me every day."
Following messages and reflections from each of the Vikings players, individuals viewing the video conference had an opportunity to ask questions of the teammates.
Among those who asked questions was Monica Theis, who has had cancer four times and currently is battling Stage 4 breast cancer.
Theis asked for encouragement from the Vikings she loves to watch play.
"It gets really hard going to chemo every week and going to treatments over and over, and it can get discouraging," Theis said. "What I'm wondering from you guys is, when you're in a really tough game [or season], and it's really hard, and it's just getting frustrating, how do you inspire yourselves and keep going and keep a positive [mindset]."
Smith and Beebe each thanked Theis for her willingness to share and offered words of support.
"We're with you, Monica. You're amazing," Smith said. "There so many negative things in life that can bring you down, and you just have to have a positive outlook on things … and you have to fall back on the things that really got you there. Definitely having a strong family, a strong friend or somebody you can always talk to – because positivity is going to be what keeps you going.
"We talk to our teammates and know that we're not alone. We're out on this field together. … We have to fight," Smith added. "You can tell as a competitor that your brother wants to be on that field with you. It's something as a team that's bringing us closer, and hopefully we can help motivate you as well, to keep fighting. We're all in this together."
Below are more details about the Vikings players' specific connections to cancer, as well as additional content shared during the event.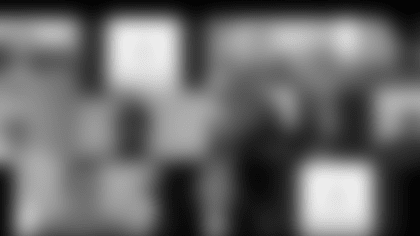 Connection to cancer: Aunt is a breast cancer survivor; grandmother passed away in 2016 due to pancreatic cancer; wife's grandfather recently passed away from Mantle Cell Lymphoma
Words of encouragement for Monica: "Thank you for sharing. I can't even imagine what you're going through. I just want to encourage you to continue to fight. When it comes to us on game day, encouragement is huge. … I know that my wife and I will be praying for you specifically, so thank you for stepping out in faith and sharing."
Connection to cancer: Mother, Tina, passed away from pancreatic cancer on May 29 (Read more about C.J.'s story and the way he honors Tina's memory here.)
The most important life lesson his mom imparted: "I remember when I was a young kid, she said, 'When we love, we love hard.' My mom was a perfect example of what 'loving hard' was. She showed me, my sister, my dad and especially all of her grandkids so much love, and she really taught me what love is. She taught us to love everyone – not just family, but to love everybody. I think that's something that's going to stay with me forever. Make sure you love your neighbor.
"My family comes from a strong faith background, and that's something that's always preached to us – love your neighbor, love everybody – and that's something that my mom really took to heart. I think that's part of the reason why she had such a great soul and such a great smile. No matter how bad her day was or whether she was going through chemo, she still had a smile on her face. And I believe that's why she was able to fight this disease for so long."
Connection to cancer: Mother, Linda, is a recent colon cancer survivor; uncle also battled cancer
More on his mother's story: "About a year-and-a-half, two years ago, she was diagnosed with colon cancer. … Caught it early, fortunately, but she never told us about it [until] maybe 7 or 8 months in. … She didn't want anybody to stress about it.
"Every single Friday, she was getting chemo. I had no idea. I was living with her during the offseason, and she would just shut her door. I would say, 'Mom, you good?' 'Yeah, long day at work.' She would just fabricate something like that. It kind of all dawned on me [later]. But she swore that just her kids being there in her company and not stressing about it really helped her. Then fortunately last year, thanks to [Head Coach Mike Zimmer], I was fortunate enough after the Packers game, I flew back home, my mom had surgery, and the cancer was cleared up. That was my first real contact with cancer." 
Connection to cancer: Grandfather Edward Smith ("Pop-Pop") passed away in 2018 from lung cancer
Irv shared that his grandfather had a "major impact" on his life, spending quality 1-on-1 time with him from a young age and teaching him about sports, particularly basketball. When Edward was in the hospital near the end of his life, Irv got a portrait of him tattooed on his leg and was able to show his grandfather.
Reflecting on his grandfather's life: "Seeing him in the hospital when he was sick with lung cancer, he didn't really tell us how much it was affecting him. You would never really have known. My grandpa played the saxophone his whole life. He didn't know how to read music or anything, but he would play the saxophone … I got him some nice headphones, and he would just listen to music and play the song off of listening to it."
Connection to cancer: Chisena played football at Penn State, where he was involved with THON, the largest student-run philanthropy group that fights against pediatric cancer.
On connecting with young people fighting cancer: "I had an opportunity to do hospital visits to the Hershey Children's Hospital and visit with those kids. Those were always special moments when we got to do that as a team, just to see the amount of fight that they have in them. They're inspiring.
"It was one of my favorite days of the year, getting to go to the hospital and spend time with these kids. Just to be able to see how strong these people are – to meet with the families and talk to them and hear their stories, and just to sit down and have conversations. You see what these families are going through, and it puts things into perspective in your own life. It puts football into perspective. And it just makes you thankful for every day."