For some, moving far from home can be a rude awakening. But for Brian O'Neill, it's been rather polite.
"Minnesota Nice is a real thing," O'Neill said. "I always joke that Minnesota Nice is the guy in the elevator at 6 o'clock in the morning when it's 20 degrees outside, it's pitch dark, and he's having the best day ever.
"It's like, 'You're not that happy, bro, c'mon. You haven't seen the sun in three weeks. It's not all sunshine and puppies at 6 a.m. I'm doing fine, thanks,' " added O'Neill with a laugh.
An East Coast native, O'Neill feels the biggest adjustment to the Midwest, where he says he's been welcomed with open arms, is his patience with drivers "just cruising along" on the freeway when he needs to be somewhere.
"People in Philly and New York, they drive faster than they do here," he said.
O'Neill's hometown of Wilmington, Delaware, is located just 31 miles from Philadelphia. There was a time, he admitted, "in a former life," that he "rooted for a team that was green," but O'Neill fell out of alliance with any particular team when he began his collegiate career at Pittsburgh.
"Pitt's football facility is connected to the Steelers facility … so you kind of root for them because you see them every day, and then you also root for your former teammates and people you knew," O'Neill said.
His family has been a tough sell, though. Particularly his sports-loving, dedicated grandmother, who wore purple for the Vikings-Giants game last weekend but likely will don neutral colors for Sunday's matchup against the Eagles.
"It was the same thing with high school. I went to the high school that she didn't really like, so she wore the other team's color to games," O'Neill laughed. "It's just kind of understood where her allegiance lies. I'm the only person on our team that she'll root for.
Nevertheless, he's happy and grateful to be in Minnesota via the Vikings drafting him with the 62nd overall pick in 2018.
O'Neill had prepared for the pros with the help of veteran 49ers tackle Joe Staley and Hall of Famer Jackie Slater, and Staley ironically was one of the first opponents that he crossed paths with in the NFL.
"He's been kind of the guy I want to play like. He's been, like, that guy," said O'Neill, who was active but did not play in the Vikings season opener against San Francisco last year. "It was cool to see him in my first game. I was all nervous walking onto the field before, and he was just loose.
"Obviously, now I would be loose going out to say 'Hi' to somebody, but at that point, [I was] kind of [apprehensive]," he added.
What O'Neill didn't know then is that just one week later, he would get his first action at Green Bay when stepping in for Rashod Hill, who slid to left tackle when Riley Reiff suffered an injury.
O'Neill started the next game, and the next game after that, and he hasn't looked back.
O'Neill enters today's matchup with 20 games – and 16 starts – under his belt and has yet to allow a sack of quarterback Kirk Cousins, who was immediately impressed with the youngster's comfort level and abilities.
"Any time you can draft a player, he can show up, play well early and you can continue to grow and stay humble and hungry, I think that is a really good sign for your team, for your offense," Cousins said. "Brian is a really good example of that."
O'Neill isn't quite so complimentary of himself, however, which demonstrates that passion.
"If I went back now and looked at the first couple games I played in, I'd be like, 'Oh my gosh. Who's that?' " O'Neill said. "And honestly, I hope I feel the same way next year, looking back on the first couple games from this season and saying, 'Man, I can't believe I was doing some of that stuff.' Because I think I'm so far away from what I can be and who I want to be as a player."
The 2019 Vikings offense looks quite different from that of the system he first entered last year.
But O'Neill is no stranger to change. He pointed out that this season marks his sixth consecutive with a new offensive coordinator, dating back to his start at Pittsburgh.
He also has learned under three different position coaches since joining the Vikings. Tony Sparano, who first took O'Neill under his (sometimes curmudgeonly) wing, passed away unexpectedly in July 2018. The unit was taken over by Clancy Barone, and this spring Minnesota hired offensive line coach/run game coordinator Rick Dennison.
O'Neill takes it all in stride.
"That's just been the norm for me, to be honest," he said of changing leadership. "It's not a good thing. It's not a bad thing. It's just the way it is. I don't have a choice but to take something from everybody."
O'Neill referenced a college coach who once offered advice that has stuck with him: Be where your feet are.
"The only thing I'm listening to is Coach Rico (Dennison). That's the only thing I think about – his techniques and what he's saying," O'Neill explained. "Big picture, it really helps (to have learned from multiple teachers). But in the moment, you've really gotta dial in to who's talking to you."
The Vikings have implemented a zone blocking scheme under Offensive Coordinator Kevin Stefanski and Assistant Head Coach/Offensive Advisor Gary Kubiak and have put much more emphasis on the ground game.
O'Neill believes he is well-fit for this type of system, saying it allows him to best use his strengths, including using his athleticism to get to the second level.
"I love this system," he said. "I love being able to run the ball, but at the same time, I know that [there might] be times that I'll have to pony up and pass block 50 times in a game. I had to do that sometimes last year."
With the help of O'Neill and the rest of the offensive line, running back Dalvin Cook has racked up 542 rushing yards and five touchdowns for Minnesota through five games.
The rapport between O'Neill, who has donned a Dalvin "The Chef" Cook T-shirt, and Cook, who includes the linemen in touchdown celebrations, is strong. And O'Neill will tell you that the third-year back actually requires very little help to get things done.
"He's really, really talented; and he's really, really down to earth; and he also works really, really hard. … I don't think there is a missing piece, in my mind, to him as a football player," O'Neill said. "When you get a guy like that, all you've gotta do is give him an inch. So, for me, it's like, 'Hell yeah, let's go.' "
And as for Cook's thoughts on the right tackle?
"He's a kid at heart," he said. "But when he steps on the field, he's a man."
The aforementioned side is one fans may not be as familiar with from O'Neill, a 6-foot-7, intimidating presence on game day. But during the week, whether at a Community Tuesday event, at practice or in a meeting room, it's difficult for O'Neill not to have fun.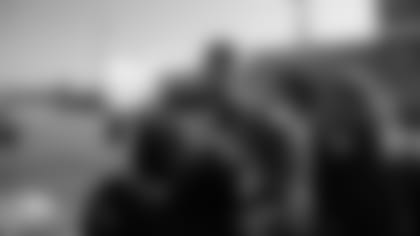 "I'm 24 years old, and I'm coming here to play football every day. It could be a lot worse," O'Neill said. "Playing football is sweet. So, obviously I'm going to have fun and act like a little kid because this is what I wanted to do when I was a little kid."
But he also takes seriously his responsibility to the team and magnitude of his role on the Vikings 53-man roster.
"When I get on the field, whatever is required for the right tackle in the Minnesota Vikings offense to … help give us the best chance to succeed, I'm going to do that," O'Neill said.
"I always say, I'm not trying to prove I'm a tough guy," O'Neill said. "I want to be known as a good player. And being a good player, you have to have toughness. ... I don't go out there trying to play 'tough guy' and show people that I can hit [defenders] so hard. No, I want to play well. I want to play really well. So whatever's asked of me to do that, that's what I'm going to do."