MINNEAPOLIS – Amy Anthony is used to playing a significant role behind the scenes, but she was recently given the spotlight.
WISE Twin Cities presented three Women of Inspiration awards on Thursday, recognizing Anthony as the Woman of the Year in Events.
Currently in her 16th season with the Vikings and serving as the Director of Events & Hospitality, Anthony has played an integral role in planning and organizing programming that has surrounded some of the team's major milestones: from the opening of U.S. Bank Stadium and Twin Cities Orthopedics Performance Center, to overseas events during the Vikings 2013 and 2017 trips to London, to events revolving around Super Bowl LII in Minneapolis.
Anthony was presented the award by Minnesota United FC Director of New Ticket Sales Melanie Seiser.
"In the recent years, the Vikings franchise has grown by leaps and bounds, and with that has come the need for high-level event programming. Amy has been there every step of the way to oversee the events for the team," Seiser said.
Upon acceptance of the award, Anthony thanked WISE (Women in Sports and Events) for the honor as well as the Vikings organization for providing her "with these great opportunities." She also deflected much of the attention from herself and instead highlighted others in her department.
"For those involved with events, you know it's not one person that can put on an event, but it's a whole team. And I'm fortunate enough to have such amazing and talented people to work with," Anthony said. "So thank you to Kaitlin Zarecki, Claire Walden, Joe Rush and C.J. Rugh. Also, thank you to [Vice President of Marketing & Fan Engagement] Dannon Hulskotter and [Executive Vice President & Chief Marketing Officer] Steve LaCroix – they've been my leaders since the day I started working for the Vikings 16 years ago.
"And lastly, everyone in this room involved with sports and events, we work weekends and nights, and for that I have to thank my family. Thank you for all that you do," Anthony added emotionally.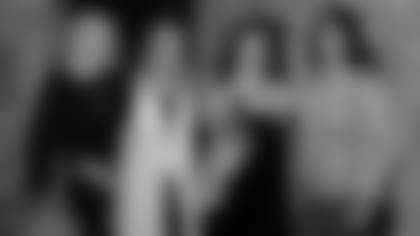 Vikings Director of Football Administration Anne Doepner, who helped launch WISE Twin Cities and serves as the chapter's vice president of finances, said it was wonderful to see Anthony recognized.
"Amy's career contributions speak for themselves, but beyond what she has accomplished, Amy's work ethic, professionalism and positive spirit set the tone for her whole team," Doepner said. "She is the embodiment of a Woman of Inspiration in the Twin Cities Sports & Events community."
Zarecki, who started with the events team as an intern and now serves full-time in the Events Manager role, said she's grateful to Anthony for believing in her at the start of her career.
"She encouraged me to be confident, resourceful and creative when planning events," Zarecki said. "I'm honored to learn from and work with one of the absolute best in the event-planning world. Amy has taught me so much about the event and hospitality industry and what it takes to put on some of the best events in the Twin Cities.
"I am honored to work for Amy, and the Vikings are lucky to have her," Zarecki added.
WISE Twin Cities also presented its inaugural Young Professional of the Year Award, which was given to Minnesota United Events & Hospitality Manager Kara Kawakami.
The third award Thursday recognized Women of the Year in Sports and was presented to Golden Gophers Women's Basketball Head Coach Lindsay Whalen and the Minnesota Whitecaps.
Whalen is a Minnesota native who stood out during her collegiate career with the Gophers before playing in the WNBA, where she helped the Minnesota Lynx to four championships (2011, 2013, 2015, 2017). This past season, Whalen held dual responsibilities between her final year with the Lynx and preparing for her inaugural coaching campaign.
Whalen's Gophers played their first game on Friday evening and defeated the New Hampshire Wildcats 70-47.
Initially established in 2004 as part of the Western Women's Hockey League, the Whitecaps became the first National Women's Hockey League expansion team when they joined the league in 2018.
In their inaugural season, the Whitecaps thus far are undefeated at 6-0 and lead the league with 23 goals scored, the next closest being the Buffalo Beauts with 14 goals.